Running Tight Radius Trim on a Moulder


Short-radius curved mouldings are tricky to run on a moulder (a CNC or lathe works better). It can be done, though — here are photos and advice. May 17, 2011
Question
I have four pieces of tight radius trim to run. The setup cuts clean, except for a back cut on the inside of the top bead. In the image below, you can see the distortion that I get on the inside of the bead. The rest of the profile runs clean. I am considering getting a second set of knives that don't run the inside of the bead. The inside radius is 8" I'm getting a bit of movement using the W and H circle jig. I'll probably just build a sub table that has a center pivot, even if I order other knives.
The profile cut is about 1" deep, 1 7/8" wide. Blanks are bandsaw and flush trimmed. I may need to strip laminate them. We will see what the finished product looks like if I can get the back cutting problem sorted.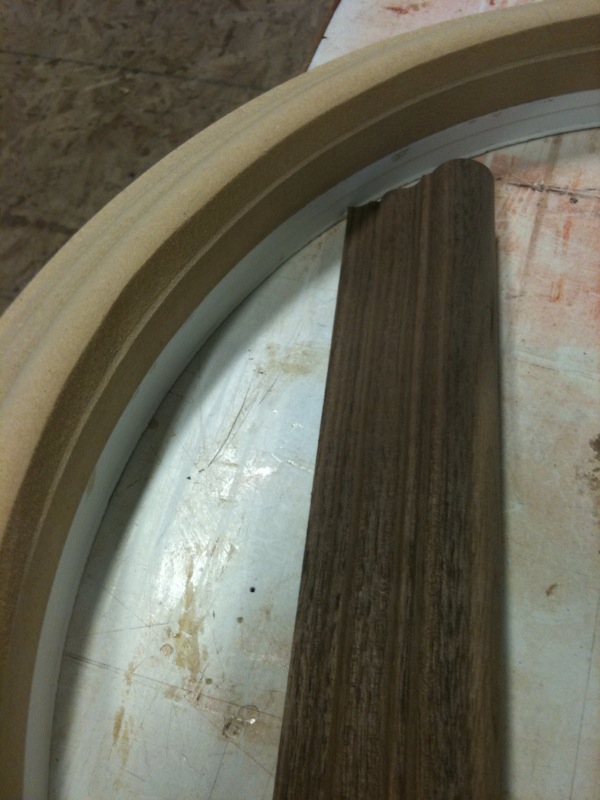 Click here for higher quality, full size image
Forum Responses
(Architectural Woodworking Forum)
From contributor D:
We run a lot of casing, and I can tell you that a bead, or any profile with a point in the knife, will come out wider in a tight radius. Think of the point being a coin with about a 4" diameter. Trying to get it ride in a bead point with an 8" radius is too tight. You can buy a bead point router bit that will cut it, which is what we do, and it's usually easier to cut it first, while your stock is flat, in a few passes, before using the Hussey.

---

From contributor J:
Basically you have the distortion caused by the lead in and out of the knife. The cutters start into the material and come out in a straight line say 4-4 1/2". Put a straight line across the edge of your 8" radius and it's easy to see the problem. The beauty of the WH is it has the smallest cutting diameter of any machine capable of radius work, but your deep profile in conjunction with the tight radius is messing you up. I think you're on the right track with a different cutter, however look to see if you will get the same distortion on the other side of the bead first before ordering new knives.

---

From the original questioner:
The outside of the profile is clean and matches up to the straight stock perfectly. This trim is panel moulding for an entry door. The 8" dia trim runs around the center medallion. I ran the trim for the arch top panels, 120" radius, bead on the outside. Perfect of course.

---

From contributor D:
No need for a new grind. Say your bead is 1/2". Just run casing a 1/2" narrower in width, using the same knife, with an 8 1/2" inside radius. Run a bead with a $12 bead point bit on another piece of stock with the 8" radius, then glue them together. It actually works out nice as you can stagger the glue joints.

---

From contributor B:
So which is it, 8" radius or 8" diameter? Does it look like below? I didn't actually make these doors but I did inlay the brass trim both in the molding itself and the solid raised panels (you can't hardly see any of it and I told them so before I did it.) Anyway, I believe the molding ring in the middle was turned on a lathe. I actually do have a machine that could mill a complete molding circle like this or serpentine shapes or whatever (and no, it's not CNC but those machines could probable do this as well). What is the smallest cutting diameter of a WH?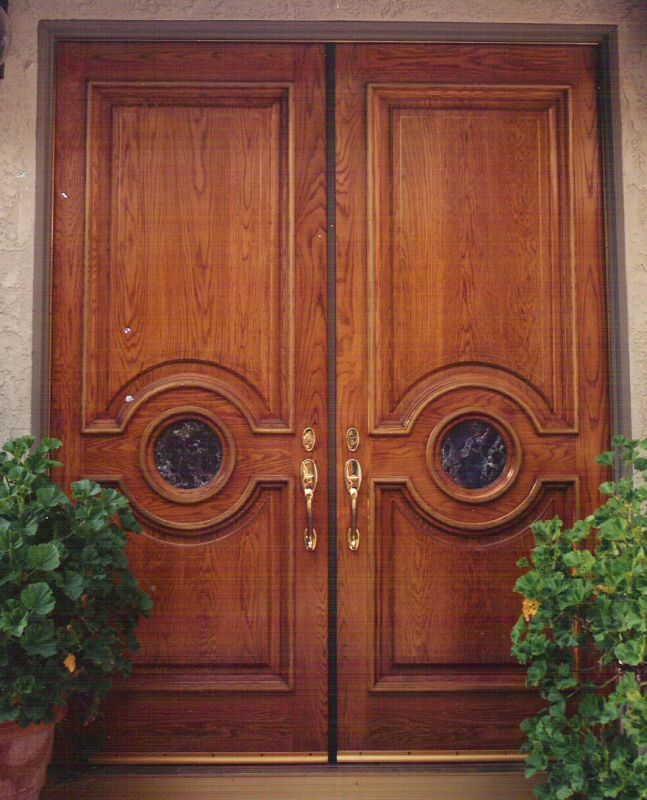 Click here for higher quality, full size image
---

From contributor D:
The smallest radius able to be cut on a Hussy depends on the width of the trim, and whether or not the knife has a point. For example, a knife with a mostly concave pattern in it won't get any distortion in it down to whatever you can feed it, say maybe as low as 6". I've run small trim like on those doors with a Hussey. It takes a bit of prep, like making a track for the stock to follow so it can't wiggle from side to side as it feeds.

Ellipses of course you can't do this on and it's very much a hand to eye coordination thing angling the stock as it is being pulled into the cutters. Wider casing, and knives with v-points in the knives are what diminish your ability to go smaller. No set formula exists, and our most experienced guys sometimes bugger up a perfect piece of stock occasionally.

---

From contributor H:
If your knives go deeper than the bottom of the half round bull nose detail then grind it back to just above the bottom of the bead. If it is already ground to just above the bottom of the bead then completely grind away that side of the bead. You can follow with a round over router bit on a router table or hand router to finish the bead cut. I would plan on being able to successfully cut that profile down to a 7" radius with a knife that was just shy of the bottom of the bead curve. It's not just a matter of the knife depth though as the position of the low point of the knife swing in relation to the pivot bearing on the post side of the centering jig also comes into play.

---

From contributor D:
On old Hussey moulders there is no pivot bearing - just a cutterhead with one end open. You could probably feed a 3" radius piece if you wanted your fingers that close. Small pieces start tending to break too, even strip laminated stock when getting down to these small radii. It can be done though. Hard guides instead of the feed rollers must be used and a track for the stock to slide in must be in place. Also need to be using a push stick with this setup.

---

From the original questioner:
I ended up ordering a set of knives that clipped the inside of the top bead. Run the profile, finish up with a matching router bit to develop the bead. I don't have a lathe that will spin the 20" diameter needed to faceplate this one. My CNC is shipping next week. New knives seemed to be the most expedient.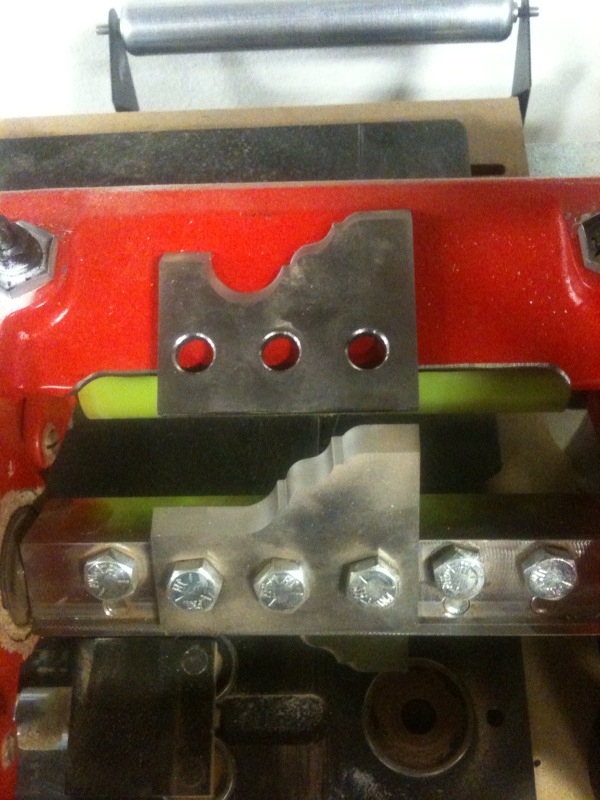 Click here for higher quality, full size image
---

Would you like to add information to this article?
Interested in writing or submitting an article?
Have a question about this article?

Have you reviewed the related Knowledge Base areas below?

---



All rights reserved. No part of this publication may be reproduced in any manner without permission of the Editor.
Review WOODWEB's Copyright Policy.

The editors, writers, and staff at WOODWEB try to promote safe practices. What is safe for one woodworker under certain conditions may not be safe for others in different circumstances. Readers should undertake the use of materials and methods discussed at WOODWEB after considerate evaluation, and at their own risk.

WOODWEB, Inc.
335 Bedell Road
Montrose, PA 18801

Contact WOODWEB Copyright © 1996-2021 - WOODWEB ® Inc.