Rust on Bandmill Rails
Lubricating the rails is part of routine maintenance, especially if the mill sees a lot of down time. Here's some detailed advice.September 5, 2011
Question
Does rust and pitting on round guide rails affect performance on a Wood-Mizer mill?
Forum Responses
(Sawing and Drying Forum)
From contributor Y:
They told me to spray tran. fluid on my rails and anything on the machine that it slides on. I don't see any problems so far.

---
From contributor B:
I have a LT15 Wood-Mizer and I use trans fluid on all rails to help stop the rust problem. I have to keep up with it as the rain and snow will wash it off.
---
From contributor O:
Take some old garden hose and split it. Wipe ATF fluid on rails and cover with split hose. Cut them 4-6" longer than needed. Mine shrunk a couple of inches after cutting them to the length of the rails. I use string to keep them in place when the mill is being transported.
---
From contributor T:
Use a wheel brush to apply 90 weight gear oil to rails (top and bottom) and mast, etc.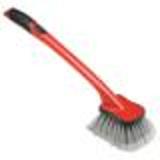 ---
From contributor A:
Clean the rust off and use ATF to lube them. If the mill is going to be unused for a spell use a light coat of grease - that will protect it. Do not forget there is a bottom rail. Also if you get to much lube or rust on the bottom rail it will keep the contact for the hydraulics from working. The more you use the mill the less you have to worry about rust.