Sawing Slabs from Huge Down Tree Stumps
This particular big old dead Cottonwood stump may not be worth the effort. But here's some good advice on how to break a big, hard-to-manage log up and get good-sized slabs and burls out of it. June 19, 2012
Question
I have a very large dead cottonwood tree at my ranch (over 60" diameter) and I would like to know what the best way to get large slabs out of it is . With an Alaskan sawmill? Are they large enough?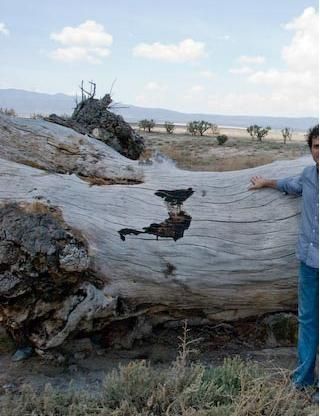 Click here for higher quality, full size image
Forum Responses
(Sawing and Drying Forum)
From contributor J:
You can cut one right now and right there with a two-man crosscut saw (just to see what you've got).

---
From contributor T:
I have slabbed large red oak with a Stihl 090 and a 60" bar. Based on what that log looks like, I wouldn't bother - it looks shot.
---
From Professor Gene Wengert, forum technical advisor:
Split it into smaller pieces that will be easier to handle. Does not look like high quality however.
---
From contributor L:
There are chainsaw mills that big, or find someone with a swinger mill. Not sure if the log is any good but I would make a few cuts with a chainsaw to see if it's okay in the middle. If so, I would cut it into 2 or 3" slabs. Cottonwood can be nice if it's spalted and may have good grain.
---
From contributor S:
My sawmill has a wide slabber that will do that work. I recommend you look for a similar mill. Ask if your local mills have a slabber.
A buddy across town cut a cottonwood on his mill, and he did not like the way it dried. I did see the parts - they looked like potato chips.

---
From contributor B:
Here is how I do it. This setup is about $2500 and with bulk chain, spinner/breaker to put chain together and chain grinder, you are looking at around $3000 or more. It is very portable and I saw lots of wood with it. I have a 42", 52" and 72" bar for the Alaskan mill.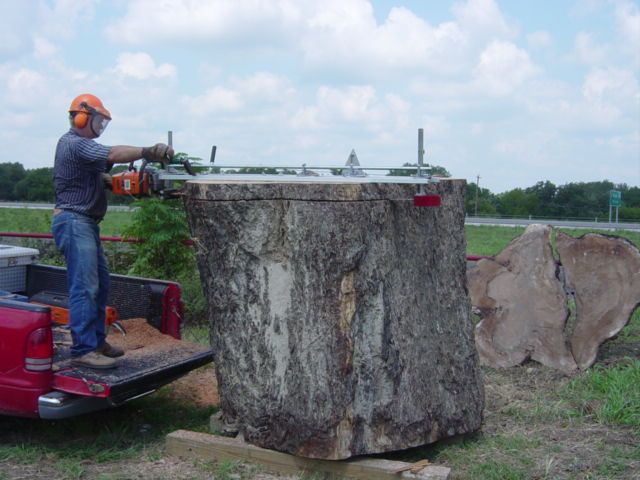 Click here for higher quality, full size image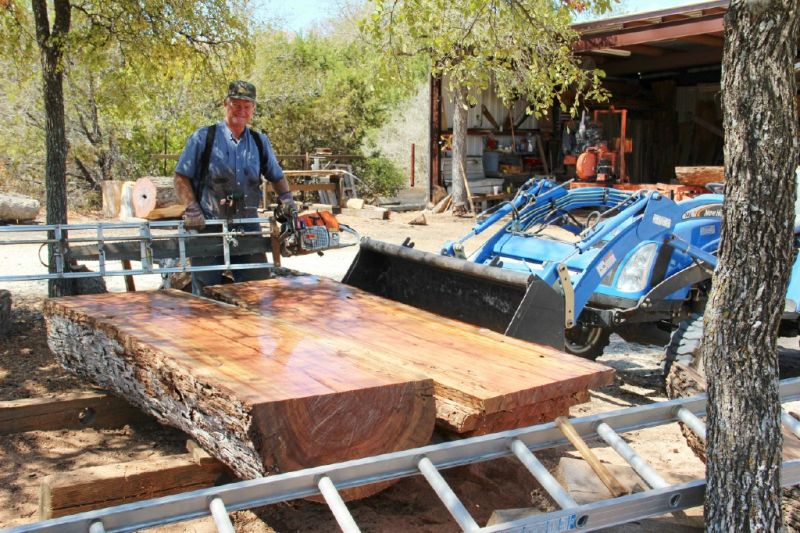 Click here for higher quality, full size image

Click here for higher quality, full size image
---
From contributor N:
An Alaskan mill is somewhat of a term for a chainsaw guide that runs along a 2x6; so one will work if you have a chainsaw with a long enough bar. But it looks like the log has quite a bend in it, making it less than wonderful for slabbing. That bend will likely bend again as the wood dries after having been sawn, making it unreliable for projects that may be in variable humidities. I have a bandsaw that cuts up to 72" wide, and I'm not the only one; there are slabbers out there. If you want it done badly enough it only takes money, and that is the key - it will be expensive to cut such a log. I would really consider if that is the log you want to get such slabs out of. Provided you can keep it straight as it dries I would gamble the wood to be beautiful; I've seen some 40" cottonwood slabs that were swirled and figured quite nicely.
---
From contributor A:
Find someone with a Lucas mill with slabbing attachment. I would break that tree down a bit - it has the look of being rotted. But maybe deeper in the tree you would find some solid wood. We did a 24' long white oak that was 7 foot at the base. The fork/crotch of the tree was 9 foot wide, in a fan shape. We had to trim it down and use an excavator to try to get it positioned to the Lucas. 12 hours of hard work and a mountain of 6 x 6 timbers later. That tree was down for 4 years and showed little degrade. Oak versus cottonwood. Trim one end off and let's see what it looks like.
---
From contributor E:
It might be pretty solid. Looks like you are in the SW, and the terrain looks pretty much desert. I have seen lots of very old dead cottonwood trees here in NM that are solid. Problem with cottonwoods that big is that the rot happens while the tree is alive. Cut the log to the length you want the slabs and if the wood is solid all the way through on both ends, then it's good to mill. Doesn't look like drying will be a huge problem because it's already pretty dry.
---
From contributor A:
Contact Wood-Mizer and ask who in your area has a Wm1000. One is in Oregon and one in California. That is one huge slabber. Might be easier to truck it to the mill depending on how far away it is.