Sawing and Drying Less Common Species
Sawyers give the Wood Doctor some feedback about lesser-used species such as Persimmon, Madrone, Boxelder, and Mulberry.September 5, 2011
Question
From Gene Wengert, forum technical advisor
As many of you know, I write an article in Sawmill & Woodlot in every issue about the characteristics and processing of various North American wood species. I need some help. Have any of you sawn or dried any of the following species... enough that you can give me some of your experiences that I can pass on? I do have some info, but not as much as with the more common species.
Port Orford cedar,
boxelder,
madrone,
California laurel,
Ohio buckeye,
American hornbeam,
American chestnut,
persimmon,
myrtle,
red mulberry,
tanoak,
magnolia
Forum Responses
(Sawing and Drying Forum)
From contributor B:
I have sawed and dried some persimmon. About all I can remember is that when it dried, it curled up like pieces of bacon when you fry it. The edges of the boards seemed to curl up randomly into a wavy pattern. That's all I got.

---
From contributor R:
I mill and dry most of the local species, most of which are noncommercial. Here is a picture of a square madrone table recently completed for a client. Most madrone dries fairly well without degrade, but I have had mixed results with thicker than 10/4.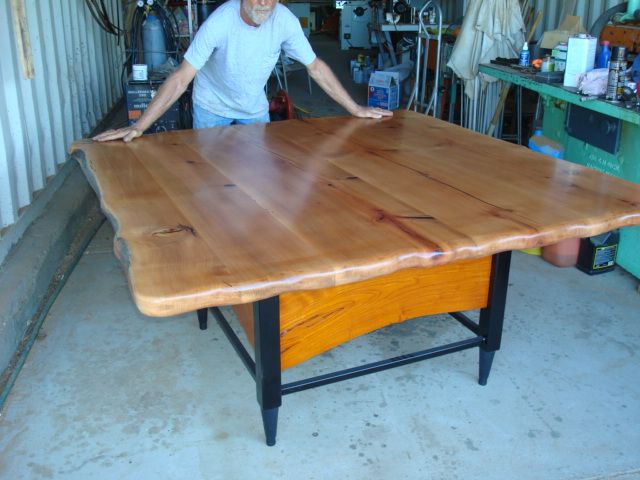 Click here for higher quality, full size image
---
From contributor G:
Your question got me motivated to cut up three red mulberry logs I have had for a while. No problems cutting it; the only drawback was a face full of bark from the debarker, much like cherry. The boards were much heavier than I expected - I would guess heavier than oak. I have it air drying now, so I have no info on drying.
---
From contributor A:
I have sawn and dried magnolia both as boards and turning blanks. For the most part it acts like yellow poplar.
---
From contributor S:
I have sawn and dried four of the species from the list. Boxelder we process the same as we would soft maple. It saws easy. Watch out for sticker stain. We air dry all species 90-120 days in a shed before it goes to the kiln. Persimmon we try to cut in the winter while the sap is down. We process it the same as we would red oak. Make sure to seal the ends of the boards; they will split. Red mulberry we process like we would red oak. It machines great. I love working with it. Magnolia saws great; it does shrink like poplar; watch out for sticker stain.