Sawing and Drying Sycamore
Sycamore is attractive and useful, but moves drastically while drying. Here's good advice on how to minimize movement and make the most of each board. June 27, 2006
Question
I am sawing some sycamore for a customer and he's wondering what to use it for. Can anyone tell us the best uses for this wood and any particulars for sawing and drying - also how hard does it become and is it stable?
Forum Responses
(Sawing and Drying Forum)
From contributor A:
Quartersawn it is beautiful but not always easy to get good ray fleck. It was historically used for drawer carcasses because it is very stable but with its interlocked grain it makes a nice accent wood for projects.

---
From contributor B:
We use thousands of BF of Sycamore for gunstocks.
---
From contributor C:
Quarter saw for sure. I may be wrong disagreeing with contributor A, but I thought that even quartersawn sycamore was not particularly stable; same as flat sawn maple. Flat sawn sycamore is notoriously unstable and I have a potato chip shaped box lid to prove it. This probably does not matter for smaller items like gunstocks.
---
From contributor B:
We have found the Sycamore to be extremely unstable during drying (it goes nuts), so we have to weight it down. After it has dried it seems quite stable but we keep it in a constantly controlled area. We have never had the sycamore show any signs of instability after it was dried to 6% MC and made into a gunstock and finished.
---
From the original questioner:
To contributor B: What dimensions do you saw your gunstock material? I also heard it is unstable but it seems stable after drying. I wonder if that goes for flat sawn also.
---
From contributor B:
We quarter saw 2-3/4" thick; after drying and planing it will be 2-1/2" thick.
---
From contributor D:
I cut 800 bf or so of sycamore about a year ago. I tried to quartersaw as much as possible because it resembles European plaintree, and Australian lacewood. I immediately stacked and stickered the wood (not knowing how unstable it was while green) and put a lot of weight on top of it. I left some of the slab wood laying around for bowl blanks and it all warped, cupped, and twisted to an extreme. It was like putting a 15" wide oak board in the sun and coming back in a couple of months.
---
From the original questioner:
To contributor D: How did the wood you weighted dry and how did you weight it?
---
From contributor E:
To contributor B: Might we get some information or pictures on the gun stocks? I would be interested in a Hawken stock - something different.
---
From contributor F:
Quartersawn is best but when I saw sickymore I always saw it 2-1/2 times thick. When dry, I split in half and plane down. It seems to have less waste this way and gives me a flat side to start planing on.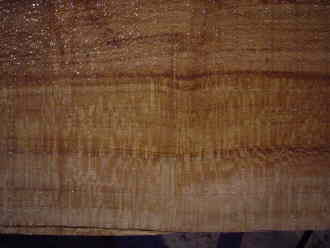 ---
From contributor F:
I still think spalted is best and even if you let the logs lay a bit, they saw easier and stay flatter.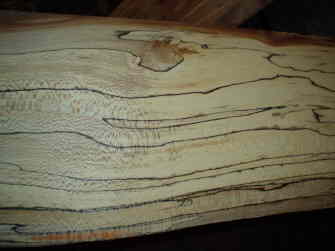 ---
From the original questioner:
To contributor F: You are saying if I want 4/4 I should saw 10/4, let it dry and saw in half and plane to 4/4?
---
From contributor B:
Here is a picture of a Sycamore gunstock.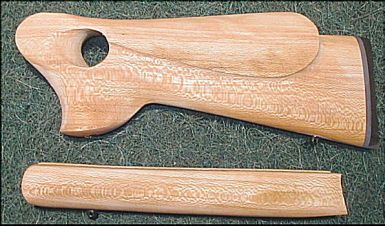 ---
From contributor D:
I weighted the top of the stickered pile with concrete blocks and whatever was heavy and laying around at the time - something like 100 pounds or so, evenly distributed across the top. The pile was approximately 12" wide by 8' long and 5' tall (other piles of wood were on the sides of this one so the tall piles weren't tipsy).
Sawing the boards extra thick and then resawing when dry will work great, but is it worth your time? If you sticker the pile right, your final yield of lumber will be fine. If you do saw thick and then resaw you will be releasing tension in the wood and the resawn boards will warp, twist and cup a bit, depending on how the tree grew.

---
From contributor F:
Is it worth your time? That depends on what you are getting for the lumber and how much you have to waste. Then there is the size issue and what sells the best. Since I sell the sickymore stock from 1/4 thick to over 4 inches thick there are lots of sizes to store and stack. Taking a 2-1/2 inch thick board back to the mill to split takes little more time than it would have taken to saw it the first time it was on the mill, not to mention the time saved at the planer. They dry flatter thicker and I can shave off two or three thinner boards if needed and you could never dry a sickymore board thinner than 3/4" flat. How much time is saved by stickering half the number of boards? How much time is saved not having to pile weight on top and then removing it to get a board out? How much time trying to tell someone you do not have ¼" thick scroll saw stock? I would guess it is each man's call.