Sawmill Dust Collection
Descriptions, explanations, and pictures of dust collection systems for small sawmills. November 3, 2010
Question
I just moved to a new location and am setting up my operation in an existing 30x60. I have been sorting out several options for dust collection. I am planning on building a 30x30 pavilion type structure to house my mill and store pallets of wood (both for air drying and already dried wood). I had the idea of finding a cheap used dust collector locally and hooking it up to my sawmill via an overhead pivoting arm with a HD flex hose running down to the bandmill's head, similar to the hose arm at a DIY car wash. If I want to get fancy, I thought of ordering a generic cyclone from the guy that sells them on eBay and hooking that to the dust collector. This isn't for fine dust, and since I'm in a rural area, I would be exhausting out the roof if I used a cyclone. All that would cost me around $350-$400 altogether, and would significantly cut down on my dust exposure. Has anyone done something like this?
Forum Responses
(Sawing and Drying Forum)
From contributor A:
You can move the sawdust without too much problem, but the fine sawdust from a band mill needs a pretty large cyclone in order for it to fall out. For my band mill it takes about 2500CFM to move the dust well.

---
From contributor W:
I installed a cheap Harbor Freight dust collection system (1 1/2hp 110volts) above my sawmill and it carries the sawdust about 50 feet from my mill. I don't use it when milling cypress logs.
---
From contributor B:
When we installed our Baker Planer Molder, we also put in a Baker 3-phase chip extractor (4-port). We disconnect the flex tube that goes to one chute on the molder and reattach it to the mill when sawing with the mill. The 5 horse chip extractor runs at 3000 CFM and does a great job pulling sawdust. We pull sawdust through 30 feet of 4" tube before it gets to the extractor and from there it is sent uphill and into our holding tank. Overall the system works very well. The only drawback is kiln dried lumber, when set on the mill to straight line rip prior to going through the molder, makes dust - not even sawdust - and very little of it makes it to the extractor. If you're not re-sawing any dried lumber on your mill, though, you won't have to worry about that.
---
From contributor W:
The system I use moves almost all the sawdust away from my mill. I put a threaded swivel inline as my mill goes back and forth, so it doesn't bind. I'm using 4" drain pipe.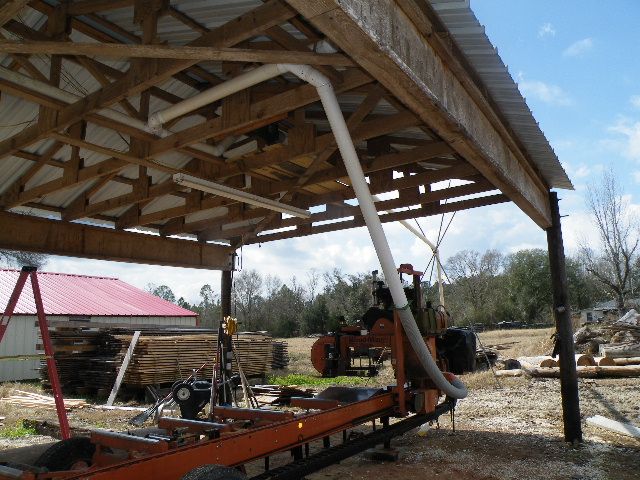 Click here for higher quality, full size image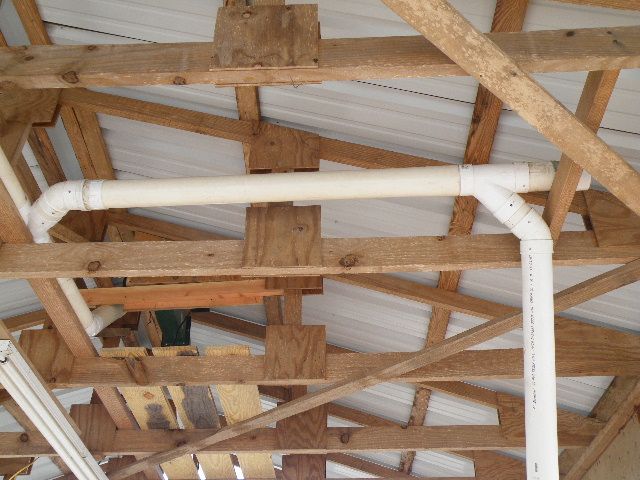 Click here for higher quality, full size image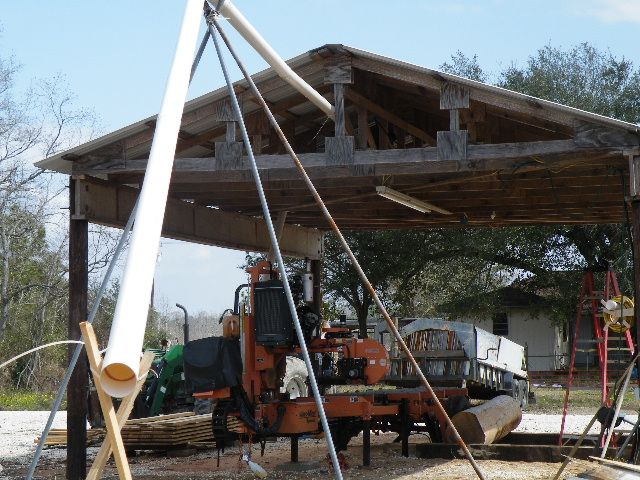 Click here for higher quality, full size image
---
From contributor U:
Maybe I'm missing something, but how do you get the dust to blow that far?
---
From contributor W:
I use a dust collection system just like in my woodworking shop, without the bags to collect the sawdust. The unit is above my mill. It seems to work well on all types of sawdust except cypress.
---
From contributor U:
Thanks - that will work for me too. Do you have problems with bark hanging up?
---
From contributor R:
I've seen a used hay elevator set alongside the sawmill to catch the sawdust, and when it was full, they would turn on the hay elevator to dump the sawdust.
---
From contributor S:
I like the simple tripod to hold up the 4" PVC. Is that so you can move the discharge easily to a new spot?
---
From contributor W:
No problem with bark. My Wood-Mizer has several fingers in the dust chute to catch the blade if it breaks before discharging. These fingers would also catch any bark that could get by. The covers over my blade seem to help prevent bark from entering and exiting though the dust chute.
I expanded my 4" PVC pipe to discharge further away from my mill and the only material that I had was some top rail that I took down from a fence. I will be replacing with a post. I use my front end loader to move the sawdust when it builds up too much.
This system is credited to a fellow sawyer friend, Mr. Clark, who used one like this for years. I got tried of shoveling sawdust and not sawing, so I installed this system and I'm glad I did. It is easy to unhook if I need to go on the road. Just 2 screws.