Shaper Set Up for Door Stiles
Cabinetmaker shows off his easily adjustable setup for quick machining of cope-and-stick door parts. August 29, 2006
Question
I received an email yesterday about a shaper setup for making cabinet doors. This might be of some benefit to others as well, so I thought I would post my response here. This is a setup for doing the stick profile for cabinet doors. It controls the final dimension and ensures parallel edges. All indexing happens against the auxiliary fence, i.e., the door stile is trapped between fence and cutterhead. You can run fairly small sticks through this setup because there is no gap between the fences, such as there would be if you ran the material directly against the cutterhead. You can also climb cut with this setup (though dust collection is a little more problematic).
This system is also very fast to set up because you don't have to align the infeed or outfeed fences so accurately against the shaper cutter. There is no snipe in the boards, so there is no need to run a bunch of test cuts.
We use stacked cutterheads. The mission head is mounted below the profile head. To change from one type of door to another takes about two minutes. All you have to do is remove the shim below the auxiliary table and set the table up again. The shim accounts for the height of the bottom cutterhead. Reducing our setup costs has allowed us to reduce our batch sizes. We can now build 4 doors faster (per door) than we can build 10 doors (per door) because we don't have to spend any time labeling parts or sorting them.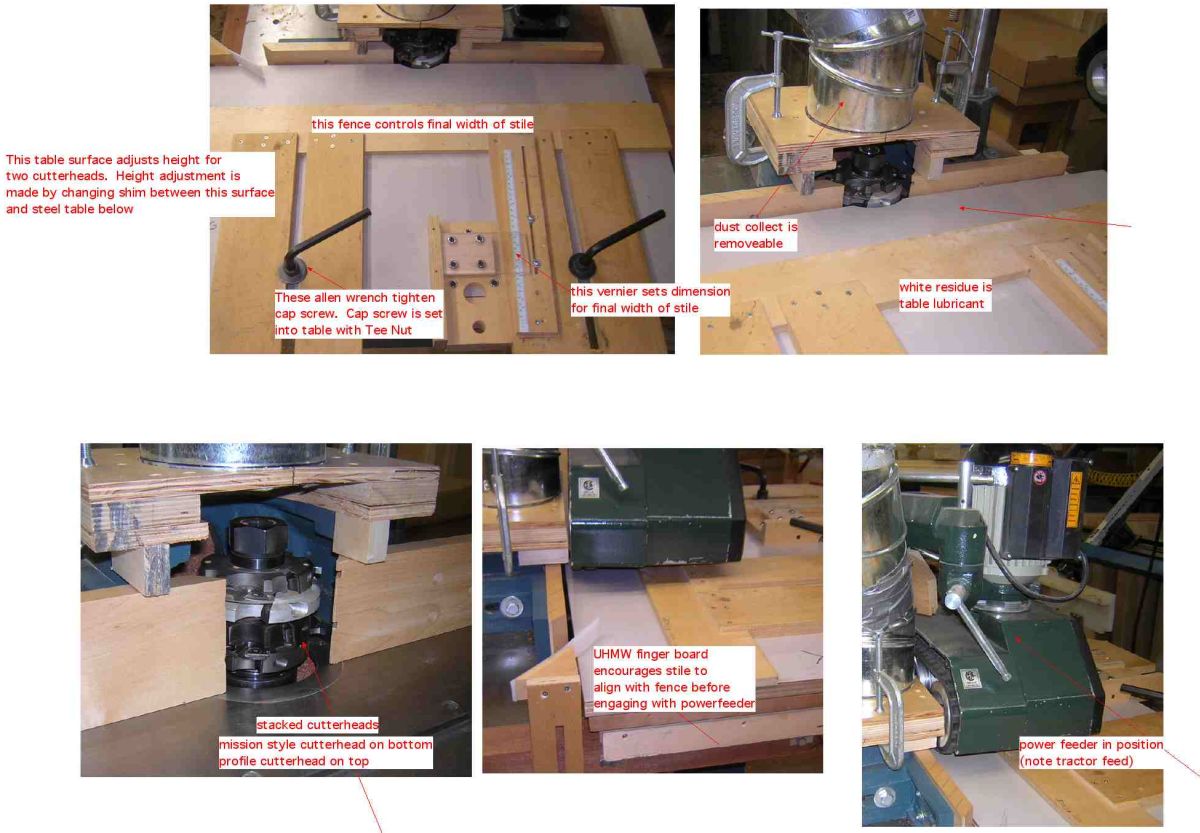 Click here for full size image
Forum Responses
(Cabinetmaking Forum)
From contributor J:
This is the same way we cut our stile and rails. We don't have the fancy fence setup; we just take a tape measure and a C-clamp and set it up. I would like to use this fancy fence but have not yet built one. If we need to change profiles, we just remove the cutterhead and replace it with the right one. Changeover takes about 30 seconds. This works really well. Thanks for posting the pictures.

---
From contributor T:
I forgot to mention that the shaper I am using here is a real cheap one. The spindle threads are good for maybe a half-dozen change-outs. The whole machine (5 HP - 1 1/4 arbor) cost about $1200. You would not want to change this one out too many times. The two minute changeover system includes matching cope head to stick head, without any sample cuts. That is pretty exceptional. We used to set up the outfeed fence with a tape rule and C-clamp as well. This system is a little faster and, for us, more accurate.
---
From contributor P:
Do you climb cut the stiles? Or are your photos inverted?
---
From the original poster:
These photos are not inverted. Our profile cuts from the bottom of table, i.e. the visible face of the door is aimed down as it passes through the cutter. This allows any discrepancy in thickness to happen at the back of the door. Our cutterhead is turning clockwise. "A" face down. You can climb cut this okay, but it is harder to capture the dust because it wants to race up the groove on the stile. If you don't climb cut, the sawdust is chased into the dust collect pickup behind and on top of the cutterhead.
---
From contributor V:
Contributor P, if you use good insert tooling and take the whole edge off as contributor T shows here with the outboard fence, you will find that climb cutting is not necessary.
---
From contributor U:
That is a nice setup! I've been thinking about using an old Incra Jig for repeatable positioning of my outboard fence. Right now I leave the shaper fence in a permanent position, and use plastic spacer blocks to set my fence to standard distances from the cutterhead. I do a wider variety of profiles, so I leave my 3 most common sets on the spindle, and raise and lower it as needed. Does the tractor feed do a good job with shorter parts, like for drawer faces? I can't go less than about 6-1/2" with my 3-wheel feeder. Do you cut stiles to length first for your profile doors?