Shimming and Fastening for End Panels
Looking for a fast and accurate way to attach end panels flush to the face frame. May 15, 2012
Question
I am trying to solve a production problem and I am hoping someone can help me. We regularly apply mitered end panels to pre-finished maple plywood. For a variety of reasons there is variation in distance that the miter extends past the pre-finished plywood.
We typically measure this discrepancy and stick a wood shim between the pre-finish material and the end panel. It sometimes takes a few tries to get the shim correct thickness.
We would like to put a more flexible shim in this location, something like a butyl caulk that could span the distance and provide some adhesion. The caulk would have to bond with the pre-finished surface as well as the paint grade surface.
Can anyone suggest an adhesive that might do this? I would like something that is relatively low odor, quick dry, and easy to clean. Does anyone have any idea?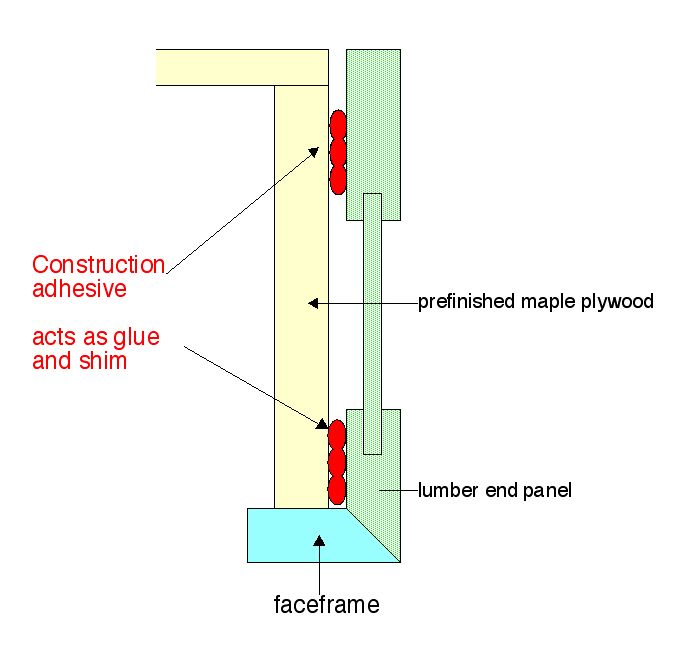 Click here for higher quality, full size image
Forum Responses
(Cabinetmaking Forum)
From contributor F:
Use finished one side ply and silicone.

---
From contributor J:
The adjustable shims that I use in a situation like that are screws. Put one appropriate length screw in the back side of each corner and they can very quickly and easily be adjusted. If more support is needed along the front edge more can be added where necessary. It works great. Others will have to help with the glue choice as I don't know what would be best.
---
From contributor L:
Don't use silicone on an unfinished wood surface - it will fail.
---
From contributor L:
I use pl premium polyurethane. I honestly havenít encountered a problem or failure that I know of using it. At the same time, I have never gone back and tried pulling off an end panel that I have glued on.