Shoes Off in the House?
Woodworkers discuss the practicality of working in socks, and the alternatives for protecting floors in high-end residential work. October 14, 2009
Question
I get this a lot - contractors or homeowners asking me to remove my shoes in the house. I don't know about the rest of you, but I always refuse to do it. I'm sorry, but I don't do carpentry in my socks - too many sharp objects. Does anyone else have any experience with this?
Forum Responses
(Business and Management Forum)
From contributor K:
Get those medical over the shoe bags. I don't know what they are called, but they are very helpful in situations like that.

---
From contributor M:
Yes it is not uncommon at all in high-end residential work, especially at the end of the job when the floors have been finished and if the owners have moved back in or it's impractical to protect all new flooring surfaces. An alternative is to wear "booties". The problem with that is guys get lazy: they walk outside to get something, leaving the booties on and tracking bits of gravel and dirt inside onto new carpeting and hardwood floors. That kind of defeats the purpose of the booties.
---
From contributor J:
Shoe booties are the way to go. If you don't have them tell the homeowner you have diabetes and you can't risk getting your feet hurt (I do, itís a real issue). They could lay down brown paper, and ask workmen to keep their shoes clean (stiff door mats). In these slow times, builders and homeowners seem to find a sense of empowerment that goes beyond reason. Most people are reasonable, many are showing their true personalities.
---
From contributor Z:
It is common knowledge that the real purpose for those booties derives from a social contractor between the GC and the homeowner. They have a servility clause that indemnifies the homeowner from having to make eye contact with the great unwashed. To ensure compliance SUB contractors are issued these slippery booties. As long as you have to keep your attention focused on where you are putting your feet then the proper social order will be maintained. This is actually good for all of us. Everybody knows where everybody stands (especially us).
---
From contributor O:
Hšfele America recently added these very shoe covers to our Shop Essentials catalog, along with several other "Customer Care" items like floor runners and touch-up markers. They not only help to minimize our impact on the job, but they leave a positive impression on the customerís mind.
Years ago I was a clock repairman and while I was in training my mentor taught me that while our customers may not know anything about clockmaking, they will judge us by the condition of the screw heads and by the finger prints on the clock movement. I thought he was nuts, but every time a customer opened the back of their clock they would comment on the condition of the screws and would be very shocked if they saw a tarnished finger print! Our customers have no idea of what it takes to do our job, but theyíll take notice of the care we take as we interact with what their most valuable assets are; their home, their kids and their pets.
I used to take three tube socks with me on grandfather clock service calls. Not for my feet, but to slide over the weights to keep them from getting finger prints on them. My customers would always comment on how thoughtful and smart this trick was, but all I could remember was the money I lost when a customer called me back to re-lacquer their weights after I handled them without gloves.

---
From the original questioner:
The little blue booties are not much better than socks on slippery finished floors. They are a real slip-and-fall risk. I bought expensive work boots with non-marking soles, and I can wipe my feet before I come in the house. People may receive a good impression from seeing the booties on your feet, but they really don't do much. I'll gladly lay down some rosin paper or a canvas runner or both, but I'm not carrying in cabinet boxes in socks or booties. I am ready to specify this in my contracts.
---
From contributor O:
How about the application shown in the photo below? There is a wide range of qualities available in these shoe covers; some that are rock solid and others that make you feel like you are wearing booties over your shoes or something.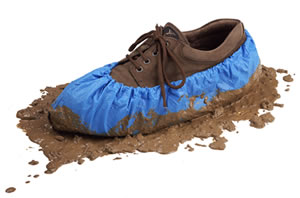 ---
From contributor R:
In my neck of the woods the WCB (Workmans Comp Board) insists shoes be worn at all times. It is a safety issue.
---
From contributor W:
Why not put it in your contract that you and your employees will be wearing shoes for safety concerns. You could also put in that you will do your best to keep the installation area and the path to that area in the same condition prior to installation. Make it professional. It makes it easier when itís right there in writing.
---
From contributor L:
I specialize in high end residential. I mean high end. Clients in this bracket are accustomed to special treatment. Respect for their possessions (the floors in their new home, for example) comes with the territory. My experience is that they're rarely snooty if they and their 'stuff' are treated respectfully. I have a number of drop cloths called 'hall runners.' They're heavy canvas, about 4' wide by about 12' long. I literally run a trail of these from the door to where I'm working that day. I make sure they're always clean.
If they want me to wear booties then guess what I wear booties. I take the time to take them off if I go outside, and don them again when I come back. Ask me if it's a pain? Nope. Not on your life. This is my world. I'm happy to be here and willing to do what it takes.
Contributor O's comments are right on point. If you aspire to work at this level, you have to get used to taking care of the small things. In my experience it's the small things (the socks on the clock weights) that really matter in the end. The work itself is only part of the overall picture. Your attitude is more important than you think.

---
From contributor E:
I concur. Having worked in the high end residential market for over ten years it comes with the job, and is an extension of professionalism. Often times, when I know I'll be on the job for a duration I bring slippers or clogs that are indoor only. Iíve seen carpenters walking around many $5-10 million plus jobs for weeks (who am I kidding, months) on end in slippers. Itís a nice happy medium between customer satisfaction and job site safety. The client or boss sees you take off your usual work shoes at the doorway then don clean inside shoes.
---
From contributor O:
I take off my shoes anytime the client asks me to. It's their house and I respect that. I don't wear shoes into my own house, so why should I in theirs. If safety is an issue for you, buy another pair of shoes for inside only and keep them that way. Refusing to do what the client asks is a sure way to be unemployed, safety or no safety.