Shop-Built Hand Crank Feed for a Sawmill
A sawyer shows and describes the hand crank he added to his manually operated mill. October 14, 2006
Question
Here is a picture of a hand crank feed mechanism I built to assist in cutting wide boards with a consistent feed rate. This is a Mistersawmill brand mill, with 24" capacity. The feed is disengaged in the photo, which is handy for very fast returns. Engages by lifting up on the handle and bumping the brace into place. At the end of the cut, pull the brace and lower the feed for the return. I believe it advances about 8" per crank, and can be done with your fingertips, no matter how wide the cut, and my distance between blade guides when full opened up is 22", but the widest boards I've cut were live oak. I generated some 18" wide boards with it, with no effort except walking along with it to crank it. I think this would be a very valuable addition to any manual mill. The chain is about 20' with a spring at one end to give tension, #40 size.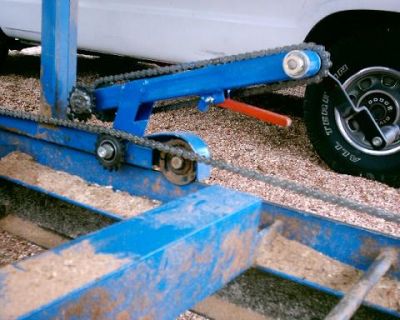 View of the operator's side: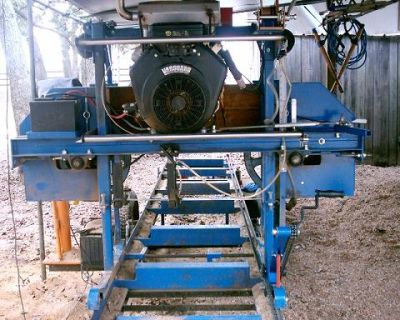 Question
(Sawing and Drying Forum)
From contributor J:
Nice way to do it. I bet it makes it somewhat smoother.

---
From contributor T:
Looks a little low to me. Aren't you bent over turning that thing all day?
---
From the original questioner:
The saw is on wheels, and with it on level ground and sitting on the leveler jacks, the track is about 21-22" above the ground, which has the crank handle, when engaged, at about 27" at the bottom of rotation and about 38" at the top. Seems comfortable to me, right at my left hip. I think there are a few companies that also offer a hand crank feed, but I did notice they are careful not to show too much detail.
---
From contributor T:
Ah, now I see the wheels. That's a pretty slick idea, especially with it disengageable.