Shop-Built Sliding Table Saw Jig
A cabinetmaker displays his low-cost self-built alternative to a sliding table saw. February 2, 2011
Question
I posted a message recently about building a homemade slider to crosscut pantry sides, etc. It was suggested that if I was a professional that I should just buy one, but I have less than 300 in this setup and it works great. Everything is adjustable on it. Wheels adjust up and down with the twist of a bolt, miter slot and the fence is adjustable also. If this makes me not a pro then I guess I'm just not a pro because it does exactly what I needed it to do.
Forum Responses
(Cabinetmaking Forum)
From contributor M:
Remember that most of us have been doing this a long time and we have already tried every jig, improvised setup, technique, method and machine you can think of. We know the pitfalls of focusing too much on how to do the work instead of doing it better. Time, cash, volume of work and experience all play into these decisions.

---
From contributor O:
If you have something that works for you, a system or a gig, whatever it might be, if it is working for you then there is nothing wrong with it. Most people on the forum are trying to help and they might come across a little strong or opinionated, but like Contributor M says we have tried a lot of different things. One thing for everybody to keep in mind no matter whether we are a one man shop or a 100 man shop, there is always something we can learn from one another.
---
From the original questioner:
I know people were just giving their opinion, and perhaps I paid too much attention to it. No big deal. I too have been in the business for many years and some of the jigs I made when I started out are still in use today.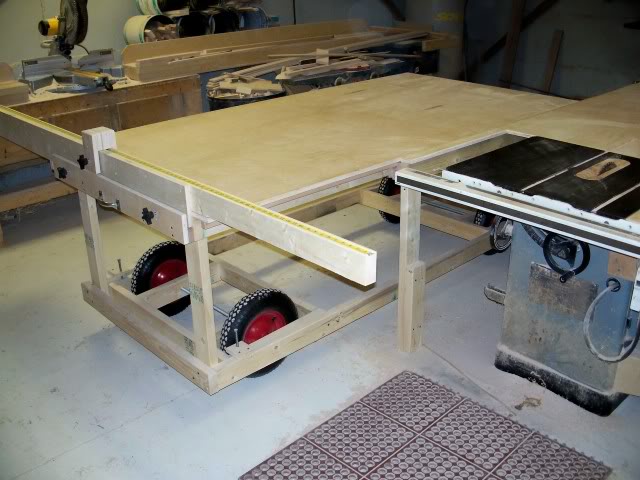 Click here for higher quality, full size image
"Photo by Mike Fuson".
There are a few things I would have done different if I had to do over but I'm happy with it.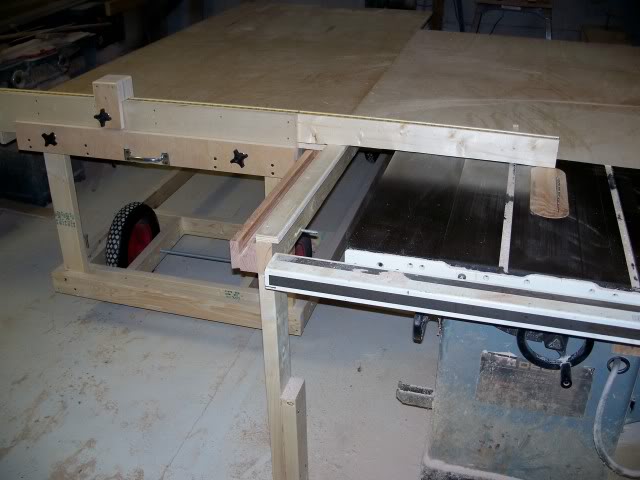 Click here for higher quality, full size image
"Photo by Mike Fuson".
All the adjustments are made by the knobs which have T-nuts on them. This thing glides really well. I can crosscut a 4x8 sheet with no problem. Stop block goes out to about 97'' which is a little more than I'll ever need.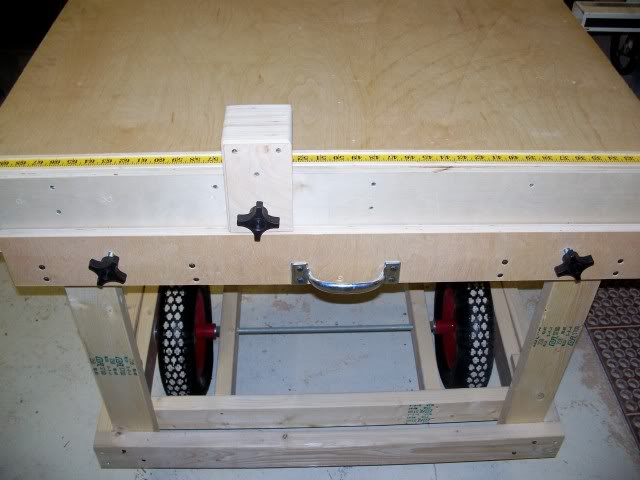 Click here for higher quality, full size image
"Photo by Mike Fuson".
The fence removes easily when not needed. Each wheel has a bolt and t-nut that raises or lowers the table. The miter slot has the same set up to adjust for squareness. I got it within a 64th over 48'' which is good enough for me. There is another adjustment under the fence that adjusts the stop block. So every time I put the fence on and lock it off itís in the exact same position as it was before, and the stop block is accurate.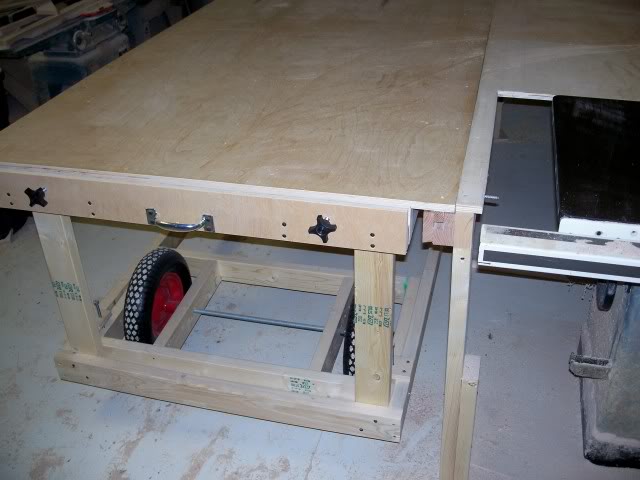 Click here for higher quality, full size image
"Photo by Mike Fuson".
---
From contributor W:
I built my first vertical panel and it was used for about a year and a half and eventually paid for its replacement! Now twenty five plus years later with CNC machines and such I can really appreciate what you have built.
---
From contributor G:
I've made many of the jigs I use and for the most part they have done well for me. This looks like it one of those things that could work, just watch out for debris under the wheels as a bump in the wrong place could ruin your work piece. Most importantly, use it in good health.