Shopping for Case Clamps
If you use dowel joinery to build cabinets, what's the most practical choice in a case clamp system? February 2, 2011
Question
In the next year we are planning to transition to dowel construction. We are a low volume shop, so no need for a feed through. Has anyone got an opinion on the best price/quality combination available in case clamps?
Forum Responses
(Cabinetmaking Forum)
From contributor S:
We already switched to all dowel construction, and are planning on a case clamp soon. The big factor seems to be speed and capacity. At AWFS two years back I saw a clamp from Biesse that I think uses belts instead of rack and pinion or servos. I liked what I saw, but it was expensive. Squareness is not really an issue. They all can produce square cases. Simplicity, speed, reliability, and cost are the main factors I saw. Like you, I am hoping that others with more experience will offer their experience.

---
From contributor R:
Contributor S hit on the main points - simplicity, speed, reliability, and cost. I have used expensive high volume clamps in the past, and also homemade table clamps when the workload was high. Rigidity and squareness are a factor. There is nothing worse than trying to hang doors or install drawers on a case that is out of square. Below is a picture of an oldie but goodie that our company just took in on a deal. There are lots of good pre-owned case clamps out there, not much to go wrong with them.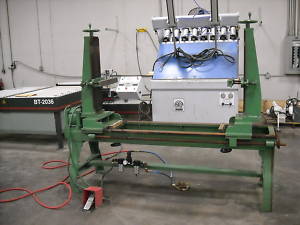 ---
From contributor L:
A few years back I traded for a used Gannomat 260. It has an electric horizontal beam and a manual vertical beam, both with three air clamps. It's well made and doesn't take very long to change sizes. The limitation is only three clamp bars per beam - most of the time that doesn't matter for what we do. I've set up a doweling area to minimized handling and travel. Parts come from the conveyors on a transfer car to the bore and insert machine, are placed in slots for each case where they can be reached from the assembly table where hardware is installed and glue injected (Lamello measured shot), then knocked loosely together for transfer to the case clamp. The timer is set for about as long as it takes to knock the next case together. The back is slid into a groove and fastened with hotmelt.
There is a roller top cart that the case is pulled out onto for transfer to the bench where the shelves, drawers and doors are installed. I ran out of money or there would be a stretch wrap machine next. Below are two photos of the area. The clamps that have two electrically operated interlocking beams seem like a nice setup but are expensive.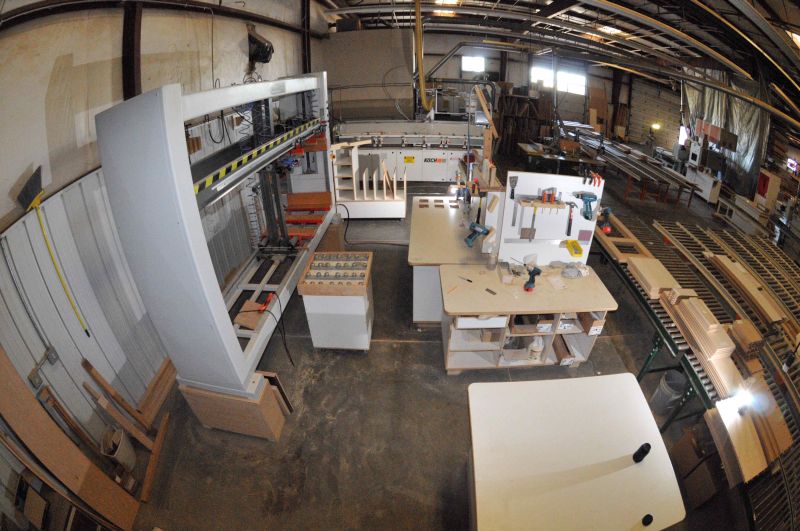 Click here for higher quality, full size image
---
From contributor K:
After owning several different types of case clamps we ran across this clamp (which needed a complete restoration) but after all the work was said and done it's a great clamp, the interlocking style is great for any type of box, including small drawer boxes and even dovetail boxes. If you're willing to buy used and fix it up yourself you should try to find an interlocking type, we found this machine at a scrapyard laying on its back in four inches of mud and picked it up for $1,200 bucks, spend about $2,500 (plus time) giving it a new life.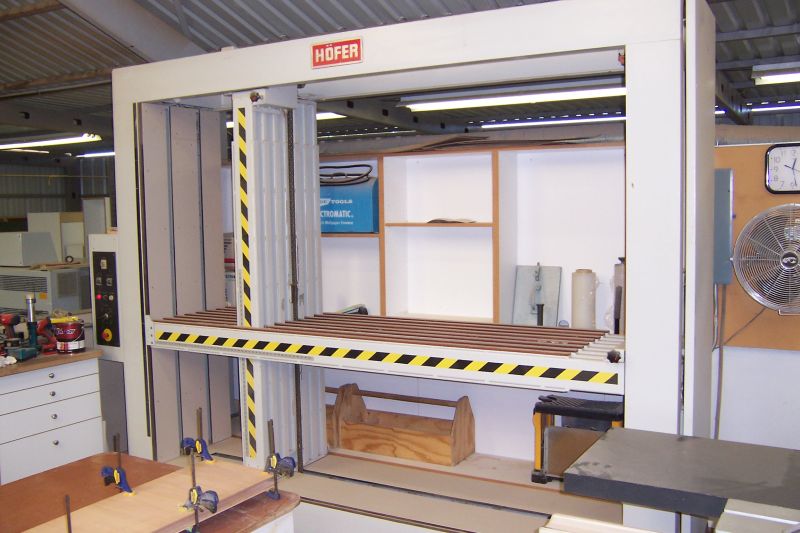 Click here for higher quality, full size image