Sink Tip-Out Hinge Choices
Cabinetmakers discuss hinge option for sink-front tip-out trays. June 23, 2006
Question
I don't really like sink tip-outs. With that being said, sometimes we do them because our customers want them. We've tried the 'self holdind' hinges. We've also tried the euro hinges. I see that Peter Meier has some variation of the self-holding hinges that they seem to claim has a smoother and tighter movement than the others. Has anyone tried these? How are they, and are they better than the Euro hinges? Short of a sink drawer (Blum's tandembox sink drawer), does anyone have any other tip-out solutions that they like?
Forum Responses
(Cabinetmaking Forum)
From contributor J:
I don't like them either. We don't do a lot of kitchens, but whenever possible I steer customers away from sink tilts (touch latches too). I explain my dissatisfaction with the available hardware and refuse to guarantee it.

---
From contributor F:
Just out of curiosity, why do you guys dislike the tip-outs? I think they are pretty handy and usually clients love them. I can't say I've had any specific problems with the hardware but mine are generic flip down hinges I get from my hardware supplier. I think they are the same as the Hettich ones.
---
From the original questioner:
My feelings towards tip-outs are primarily the result of seeing ones that have been installed for a while. They tend to be rickety, out of adjustment, and kind of gross on the inside. Also the trays are thin and cheap. We had to have an extra-narrow one custom made recently, and we had a local stainless steel fabricator make it. It is a simple thing, just some 18 or 16 gauge stainless, bent in a 'J' shape, with end caps welded on. It beats the heck out of anything I've seen off the shelf. So in the future, if we're pumping out 10 kitchens a month, maybe we'll just have a run of them custom fabricated. I haven't seen the Hettich hinges, so I'll take a look at those.
---
From contributor H:
I also don't like the hardware that comes with the typical rev-a-shelf tip out. I make a second stretcher below the top front one and use a clip on Blum 107 degree hinge. This gives me all the adjustments of a door to line it up with the door below and it is removable if there is any water damage. I use the stainless steel trays from revashelf which are about 6.00 for a 10" size. I make the stretcher just deep enough for the hinge plate so that it doesn't interfere with the sink.
---
From contributor H:
I hear you on the "rickety" hinge (the one that come with the tip-out tray). We give the customer a choice of either a regular 90° euro-hinge we use on doors in conjunction with an adjustable chain, or one of these, which are more beefier, and they seem to work fine with no callbacks on either of them.
If you're going to offer tip-outs, don't over think it. Let the customer decide; it's their kitchen, and the more useful gadgets you give them, the more perceived value, and the more they brag.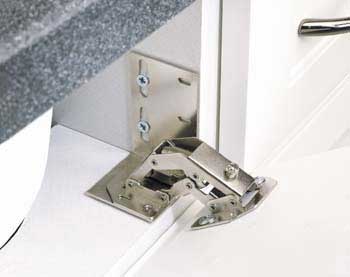 ---
From contributor T:
We probably install 50 - 60 a month on our faceframes using Blum compact 33 hinges, then use a plastic tray with tabs. If the opening is too wide for the tabs we install 1/4 inch matching wood ply to either side. We have it down to the point that it is faster to install the tip out than make it a false front. We include them on all sinks and cook tops except the deep laundry tray. Customers love them.