Sizing Up SketchUp
Cabinetmakers discuss what Google SketchUp can and can't do. June 4, 2012
Question
I would like to hear pros and cons about SketchUp. If anyone has any to share that would be appreciated.
Forum Responses
(CAD Forum)
From contributor K:
It's a simple program, and does decent conceptual drafting. If you try you can achieve more or less precise drawings in it. It has tons of glitches and creates exceptionally heavy (mb) files that are hard to email due to excessive size. It's very easy to learn, actually no learning needed at all, and very intuitive. If you want to complete serious submittal drawings it is not the one you want to use, but if you intend to use it for presentation/conceptual/preliminary design sketches it's great.

---
From contributor W:
I work with people using this program all the time. One person throws together fast 3D models of complex building and houses, does animations, etc. It's really fast. However, it all still needs to be redrawn in AutoCAD to actually build the house faster and better because SketchUp is not supported by Google in ways that I feel are required.
---
From the original questioner:
That's kind of what I was suspecting. All I wanted to do is a layout of stud walls with the electric and plumbing showing, and it looks like I would have to spend $500.00 for SketchUp Pro (not doing that).
---
From contributor R:
I use SketchUp all the time for presentations. It is free and easy to learn. I usually draw the picture then turn it to a jpeg and email it to the customer. Your average customer will be thrilled with a well designed SketchUp drawing. I would also download the free cutlist program and if you need higher resolution drawings you can also download the free Kerkythea program into SketchUp for photorealistic renderings.
---
From contributor G:
For what you describe SketchUp can do easily in the free version. All the pro version gives you is a presentation program (Layout) that as noted can be
done with other outside programs. Ninety nine percent of the drawing program is in the free version. I used it for the first three years, then shelled out the cash for pro. I use this program for everything including design, presentation, and cutlists. I wouldn't bother with AutoCAD unless I were using CNC, in which case you need the CAD.
---
From contributor C:
I have been using for two years now (Pro).
Pros of SketchUp Standard:
- Easy to learn the basics and can do very complex things as you become more proficient.
- Fantastic and easy to navigate 3D views that are worthy of customer presentations without rendering
- Free.
- Can do elevations etc. with the free version that are "acceptable", but for architectural stuff you would want SketchUp Pro with layout.
- 3D warehouse makes it easy to add in appliances etc. to give the presentation a "wow" factor.
Cons:
- Can be fiddly when getting into close up details.
- Doesn't "think" like a cabinet maker as some of the better dedicated cabinet making products do (cabinets don't snap together). No parametric components out of the box.
Basically the standard version is a great entry point and will serve you well for starting out. It probably won't be long till you want to shell out the $500 to go Pro. It's a very worthy purchase. I know a couple of big shops who have a copy of standard handy on their computers to quickly draw up small details or fiddly parts that would take them three times as long on their $60,000 worth of cabinet making software. I also hear of four-five man shops running it as their dedicated software, although I imagine they would do a lot of repeat work as custom drawing can be slow.
SketchUp's intuitive layout process and ruby scripting has the ability to blow the competition out of the water if only someone would make a dedicated cabinet making add-on.

---
From contributor K:
The drawing below is was drawn in AutoCAD and imported into SketchUp for simple rendering. It's rendered what's called x-ray mode in AutoCAD. I personally will do in Cad ten times faster. There is great insufficiency of the tools and commands in SketchUp, which makes it hard to manipulate complex models.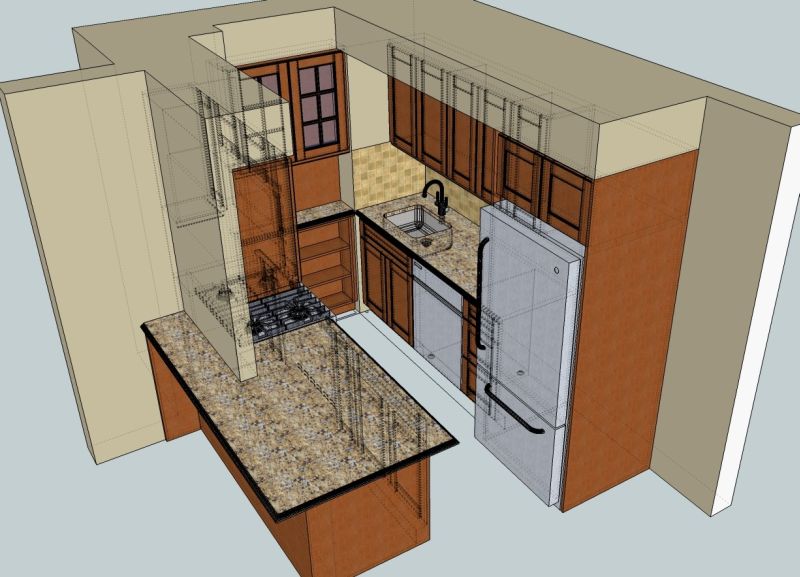 Click here for higher quality, full size image
---
From contributor F:
Here is a rendering drawn in Chief Architect and rendered with Kerkythea from the Kerkythea website.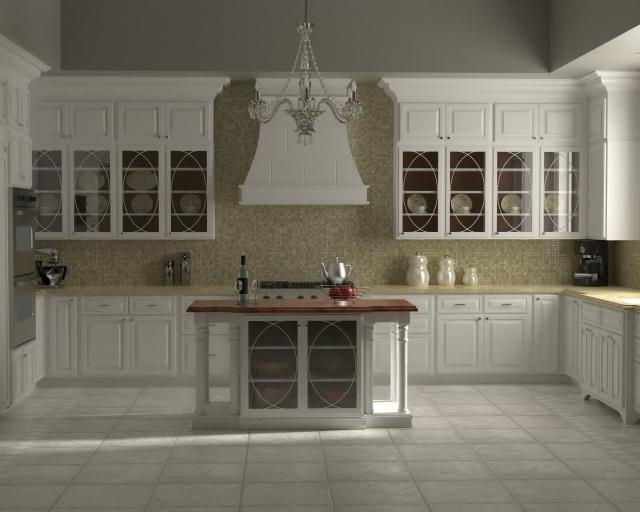 Click here for higher quality, full size image
---
Here's a drawing done with SketchUp and Shaderlight.

Click here for higher quality, full size image
---
From contributor V:
I'm a finishing development of cabinet software (CabinetSense) that runs on SketchUp. Although my software isn't as robust as something like eCabinets, it isn't nearly as complex either. As for production data, CabinetSense can export to Cutlist Plus (including grain direction and edgebanding data), and provides Finished Door, Drawer Box and Hardware Reports. Here's a video and a couple images of an exercise I did that tried to clone the build methods of a KraftMaid island.
If you are seeing this message, your version of flash needs to be upgraded to view this video.
Click here to get the latest version of the Flash player.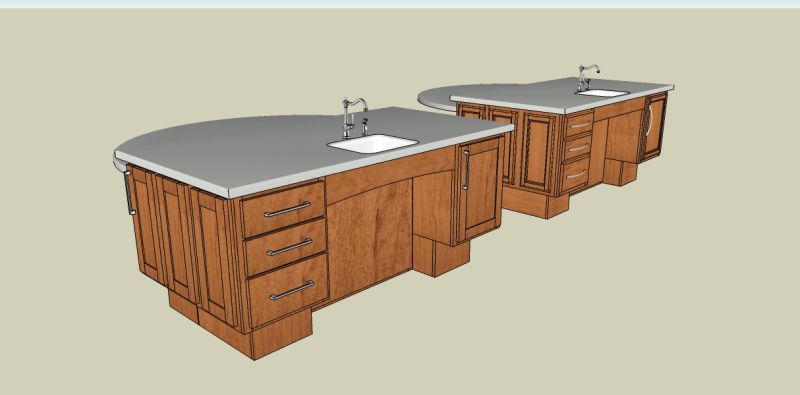 Click here for higher quality, full size image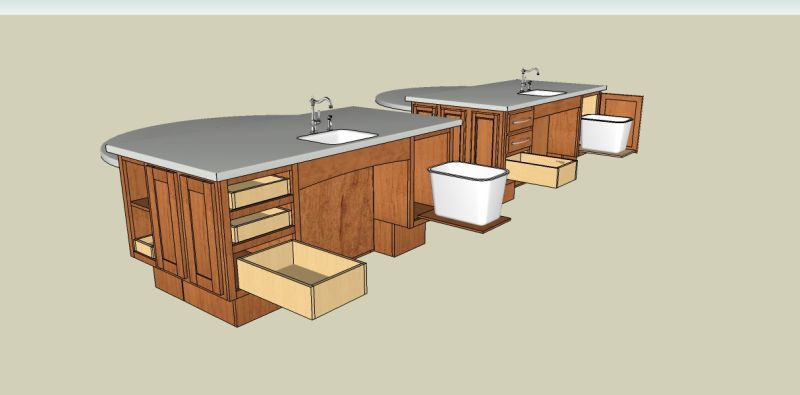 Click here for higher quality, full size image