Slabbing a Large Cherry Trunk


Advice on getting the best from a large Cherry tree growing in the courtyard of a home. December 31, 2012
Question
I will be milling up this baby soon, but am not sure what to expect or how to mill it. Thinking of slabbing cookies where it stands, or tipping it over and slabbing it conventional. Any tips?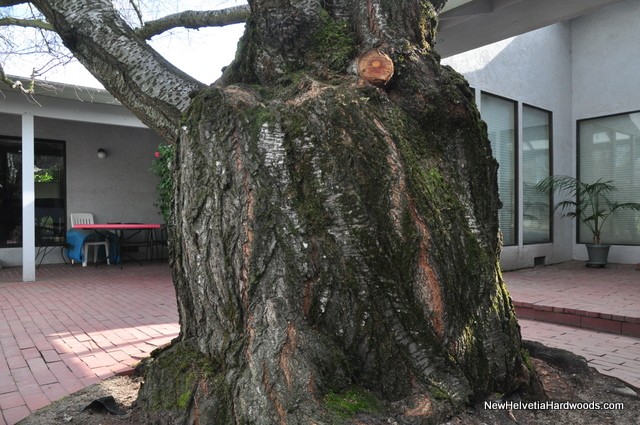 Click here for higher quality, full size image
Forum Responses
(Sawing and Drying Forum)
From Professor Gene Wengert, forum technical advisor:
Do you have a metal detector? Tramp metal can be a real problem.
Depending on your equipment, you might find that splitting or sawing this into four equal size pieces lengthwise as a first step can make sawing easier and safer. Sawing parallel to the bark will get flat grain, which in a piece of cherry will likely give the most striking grain pattern. However, due to safety concerns and your ability to hold the cant securely, you will probably have a variety of grain.
It is nearly 100% that you will have bacterial infection and decay, so drying will have to be slower than normal.

---

From contributor S:
Well, if your goal is to work very hard to create cracked pieces of wood, your plan is a good one. That wood might be used for something that would last, such as bowl turning stock or longitudinal slabs for furniture.

---

From contributor G:
Are you going to dig up the roots so that you can obtain some of the root ball in the slabs?

Not sure what kind of slabbing equipment you have, but I would not free hand with a chainsaw. Look for a sawmill that has a slabbing attachment. The increase in value of the material would far outweigh the expense of milling.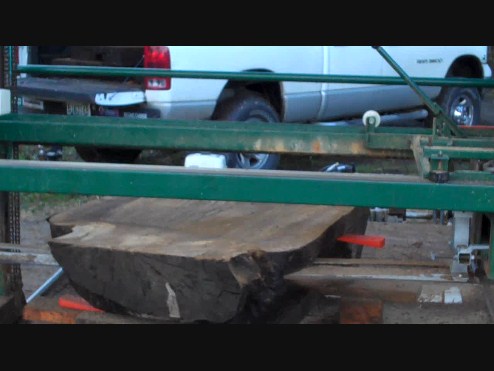 Click here for higher quality, full size image
---

From the original questioner:
I have a Lucas mill with slabbing attachment. So it sounds like parallel to bark flat sawn slabs would be best. The tree was planted by the original homeowner in courtyard, so metal should not be an issue. Please advise on comment about 100% fungus. Should I bleach? And sticker slabs in a particular way?

---

From Professor Gene Wengert, forum technical advisor:
No bleach needed, plus it would destroy color. Sticker normally - probably 12" spacing - and weights on top.
---

Would you like to add information to this article?
Interested in writing or submitting an article?
Have a question about this article?

Have you reviewed the related Knowledge Base areas below?

---



All rights reserved. No part of this publication may be reproduced in any manner without permission of the Editor.
Review Woodweb.com's Copyright Policy.

The editors, writers, and staff at Woodweb.com try to promote safe practices. What is safe for one woodworker under certain conditions may not be safe for others in different circumstances. Readers should undertake the use of materials and methods discussed at Woodweb.com after considerate evaluation, and at their own risk.

Woodweb.com
865 Troxel Road
Lansdale, PA 19446

Contact Us Copyright © 1996-2021 - Woodweb.com