Slides for Very Wide Drawers
Hardware is available for a five-foot-wide drawer, but it's a little stiff in operation. June 17, 2012
Question
I am wondering if anybody has ever made drawers that are 5 feet in width. I need to quote a job and I'm wondering what type of material and what hardware to use. I normally build European frameless style. I'm thinking birch prefinished ply and Grass heavy duty 30" undermount slides. The drawers won't be more than 4 inches high and will mostly only store cloth. I am concerned about sag and warp. Anybody ever done this?
Forum Responses
(Cabinetmaking Forum)
From contributor D:
I would suggest contacting Grass USA to verify the specs are appropriate for your application.

---
From the original questioner:
Does Salice have anything that would fit the bill? We have used your hinges before but don't remember if you also sell slides.
---
From contributor D:
We do have a very nice undermount slide, but unfortunately I cannot recommend it for a drawer that size. My guess is you will be best to stay with a side mount ball bearing slide for this application.
---
From the original questioner:
That's what I was afraid of. That means my overall cabinet needs to be that much bigger.
---
From contributor T:
I would say just use regular under mounts but use 2 pairs. This will alleviate the sag problem, and not take up too much space. After all, it doesn't sound like there will be much weight in the drawers.
---
From contributor S:
Häfele America Co. has a rack and pinion side-mount slide system that can handle a maximum interior cabinet width of 60 3/4". The 420.90.995 slide has been used with great success by our customers for at least the past four years. I think you are on the right path with the plywood plan. Two points to note: Though our catalog calls this a "bottom-mount" slide, it mounts on the side of the cabinet like a typical telescopic slide, and the drawer member wraps under to support the drawer. Second, the slide requires a 1" side clearance, which is needed to accommodate the racks and pinions. Hope this helps.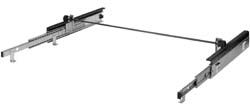 ---
From contributor D:
Good call, contributor S. I wasn't aware of this slide. It looks like just the ticket for this job.
---
From the original questioner:
The only problem is the side clearance on those slides may be an issue.
---
From contributor J:
I used the Hafele rack and pinion slide a while back on a job with 48" wide drawers. Works good, but make your client aware that they do require more effort to operate, opening and closing, than a standard side mounted ball bearing slide, and considerably more than an undermount soft close. My customer was a bit disappointed in that fact, when the rest of the kitchen had Salice soft close. The difference in action is very noticeable. That said, an undermount would fail in the application in short order, so customer accepted it.
---
From contributor S:
A rack and pinion system on a wide drawer can be harder to open than a narrower drawer that has slides that are not synced. I'm not sure how you would indicate this, because it's a lot easier to operate than a wide drawer without it that is racking.
---
From contributor J:
Right- no fault in the hardware itself, just more mechanical resistance I guess. Customer just had the wrong expectations of it, comparing it to a 15" wide drawer with Salice soft close undermount directly next to it.