Small Auxiliary Dust Collection Solutions


Ways to provide occasional dust collection for lightly-used tools, so you don't have to crank up your central system. February 13, 2006
Question
I recently moved into a large shop and am getting ready to purchase a central dust collector. I currently have a portable Delta DC which I move to each machine as I need it, and it works fine. We are a 2 man shop, but primarily use 1 dust generating machine at a time. When we use a machine, we typically run a large quantity of material through, a few hours at a time, so it makes sense to hook up every machine to the central DC.
My question is regarding the miter saw. It gets very frequent short term use. Should I also connect this to the central DC or have a small DC dedicated just to that? It doesnít make sense to turn on a large 3HP DC, wait a few seconds for it to get up to speed, then cut 1 board and shut it down. It seems better to have a small DC that has enough capacity for the miter saw. What do you all do for machines with frequent short duration use? I visited two shops in my area and neither had a DC on the miter saw. They let the dust fall into a bin underneath and clean it out once a week or so.
How do you handle DC for frequent use with short term duration machines? Do you basically turn on your DC in the morning and leave it running all day, and if so how do you make sure at least one blast gate is open? I am looking at Oneida and Woodsucker. Both have either 55 gal barrels or a 35 gal bin. It seems the 55 gal barrel would be very heavy to lift and dump, and I am wondering how others handle dumping the barrel.
Forum Responses
(Dust Collection and Safety Equipment Forum)
From contributor A:
I have the Oneida 3 hp dust collection in my shop, and all of tools are on some part of the system. Dedicated tools are hard fitted and the others are on flex hose from the ceiling and floor all on blast gates. We turn it and leave it on for an hour or so between runs of various tools, and when the tools aren't running we turn it off. If we start a tool, we start the DC. Itís a habit now. A bagless system (cyclone) is cleaner and more pleasant. As for the drum, 55 gallons of particle board dust is about 80 lbs. If you are concerned about noise you can put in a closet.

---

From contributor B:
I have a small hobby shop with a cyclone dust system. I bought a Woodsucker 2 cyclone which I love. One great feature of the Woodsucker is I can vent the exhaust back into my shop which means the cyclone is mounted outside of the shop to reduce noise. I put micro-switches on each gate which turns on the DC when the gate is opened. It makes life quite simple - open the gate, use the tool, close the gate.I have a 6" line from the cyclone going to the dust pickup on the mitre saw. It splits to a 2-1/2" line to the dust pickup. I then ran a 4" line to a *Big Gulp Dust Hood* mounted under the saw. I still get a little dust thrown out the back.

---

From contributor C:
I just hooked up a small shop vac under the miter saw table and reach under and switch it on when I use it.

---

From contributor D
I have just finished installing an Oneida 3HP cyclone complete system. I had the same concern you have about running the large system for just a single cut- here is my solution: I have a 5" Y coming off the main duct - this goes to a 5" blast gate - then a 5 x 4 x 4 Y just above the miter saw - then I mounted a 2" Y on the wall below the 5 x 4 x 4 Y. In the 45 degree, 4" leg of the Y, I installed a 4" to 2" reducer. From the 5 x 4 x 4 Y, the reduced to 2" line goes to one leg of the Y - the other leg of the Y goes thru a blast gate then to my shop vac. The bottom of the Y is connected to the small dust port on the miter saw. The large 4" port on the 5 x 4 x 4 Y goes to the dust hood at the back of the miter saw. I have the shop vac connected to a switch (Sears-$20) which starts the vac each time the miter saw starts. It sounds complicated but itís really not. This way, each time the saw starts, the shop vac also starts and picks up dust from a single or few cuts. If I want to use the big system, I simply close the blast gate to the shop vac and open the gate above the 5 x 4 x 4 Y which connects both of those outlets to the saw.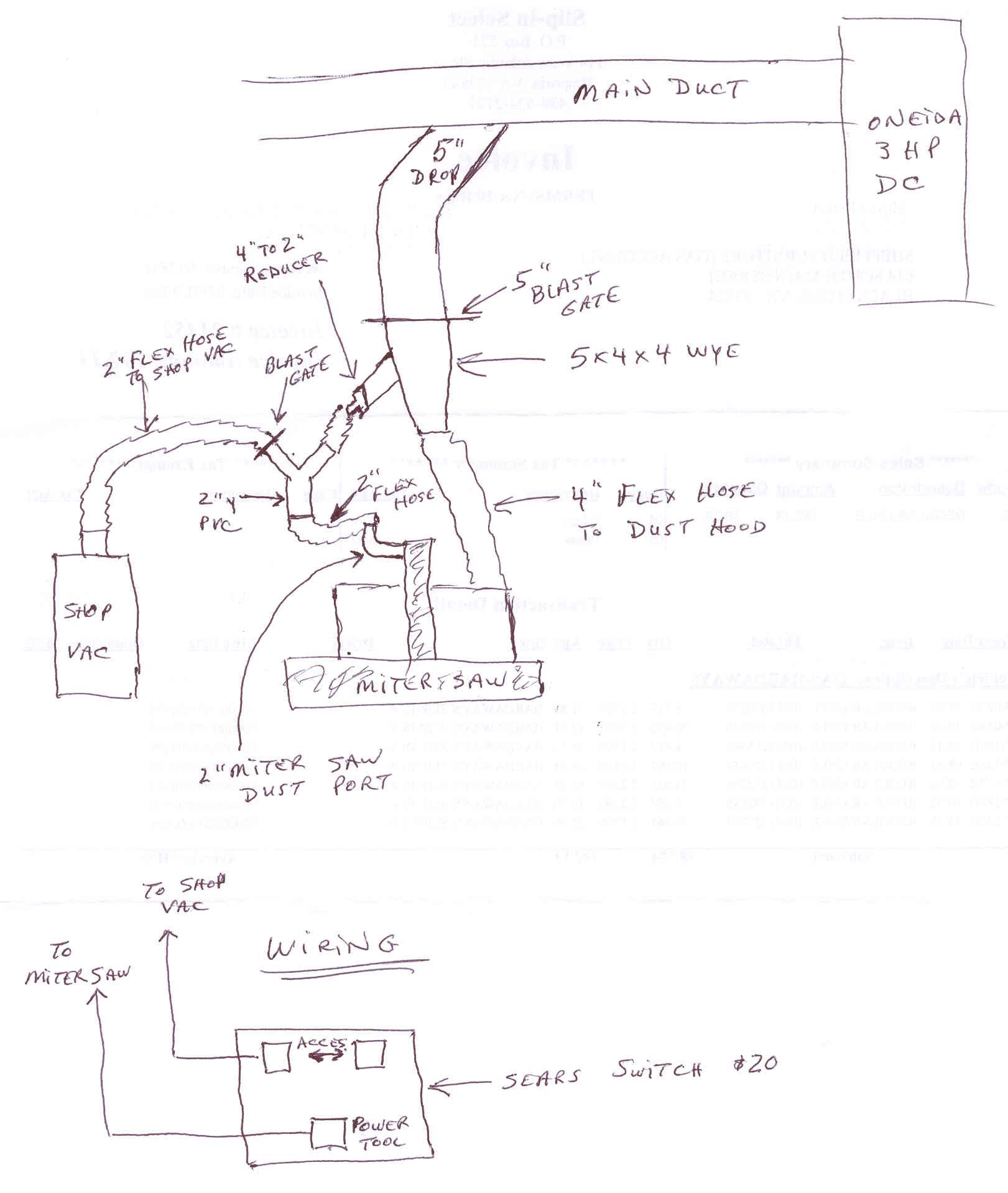 Click here for full size image
---

Would you like to add information to this article?
Interested in writing or submitting an article?
Have a question about this article?

Have you reviewed the related Knowledge Base areas below?

---



All rights reserved. No part of this publication may be reproduced in any manner without permission of the Editor.
Review WOODWEB's Copyright Policy.

The editors, writers, and staff at WOODWEB try to promote safe practices. What is safe for one woodworker under certain conditions may not be safe for others in different circumstances. Readers should undertake the use of materials and methods discussed at WOODWEB after considerate evaluation, and at their own risk.

WOODWEB, Inc.
335 Bedell Road
Montrose, PA 18801

Contact WOODWEB Copyright © 1996-2021 - WOODWEB ® Inc.