Solid Mahogany Countertop Details
Cabinetmakers discuss glue-up, attachment, and finishing methods for a solid mahogany kitchen countertop. May 23, 2007
Question
We're building a mahogany countertop, approximately 12' long, from 4/4 mahogany. I plan to glue up the 6" wide boards with T&Gs and then fasten them to a backer of 3/4 plywood. What is the best way to make this connection? I can drill slotted holes and then drive screws from the bottom, which will allow the mahogany to move. Someone else told me I could glue the mahogany directly to the plywood, as long as I made sure to spread the glue over the entire surface of the plywood. It seems like the mahogany would still want to move and this approach could lead to long term problems.
Forum Responses
(Cabinetmaking Forum)
From contributor P:
Whatever you do, do not glue the whole panel down to the plywood. It will almost immediately bow. Cracks will eventually happen in service.
I really would not fasten it to a plywood substrate either, as it will cause uneven air circulation. Whatever you do, think about how it will move and how you want it to move. Floating solid strips underneath will allow for growth/shrinkage, but will keep it from bowing. The mechanics of moisture exchange can cause very powerful movements.

---
From contributor J:
Although somewhat more expensive, I think your best bet would be to build out of 6/4 mahogany and lose the plywood. That's how I built my mahogany countertop and I have to say, seeing that full thickness slab is a thing of beauty. I would guess you'll get less movement with a thicker slab, also. Mine is still as flat as the day I installed it. As far as the 4/4, I would not try gluing it to plywood. That's a potential disaster waiting to happen.
---
From the original questioner:
How did you fasten your countertop to the cabinet? Slots for screws in the front stretcher and screws with no slots in the back? What did you choose for a finish?
---
From contributor D:
You have to allow for wood movement. As the others said, gluing to a board would be a bad idea. And I don't think that the thickness of the lumber has anything to do with the amount of movement you'd experience. The lumber will move a certain percentage along the width, and another along the length dependent upon relative humidity and moisture exchange. I feel the best way to secure it to the cabinets would be with cleating with slotted screw holes to allow the wood to move during seasonal changes.
---
From contributor K:
Gluing the solid wood to plywood will give you all sorts of troubles. I also wouldn't use tongue and grooves; just edge glue and you'll be fine. A good way to attach the top is with table top clips. Simple, fast and cheap and you can even make your own.
What sort of mahogany? If it's Khaya, or African mahogany, an inch is plenty thick for a top. I use the stuff practically every day for one thing or another. On long runs that have limited support, I usually use a trestle brace with a sliding dovetail stopped about an inch from either side. I space the trestles about 16-18". For a countertop, you probably don't need anything more than a few nailers every couple of feet. I'd pocket screw them on and slot the nailer side to allow for movement.

---
From contributor J:
I used a panhead screw with washer to fasten the back of the countertop tightly. In the front I routed slots in the tops of my cabinets and used the same fasteners just barely snug. This way the b/s shouldn't get affected by any movement.
Unfortunately, I used the wrong finish for the top. I took a recommendation to use Target's wb conversion varnish, hearing it was great for countertops. I can say now it is not great for places subject to getting wet frequently. It has developed a couple very small spots which are starting to get a bit cloudy. Most people would never notice, but since I built itÖ If I could do it over I would try a tougher finish, maybe their wb poly? I'm posting a picture in the spray booth.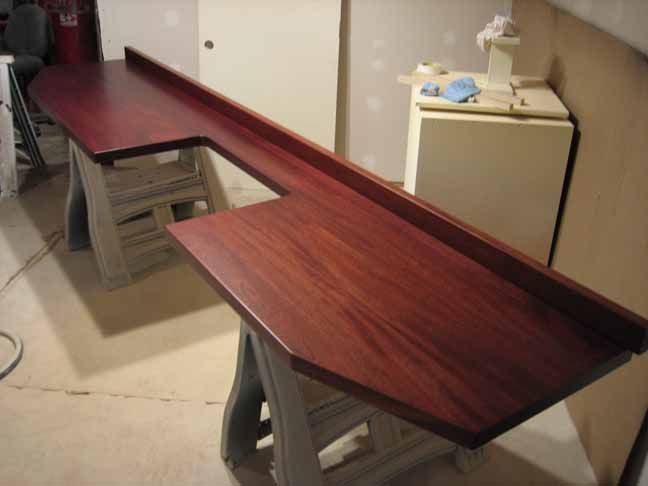 Click here for higher quality, full size image
Here's a not very good picture of the countertop installed.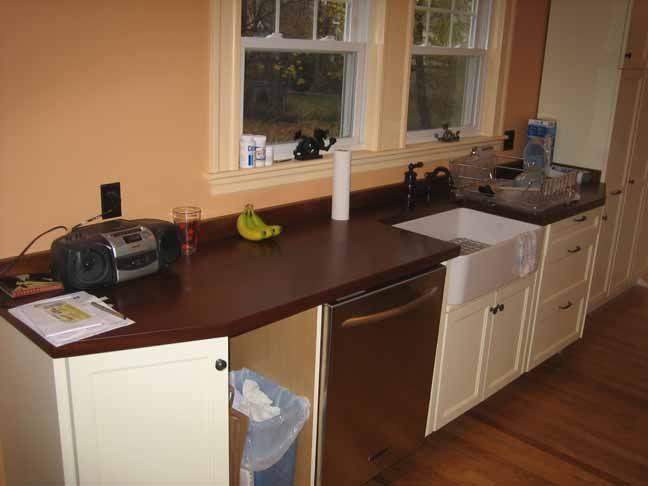 Click here for higher quality, full size image
---
From the original questioner:
Contributor P, thanks. I'm planning on using Honduras mahogany.
Contributor J, your top looks terrific! I read the thread about it earlier. What width boards did you go with?

---
From contributor J:
I used South American mahogany with an 8", 2-6"+'s, and a 4" at the back. Pretty much what my supplier had in stock with the clarity, figure, and length, 12', I wanted.
The only reason I said the thicker stock might be more stable is because it seems like it will take a lot longer for moisture to change in a 6/4 piece of wood versus 4/4. But I may be wrong.

---
From contributor L:
I do see your point, and it makes sense to me that it may take longer for the moisture exchange to occur being thicker stock, but it will still move. That was just my thought before, and I could be wrong as well! Just didn't want him to base his fastening method on the fact that it was thicker, and would possibly be more stable. I think that the important thing is just fastening it while maintaining the ability to move still. Good idea with the clips too, just as long as they are in slots to allow for movement!
---
From contributor T:
Nice countertop. I've finished two tops - a kitchen island and a bathroom vanity - with Fuhr 260, and both have stood up well. However, it takes a good week or more to reach full cure. It will get permanent white stains from water if left to dry during the first few days after you apply it.
---
From contributor A:
Plywood is insane. Here's a novel idea. Why not think of the mahogany countertop as solid surface? Due to the high cost of SA mahogany these days, why not build it out of 4/4 and double up the front exposed edge? Build a SS plywood substrate and bond the mahogany down with the occasional silicone globs.
---
From contributor B:
I agree with contributor A. Thatís how I do my wood countertops. 4/4 milled to 3/4. Edge glue with biscuits. Fold over front edge so grain matches. Gives nice 1 1/2 edge. Properly done glue line is invisible. Iíve even used slot cutter and inlaid another species along the glue line for accent. (For example, maple countertop with mahogany or mesquite inlay.) Looks very nice. Customers love it.
To attach, I use 3/4 ply in the corners of the boxes and fasten countertop with fender washers through oversize holes in plywood. Simple and seems to work just fine. I fasten right to top of the box, being sure it's level, and let the fold come over the front of the face, so you have to plan for this between door or top drawer face.
For finishing I use moisture cure urethane. Sherwin Williams product called Rexthane. The stuff is bulletproof and after two years, looks like the day it was done. Undermount kitchen sink with exposed end grain... no problem.

---
From contributor V:
Target's polyurethane water base coating (PSL) is recommended for high wear areas, but I can tell you to be very careful spraying because it's much harder to sand and rub out than the acrylic (USL). As for the countertop, I just did a kitchen desktop and a matching mudroom benchtop from 4/4 curly cherry with the ends doubled up for almost 1-1/2 thickness. The grain figure doubles back on itself like a chevron, and only a woodworker would realize that it's folded over and glued up. Instead people point to the routed profile on the edge and ask how I got the "moulding" to match the rest of the wood.