Space Efficient Dust Collector Ideas
Ways to shoehorn dust collection into tight quarters. February 26, 2007
Question
I just purchased a small edgebander and need a dust collector for the trimming but don't have much space (unfortunately, it is far away from my saw's dust collector and that one is pretty poor to begin with).
Can anyone suggest one that is relatively small but does a good job? I can afford to have a small collection bag because I will not be generating a lot of waste. I assume a cartridge type unit is smaller than a bag.
Forum Responses
(Cabinetmaking Forum)
From contributor L:
Do you own a Shop-Vac? Fit that thing onto the dust port. I understand it also vacuums.

---
From contributor B:
I have a Penn State Industries collector dedicated to my bander. They make a number of smaller machines. I have mine mounted to the wall to save space. I wouldn't bother with a cartridge if I were doing it again.
---
From contributor P:
I would suggest checking out Oneida's smaller units. I just shoehorned a 5 hp. cyclone into a tiny space, and I'm delighted with the results. They also offer great service and support. I think they've come out with a smallish roll-around unit as well.
---
From contributor T:
You can really ramp up the output of any dust collector by swapping out the fabric bags that come with them for custom made felt bags.
We have a half-dozen 2 hp dust collectors that pull dust an amazing distance with these bags. Our 20 inch jointer evacuates close to 40 feet to a mezzanine 8 feet above the jointer. These small machines are quiet and don't use as much electricity. It all happens because of the bag.

---
From the original questioner:
I will do some research as suggested.
Contributor T - I did change to a felt bag on my 2 hp and it made a tremendous difference. What I am now thinking of doing is piping up the bander to my existing dust collector and seeing if it does the trick. If not, just get a better collector for the whole shop (my old one has paid for itself many times over). This is probably the most space efficient in that I will only need one unit for everything.

---
From contributor H:
I have a 2 hp Grizzly with felt bags between my slider and bander (approximately 10 ft from the saw and 15 ft from the bander. I have a Cehisa EP-9 and it does a great job of dust collection for both machines.
---
From contributor B:
Below is a Jet collector on top of our bander and it works great.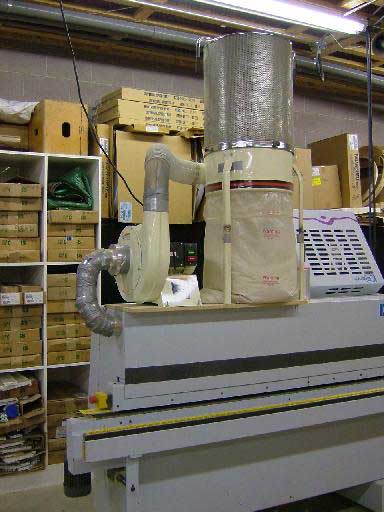 Click here for full size image