Spoilboard Advice for Routing CDX Plywood
Holding down CDX plywood requires a strong vacuum and a good spoilboard, because of the plywood's voids and warping. August 17, 2006
Question
I work at a seat manufacturing company. We make lawnmower seats and bus seats. We recently purchased a Phoenix RG 612 router. We are routing seats out of 5/8 cdx ply. We want to rout as fast as possible using our vacuum table. Would you suggest using a dedicated spoilboard? Some of the plywood is bowed - would a dedicated spoilboard hold down tightly? We have a Quincy vacuum, I believe that is rated at 7.5 kw. We produce around 200 seats a week, and do other routing jobs as well. What are my best options in your opinion? Is anybody else having luck holding down bowed plywood?
Forum Responses
(CNC Forum)
From contributor A:
For CDX plywood you will need a dedicated fixture. It has voids that will leak too much to efficiently rout without it. We use MDF sealed with a good coat of polyurethane that helps it to hold up longer. I also use a 1/4" x 1/4" closed cell rubber gasket as well. I go through about 15 units of 3/4" plywood in 7 days making flanges for electric wire reels so I understand the warping you are dealing with. I am not too metric savvy but I believe that 7.5kw vacuum is only about 9hp. What size is your table? We use 20hp on a 5 x 10 ft. table and sometimes it is not enough. I am working on a setup with hoses and valves that would allow me to piggyback vacs from my other machines to one machine for hard- to-hold jobs.

---
From contributor B:
I would also recommend a dedicated spoilboard that is gasketed. The only reason for this recommendation is because you are using CDX plywood. Have one dedicated spoilboard for each nested pattern you have for the various seats you make from CDX. For everything else you make, (other than from CDX) use a standard spoilboard.
---
From contributor C:
Here's one example. I'll post another picture with a different upload.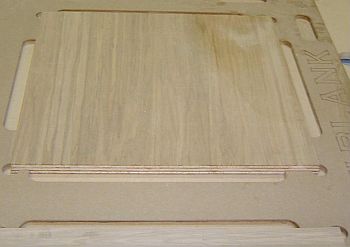 ---
From contributor C:
Here's another fixture board: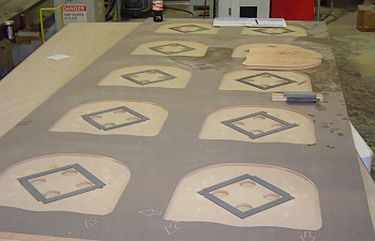 ---
From contributor D:
There are several options open to you on how to construct the spoilboard. Vacuum is one concern - reducing vibration in order to improve cycle time and tooling life is another.