Spring-Loaded Touch-Open Toe-Kick Drawers
but the hardware is available. May 22, 2007
Question
I am looking for a spring loaded drawer slide that would open when pressed. Like a self-close slide in reverse. I have some toe kick drawers in a kitchen that I would like to use them for. The idea is that you can open the toe kick drawer by tapping it with your foot. I've checked the major manufacturers and cannot find anything.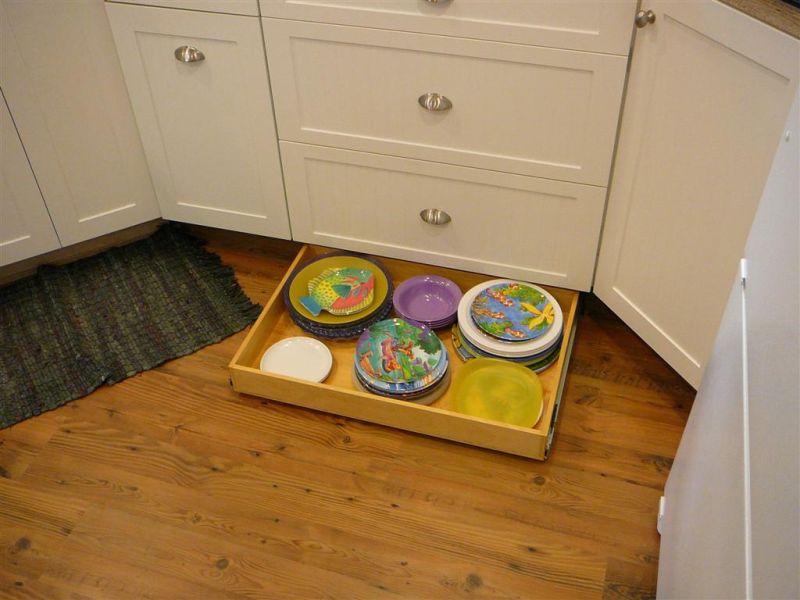 Click here for higher quality, full size image
Forum Responses
(Cabinetmaking Forum)
From contributor F:
Stumbled onto Blum's new Tip-On last night while looking for something else. Thought it might be what you need. Have not used it, nor do I know anything about it.

---
From contributor J:
Salice makes one.
---
From contributor T:
Sounds like something a person could inadvertently open and trip over.
---
From the original questioner:
Good point. I'm trying to find a balance between what the client wants (spring loaded slides so that she doesn't have to bend over all the way to open it) and what I think is best (Accuride 3800 or similar). I think it best to do a mockup and kick it around the shop for a week to decide.
---
From contributor S:
I have a client asking for an entire kitchen set up with touch latches for drawers and doors. According to the rep that was here this morning, Tip-on from Blum is not out yet, but the Salice version is. I'd try to find a local Salice rep, as these things are brand new and info is hard to come by.