Staining and Graining Flex Moulding
Tips and techniques to modify the appearance of flex moulding. August 9, 2005
Question
I have a contractor that needs a quick fix. He has flex moulding on a large arch window at the top of about a 16' ceiling. The company sent the wrong color, and now it would like me to try to change the color from dark brown to a pine shade. It doesn't have to be perfect, just not really noticeable.
If he glues and applies it, would it be acceptable to glaze it to the appropriate color? I don't want the color(s) to crack off or anything in the near future. I've never used flex moulding, but have used glazes many times. After the molding is glued and attached, should glazes be ok to use? Or am I way off with my thinking here? Any help would be appreciated.
Forum Responses
(Finishing Forum)
From contributor S:
I've finished flex mould numerous ways in the past few years. I've never had a problem with adhesion or cracking. I would color the wood to your choice of base color and glaze away. Sealing with solvent based finishes is also not a problem.

---
From contributor G:
Flex moulding has a tendency to develop small cracks along the inside and outside edges of the curves, so wait as long as possible after installation before finishing. I would suggest that you run some putty along the edges.
There is an easy, and not very expensive graining tool that can be found at any faux painting center which has a curved half moon type face, and a handle sticking out the back. This tool is really only good for pine grain. Use it after base coat, pull and roll the face through first coat of glaze, and then final glaze over it to soften the look.

---
From contributor D:
To the original questioner: Are you trying to change this molding from a dark color to a lighter one?
---
From contributor M:
I think this was the finishing technique that Contributor G was referring to, as the graining (check) roller for adding grain lines. It may give you another option on how to solve your finishing problem.
http://www.iswonline.com/cwb/200409/mac0904.cfm?printPage=1&

---
From contributor G:
To contributor M: I was actually thinking of the rocker tool. I use this check roller to create oak, and some types of mahogany. Here is a picture of it below.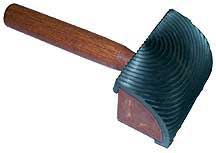 ---
From the original questioner:
To contributor D: Yes the color now is a solid dark brown, and it needs to be a pine color with some grain to it. It's somewhat far away from view, so it doesn't have to be a great job, just close.
---
From contributor D:
To the original questioner: Are you going to try to get the background color close before you try to glaze it to match better? If the flex is already a solid brown color and it needs to be a lighter pine color, just glazing is not going to help you. It will need to be toned, glazed, and grained.
---
From contributor S:
Make sure you base coat it to a shade lighter than you ultimately want. The glaze will darken the base coat.