Starter CNC for a Guitar Maker
A guitar maker gets advice on an entry-level CNC setup that will let him make time with artistic electric bodies. August 24, 2008
Question
I am looking to expand production on my business and I believe I need a CNC router to do so. What I need is a faster way to carve the electric guitar bodies/route in the pickup/neck pockets as well as carve the necks. The largest electric guitar body we do is 13" wide and 19" long. The depth of cut doesn't have to be any deeper than 1.5" I was looking at the Carvewright system, but I am worried about its durability. Are there other systems out there such as a small, yet reliable CNC router?
Forum Responses
(CNC Forum)
From contributor E:
CNC is definitely the way to go for what you're doing. Depending on what you end up with you should be able to cut all the pickup, etc in 10-15 minutes. Cut a full 3-D profile for the surface between 20 and 90 minutes depending on the quality and sanding you want to do afterwards.
I'd encourage you to look at the Tecno Isel, Worthog, and probably at the top of my list would be the Shop-Bot "buddy". I have seen and run the Carvewright and in my opinion you'd be very unhappy with it for what you want to do. I know price is always a factor, but think longevity and what else you might want to do later. Also, if you move to say a 4x4 table you can have jigs all set up for everything you do and the process becomes even quicker and the quality better.
Don't forget software too. You might look at VCarver Pro and also their 3-D cut. It is easy to use and very reasonably priced.

---
From contributor T:
I cut this below on my Shopsabre. The arch top with 3-D flames took four hours. The pickups and profile took fifteen minutes.To bad I screwed up the finishing and threw it in the garbage out of frustration. Once I get the time I'll take another crack at it.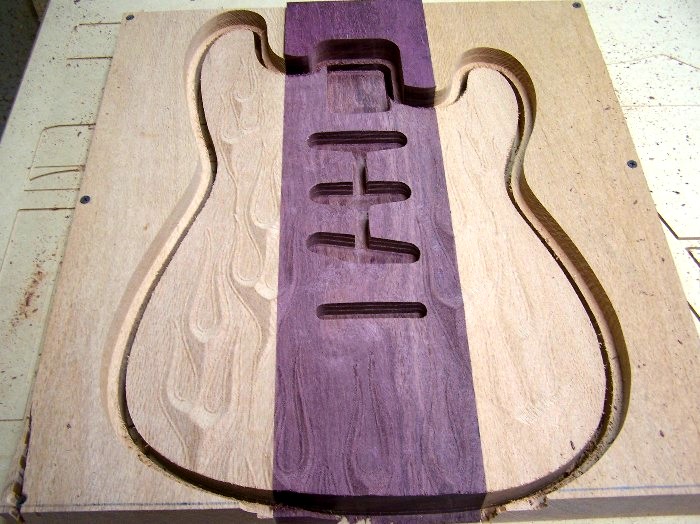 Click here for full size image
Here is a better view of the flames.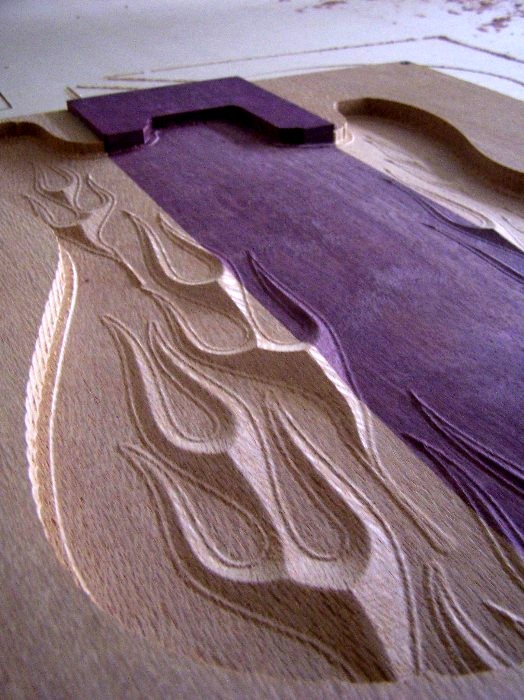 Click here for full size image
---
From the original questioner:
Thanks guys. It looks like the Techno Isel will work best for me
---
From contributor G:
What software did you use to cut the flames?
---
From contributor T:
ArtCAM Pro V.9 is great software but if I had to do it again I'd definitely check out Vectric Cut3-D. I'm glad I bought ArtCAM and it has more than paid for itself.