Stationary Biscuit Joiners
Advice on modifying or adapting biscuit joining equipment for use as a stationary machine. November 10, 2006
Question
Anybody heard of a manufacturer of a stationary plate/biscuit joiner, or made one themselves?
Forum Responses
(Cabinetmaking Forum)
From contributor E:
I'll never know why Delta stopped making their stationary (32-100), but if mine ever breaks, I'll be in trouble. I keep missing out on the few that come up for bids.

---
From contributor S:
I agree about the Delta. My only complaint about it was the mechanical foot pedal with no mechanical advantage (e.g. pulleys). I compensated by adding two air cylinders. One for clamping that actuates first and one for feeding the machine into the work that activates second. The best thing about the Delta is it gives you an induction motor as opposed to a universal one. I think I would be more interested in rebuilding the machine for that reason rather than trying to turn a portable into a stationary.
---
From contributor M:
Could you post photos of the process for installing air cylinders? I have the same machine with the same gripe, and would love to hear how you hooked up air for pneumatic feed and hold down. Also, a source for the parts necessary.
---
From contributor J:
We did the air cylinder thing to our Delta, too. Their foot pedal/cable design truly sucks. We used a single cylinder with a pressure gauge and regulator, foot pedal and a spring mounted to the bench for the return. My only complaint is that it's hard to regulate the feed speed. A sharp blade is important. Grainger has all the parts you'll need. I got my machine from a guy on this site for $100.00. We set up angled stop blocks and use it primarily for mitered frames, the ones that are hard to hold and do accurately by hand. I'm also surprised that they were discontinued, and that nobody has picked up the ball and run with it. (The guys at Porter Cable were able to design a pocket screw machine that uses their existing router motors. What's up, guys?) A well designed, well powered unit would be worth more money to me.
---
From contributor S:
The secret is flow controls that regulate the feed speed. Obviously you do not care how fast the clamping takes place but the feed of the unit is what you need to slow down. With a flow control valve, you are sure that the clamp always closes before the feed begins. I should point out that we make drawers with half inch drawer bottoms with a continuous slot and random biscuit slots in the drawer sides with this machine. So the slots are cut pretty fast. It is not at all an expensive proposition. Any pneumatic supplier can get you through it. The cylinder size was quite small with a short stroke. Also, they are single action so they have a spring return, which makes them faster than double action cylinders and cheaper.
Here is the pneumatic clamp on the front of the joiner. It is only a 1/2 inch cylinder. Very inexpensive. The shaft is threaded into a UHMW block.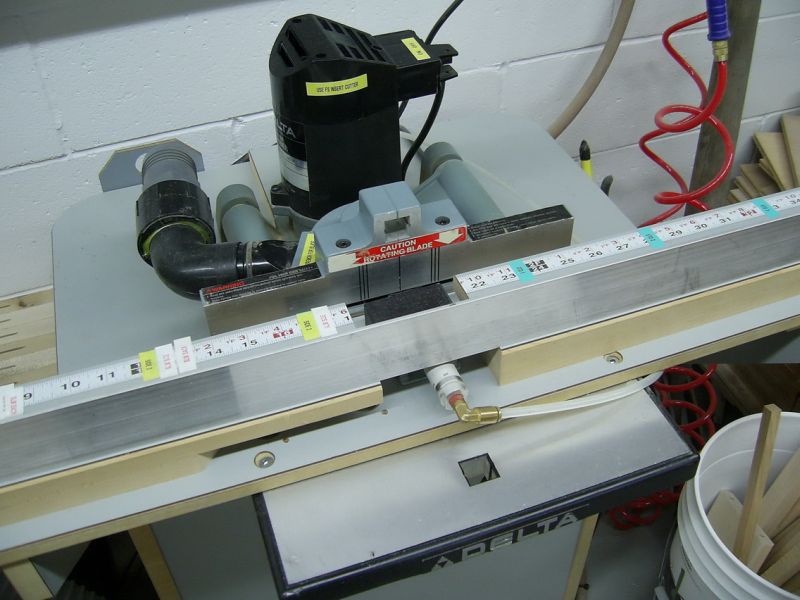 click here for full size image