Storage Cabinet Shelf Spacing
Ideas about the value of adjustable shelving, and about practical shelf spacing in kitchen cabinets. December 8, 2010
Question
On 42'' wall cabinets with fixed shelving, what would be considered the standard shelf height? Maybe I should be asking what is the most common shelf height? Three shelves with 9 1/4'' of clearance between them or two shelves with 12 1/2'' between them?
Forum Responses
(Cabinetmaking Forum)
From contributor K:
If it is 42" high, it would depend on what was being put in the cabinet. If it is for glasses or spices, for example, 12 1/2" would be wasted space. Typically, on 42" high cabs, it would be 3, on 30" high cabs.

---
From contributor R:
I would think just one shelf in a 30'' wall cabinet, and two shelves in 36''-42'' cabinets. If you put three shelves in a 42'' wall cabinet, wont that make the top shelf to high?
---
From contributor M:
Does the shelving have to be fixed? I only use fixed shelves in tall cabinets like pantries and oven cabinets. Even then I only use one as the midpoint divider. But to answer your question two shelves equal three spaces.
---
From contributor R:
On face frame cabinets with a center stile, if you put three shelves in A 42'' wall cabinet, it will looked cramped, now that's in real life not some 3-D drawing. Now I guess if they are frameless cabinets and you donít have that stupid center stile to contend with, you could put the shelves 6'' apart and be fine. But you asked what we are doing the most, or what may be considered the most common, you did not ask if three shelves is right, or if three shelves is wrong.
---
From contributor K:
Contributor R - "if you put three shelves in A 42'' wall cabinet, it will looked cramped, now that's in real life not some 3-D drawing." I would most definitely have to disagree. Below is a photo of a 42" high face-frame cabinet (builder cabs) and as you can see, with the three shelves, there is ample room for storage. There is enough room for storage of service for 16+ on one shelf with room to spare. You'll note that the items that are rarely used are on the top shelf, as it is in most homes.
Now, as I said previously, it is custom, so you make the shelves according to their needs (i.e. - height and storage requirements). If they don't have a pantry and are storing soda bottles vertically, for example, they will need 12" of clearance, so you make it according to their needs. If they are storing 18-20oz. cereal boxes, you will need to account for 14" in space between those shelves, so it has everything to do with what is being stored (i.e. - their needs). For most everything else, because of their storage height requirements a 30-36" high cabinets has two shelves (in addition to the bottom of the cabinet) and 42" high has three. It's really no more complicated than that. There are exceptions to every rule, but that is what custom is about.
Just do a quick search on Google and type in - "inside of 42" high kitchen cabinets" and start poking around and you'll find 30-36" high get two additional shelves, 42" high get three. There are exceptions of course, but overall you find this to be the case. However, no matter how many shelves you ultimately choose to include, my suggestion is to definitely do adjustable shelves as it provides the most flexibility.

---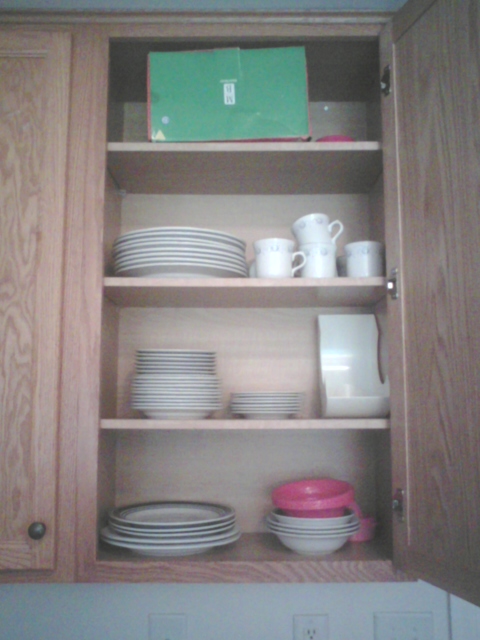 Click here for higher quality, full size image
---
From contributor R:
If I stretch that single door 21'' wide cabinet out too 24''or 27'' wide, where I would need two doors and then put a center stile in. it turns a cabinet into a bunch of small little compartments. I know that not everyone uses center stiles and so on and on and on, and what you have there does not looked cramped at all and your correct about them being custom and can be built anyway one likes.
---
From contributor K:
That cabinet above is a 24" cabinet, not 21". The below cabinet, on the left with 3" center stile, is a 30" cabinet as you can see. Ample storage with three shelves. I also added the 24" cabinet next to the above cab and the Spice/Baking cab for context. They are all adjustable shelves, but are all set at the same height, so you can see, even if they were fixed shelves, they are still quite versatile for storage.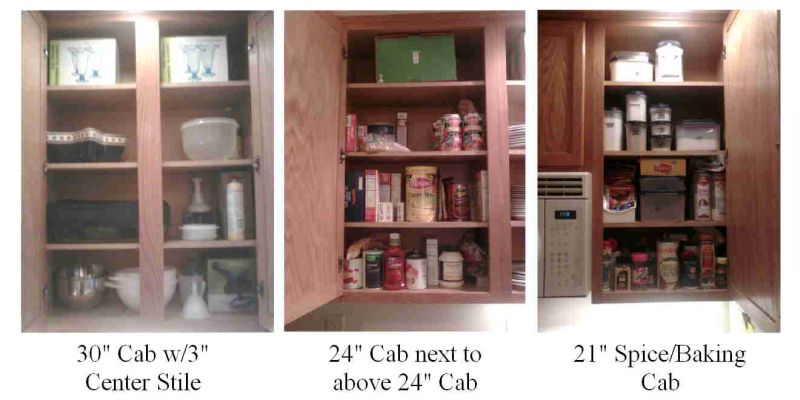 Click here for higher quality, full size image