Stripping Raised-Panel Doors
Advice on removing topcoat and stain from a set of highly profiled doors. July 8, 2014
Question
We stained and glazed about 12 doors to match an existing kitchen. They look great but they're the wrong color. Lead time was quite long and costly so I need to refinish these and not buy new. They have two coats MLC conversion Varnish over a wiping stain. New color needs to be lighter and more yellow tone. Does anyone have any suggestions on stripping them?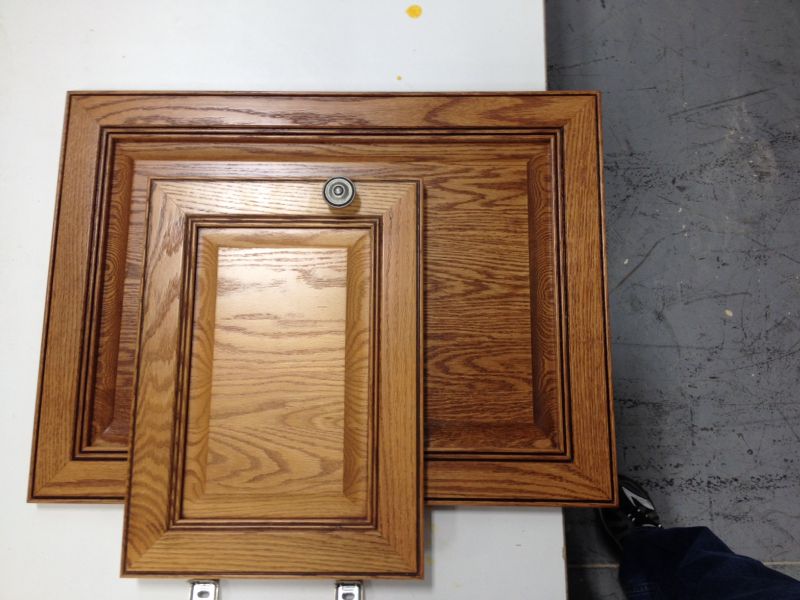 Click here for higher quality, full size image
Forum Responses
(Finishing Forum)
From contributor N:
Generally speaking CV strips easy (amazing so) but stain is another animal altogether. Plus there are so many angles and profiles. If replacing were an option that would be the way to go, but since it's not follow this below:
Strip the CV.
Wash out as much stain as possible with L-T, rags, a Scotch-Brite and a brush. Sand until you can't stand it and then sand some more.
Spray-on some L-T to see where you stand and then sand some more.

---
From contributor B:
Buy new doors! It's a very real possibility you won't be able to get all of the stain out of the deep grain and if those inset panels are plywood/veneer you could easily sand through. Also on the inset detail you'll be sanding cross grain which isn't going to help the overall look in the end. Good luck and if/when you get new doors seal them first then glaze before the final coat with a small brush in the recessed areas - not the whole door.
---
From contributor G:
By looking at the end grain of the raised panel I would say the panels are solid wood. If the beads are low enough you could run them through a widebelt sander and then only have to mess with the profiles. If you do this, strip the profiles first so the stripper doesn't mess up the freshly sanded areas. It looks like the glaze in the bead recesses matches. If so, you wouldn't have to strip it all out. A chisel, old file, razor blade or something else could be quickly ground to match the panel profile to help out by scraping followed up with sanding. If anything grind it in a slightly tighter radius than the panel profile and work it side to side with each scraping stroke. You wouldn't even need stripper if it all works out. Either way it's going to be tough but I've been there too.
---
From Contributor J
:
Definitely use a chemical strip. Sanding in the beads will be a real pain and sanding won't get into the grain at all. Fine bristle nylon fingernail brush will help scrub the grain. Scrub with fresh LT until no further color comes out.
---
From contributor W:
I do mostly refinishing so for me this is cake. I would never sand this, just refinish it and use a lot of LT with a scrub brush and that should get the stain out of the grain. There are also stripers that are made to remove the stain as well as the finish.
---
From Contributor E
:
I don't know where you're located, but here in California we use Cal Door for most of our cabinet doors. They make a style called the Yosemite that is a dead match for the door in your photo. The C-panel raised panel option looks just like what you have. It takes Cal about seven-ten days to produce mitered doors for us. It seems to me that you may be better off starting from scratch, at least thatís how I would do it.
---
From contributor A:
If you can pull the color out of the grain using the above mentioned methods then your background color looks pretty good to me. Strip them twice if needed and seal in the background. You can then dilute a glaze to match the grain. It's been done this way since before sandpaper and spray guns. You'll be fine. Conversion varnish is a pain to strip.
---
From contributor F:
Check your area for furniture refinishing shops that would do stripping routinely using a flow type method. CVís are not all created equal so ordinarily you do one as a test to see how it goes. In extreme situations we have a remover tweaked with acetic acid that will lift it. I wouldn't disagree when all things are considered, replacement may be the sure bet but itís worth checking out and could cut your lead time.