Supporting an Overhanging Granite Countertop
What sort of fastening and support will make a projecting granite bar top rock solid? Pros provide advice. November 21, 2005
Question
Below is a rendering of part of a kitchen I'm designing. My client has decided on 3 cm granite countertops and if possible, would like the curved bartop piece cantilevered with no or little visible support.
As I've designed it so far, the curved piece is 123" long, 24" wide at the widest part of the curve, 8" wide at the ends, and overhangs the sink side of the short wall by 2 inches and the other side by approximately 17 inches at the center. The sink base cabinets on the other side of the wall will, of course, be securely fastened to it and will have the weight of their own granite top to help stiffen the wall and alleviate somewhat the downward torque that the overhang will place on it.
I was thinking along the lines of a couple of beefy angle iron type supports fastened securely (through bolted?) to the wall and then cosmetically hiding the vertical legs of them behind the wainscot panel. Will it fly? (Or perhaps I should ask - will it stay?)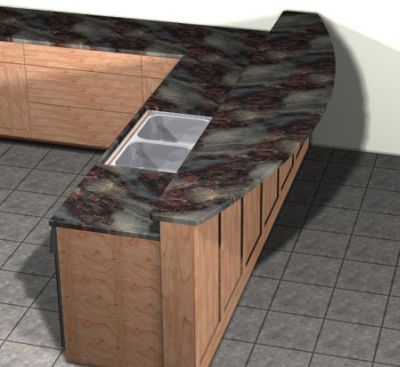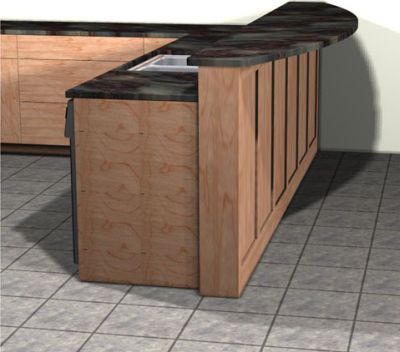 Forum Responses
(Cabinetmaking Forum)
From contributor M:
That will definitely work. Most of the weight is on the wall. Some granites, like Black Absolute, are very strong. Watch materials with a lot of crystals like Uba Tuba. You can overhang 10-12" without support. If you secure angle iron to the wall, you will be okay. The radius you show adds to the support.

---
From contributor E:
I use tube steel all the time for this application. 3/4 x 3/4 will work for such a small overhang and it will replace your sub-top without being noticeable. Just cut different lengths to match your radius and bolt them down to your die wall.
---
From the original questioner:
Thanks for the replies. Yes, I agree you can have perhaps 10 to 12 inches of granite unsupported off an edge, but I believe that presupposes the major portion of the same slab is supported on the boxes.
In this case, actually about 60% of the overall surface area is unsupported on the curved side, but even then, it would only be about 175-180 lbs, so I think it'll work. I'm even thinking of extending that side a bit to get more knee space (maybe 18") and using a shallower curve.
And I think I know what you mean by tube steel, but to just check: are you referring to square hollow steel stock? I would like something that looks very sleek. Also, do you mean just use straight pieces and bolt them down through their tops into the wall? I like that even better than the angle braces as far as ease and appearance go.
And as for replacing the sub-top, I was never planning to use a sub-top under the granite anywhere in the kitchen. That's the whole point - my client wants a clean, single-piece front edge with no visible glue seam (like you always get on granite build-ups) and no sub-top that would need hiding.

---
From contributor E:
Yes, you are correct about the tube steel. I would not recommend letting the granite overhang without some support, as it is prone to crack. The slab surely has hairline cracks in it when god made it, and any downward force (leaning on or standing on if you are a painter) will make them worse or cause it to fail. Most granite contractors I have worked with would refuse to take the responsibility.
---
From contributor M:
Granite is 16-18lbs per sq ft. Like I said earlier, some colors are better than others. I know for a fact that you do not need a sub-top if you use material like Black Absolute or colors with little veining or crystals. As long as the wall is securing most of the weight, you'll be okay. Silicone is very strong once it cures.