Systematic Takeoffs for Commercial Cabinet Jobs
Here's some detailed advice on conducting a businesslike takeoff for creating a cabinet bid, with some useful, comprehensive lists. July 13, 2010
Question
I have a project to do and I need to do a takeoff from a set of plans and manually do a report. I've done this before (a few years ago) but not recently. I don't need to price anything, just properly list all items to be bid and set it up on a spreadsheet to look like it should. It's not hard on residential cabinets and millwork but this is a commercial deal with custom built items.
Forum Responses
(Business and Management Forum)
From the original questioner:
The take off is the project not doing the work. I was trying to get some positive feedback on how to write this up and lay it out on a spread sheet so it looks right.

---
From contributor F:
We extract part of the scope from our takeoff. The issue is how you want to do your takeoff. The first page is what we send as part of the quote (we clean it up). The second page is a detail page.
---
From the original questioner:
I need to do a takeoff. I have a set of blueprints and need to make a list of all the items that are wood related so the next person can put prices on them. I know that basic cabinets you list the sizes of the cabinets but there are items that are not basic - how do I list them?
---
From contributor F:
Ask the person who is going to price it what information he needs. That will determine the format and details.
---
From the original questioner:
I can't ask the person that's doing the pricing. I'm trying to help a friend from going under. If I can do this without any major problems it will help him out a lot. I don't think that what I have done so far is incorrect, I just want to do it as good as I can for him.
---
From contributor W:
List room by room, take a highlighter and find all cabinetry on the floor plan then match it to the elevations. List all rooms with cabinetry by room number, get the specs and read every note on the plans that relate to millwork, counters, and cabinetry. Get and find all items relating to your takeoff on the finish schedule, (which is a good starter format if done well). Price all items separately but only turn in one price (unless otherwise directed). You may be asked for a schedule of values for add-ons and deductions (item and room by room list) make sure of some notation that list shows what you found on the plan in case there are not shown or hard to find elevations. Really good project managers have read their plans and when they see a list they will check it and make sure nothing is missed.
---
From contributor X:
Be sure follow the steps as listed below to assure you have everything account for in your bid price:
A.) Document Review
Review:
• Instructions to Bidders
• Scope of Work
• General Conditions
• Addenda
• Specifications
• Plans
• Schedules
• Alternate/Separate Prices
Notables:
• Bond requirement
• OCIP/CCIP requirements
• Cash Allowances
• Special Conditions/Prevailing Wage/Union
• Any item not your standard from documents
• Items not to be included
• Questions
• Clarifications
B.) Rough Takeoff
1. Floor plans, proceed to compile your rough notes on a pen and paper medium as follows:
• Room A (First numeric or alpha-numeric)
• Elevation/Section/Drawing
• Group (if necessary for breakdown by area)
• Special Remarks if no Elevation is not provided
2. Continue Room by Room in order until all Rooms you have listed all Rooms on floor plans.
3. Continue to review page by page compiling notes on anything pertinent
to the scope of work. The following is the usual order of sequence that may vary from
project to project:
• Reflected ceiling plans
• Building Elevations
• Building Details
• Interior Elevations
• Millwork Elevations – Leave until later
• Millwork Details – Leave until later
• Miscellaneous Details
• FF&E Drawings
• FSE Drawings
• Door Schedule
• Room Finish Schedule
• Addenda
You have now compiled a detailed checklist for items to be entered into your takeoff in
the application. Start from the top of your list to enter items and continue until all Rough
Takeoff items are checked off.
4. Final Review:
When rough takeoff is complete, go back and peruse documents for anything that may not have been comprehendible at that time. But now after you have reviewed everything, it may fall into place.
5. Expand Rough Takeoff:
Go to elevation/section, list in finish takeoff all items shown including quantity, description or item code, unit of measure, section number, length, depth and height. Length is typically an averaging size or assembled size for shipping and placement into building.
6.) Proceed to input items into finish Takeoff as prior examples have indicated.
Hints and Tips:
• Do not look at the big picture, process takeoff as outlined 1 Room at a time. The sum of all Rooms will be the big picture in no time at all.
• Proceed numerically to avoid missing a Room or item.
• Keep a mental note on repetitive items, average sizes, etc. to allow you to enter in finish takeoff consistently. This will reduce pricing time later as you are reducing Special items.
• Compile list of items that you will not included.
• Compile list of questions and submit for resolution as soon as possible prior to bid date.
• Compile list of clarifications or assumptions.
• Organize and manage all your input to be consistent and accurate from Location, Description, Group, ArchRef, Notes, etc. to suit the reports that the project needs to produce. For example, if the project required that all 'Offices' or all detail items 1/A202 are to be an Alternate to be deducted, assign a specific Group number, say '1' to make these Locations unique and easily identified. Then ask to print for Group = '1'.
• Input all information areas carefully and accurately prior to you commencing the input of the takeoff items.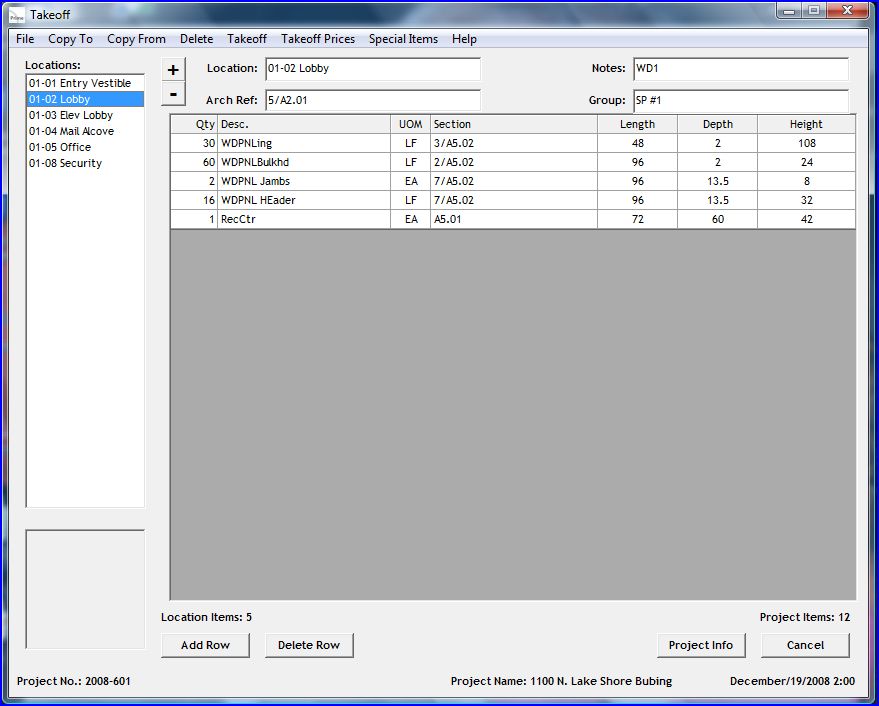 Click here for higher quality, full size image
---
From contributor U:
I just finished a 528 room hotel price that I set-up an XLS spreadsheet for. The formulas where a nightmare but it worked in the end. I entered the client info on the expense sheet, the floor by floor info on the overall sheet and that carried over to the room by room sheet.
---
From contributor B:
Contributor X, that is the most comprehensive list I've ever seen on WOODWEB with regard to estimating.
---
From contributor F:
Nice list. I think electrical and plumbing sheets need to be looked at. I have found projects with specialty casework on electrical plans (electrostatic laminate) and many times sinks may be called out as solid surface on the plumbing plan or as an under-mount in a laminate top. Also we always check the drawing index against the sheets included in the drawing set.
---
From contributor X:
I agree in a way on the electrical and plumbing, however we are not electrical or mechanical engineers. Nor do we receive these M and E drawings all the time. We are architectural woodwork engineers and must draw a line a somewhere. If SSM sinks are shown on the M and E's then let the plumber supply them. He can order them for the SSM certified manufacturer! Having said that if an answer may be available on these documents and they are available to view, I will look. Better yet there is always the RFI way to go.
Related story, I had a project with SSM integral vanity sinks where the deck area of the top was the same size as a vitreous china wall hung sink and the plumbers wanted to claim justification! Long story short, we won but the plumber had to install the chair carrier in wall brackets for this sink.