TV Concealment Door Ideas
Design concepts and hardware suggestions for a moving door to cover a large TV in a built-in wall cabinet. December 27, 2010
Question
We are in the design phase of a kitchen that has a monster TV (26 x 45) The goal is to hide this TV behind a moveable panel. This panel can move up into the cabinet above or it can drop into the cabinet below. The TV itself will live on a swing out arm so we can't really make use of one of the various TV lifts. Can anybody recommend a hardware system that is robust enough to move just the panel? One thought is to use a window sash system. Rack and pinion might work also. Does anyone have any other ideas? The big panel that masks the TV is kind of awkward. Can anybody suggest a way to make this thing not so soviet in appearance?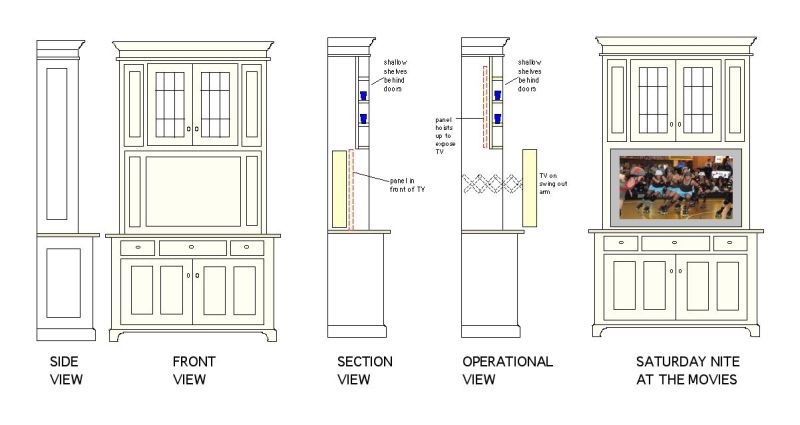 Click here for higher quality, full size image
Forum Responses
(Cabinetmaking Forum)
From contributor V:
Could you use a TV lift to move the panel?

---
From contributor K:
A couple of thoughts for the panel:
Photo Mural.
Decorative Mirror (period contrast).
Mural Painting.
Now, a little more radical - have you thought about having the section above slide-down to expose more step-back shelves (see below) by pressing in spring-loaded catches (think a window)?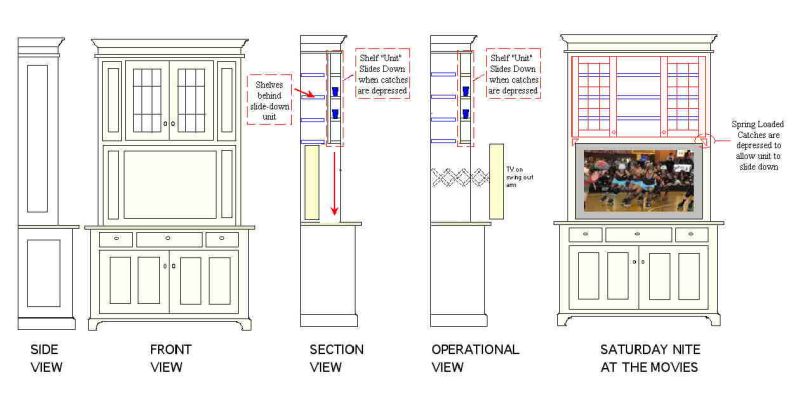 Click here for higher quality, full size image
---
From contributor W:
I had a couple of these. We lowered the TV from the back of the upper cabinet and still used the articulating mount. Then we framed it in and the owner used art on screen. Then we used a motorized art frame. Not sure if itís in your budget?
Here is a picture of the art lift.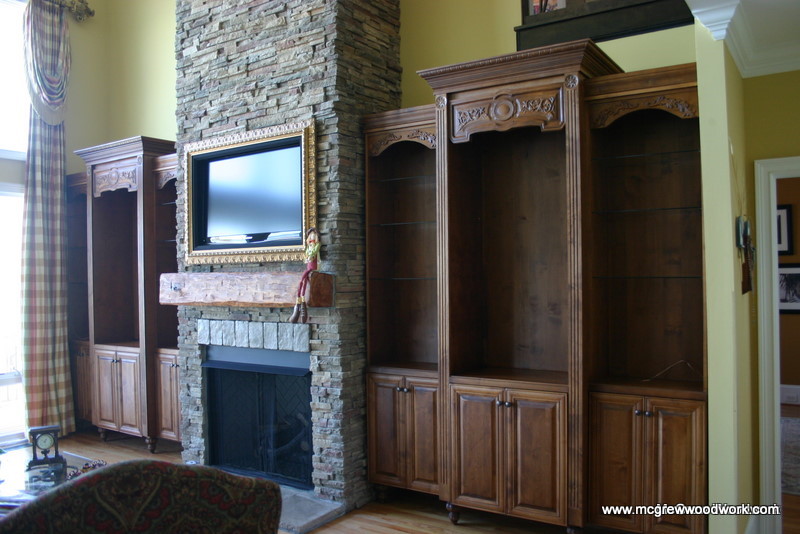 Click here for higher quality, full size image
---
From contributor M:
Have you thought about using bifold pocket doors?
---
From contributor C:
In my experience, everyone (owner, designer) wants to cover up the TV when they are considering having something made. However, in practice, the thing is always on, and always in view, so the doors/cover is not used. With the larger, thinner TVís we do more with a close fitting wood frame and then it looks more like artwork. There is no fussing with doors or such, and the wood frame conceals all the plastic. It helps to have the AV guys deliver the close fitting things to the shop.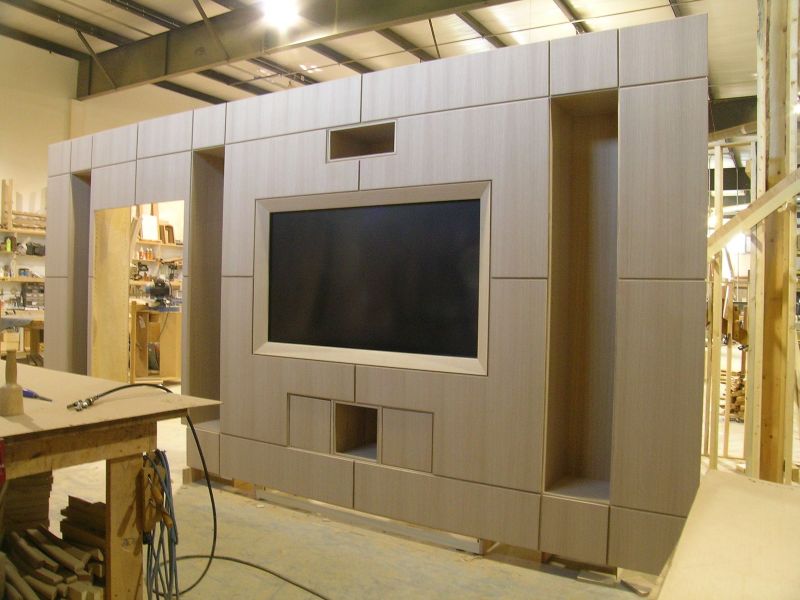 Click here for higher quality, full size image