Table Extension Ideas
Folding and sliding table extensions for machinery that sometimes requires support for a long workpiece. March 26, 2010
Question
I recently took care of a frequent problem with using a smaller line bore machine. We have had the Delta 13 spindle line boring machine for a few years and will be putting a 23 spindle Ritter in production soon with some used equipment we bought. Until we do I took about 15 minutes and some scrap material to make collapsible table extensions for the existing machine. My employees constantly fight with this machine when line boring tall cabinet panels because the table is so small. They have made supports to help but they move around. These tables attached to the machine allow you to slide the cabinet side without knocking them over yet allow you to take advantage of the small footprint when you don't need it. Basically you fold the leg up to the table then allow the table to fold downward toward the floor. Opening is even easier as all you have to do is lift the table allowing the leg to drop into position. This is also a handy idea for just about any machine needing infeed/outfeed support but is limited on space.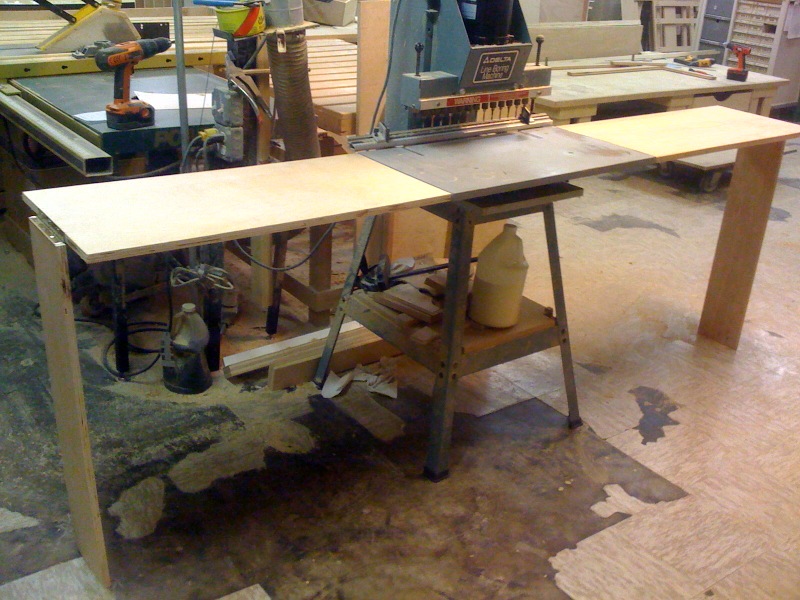 Click here for higher quality, full size image
Here is the picture with the table collapsed.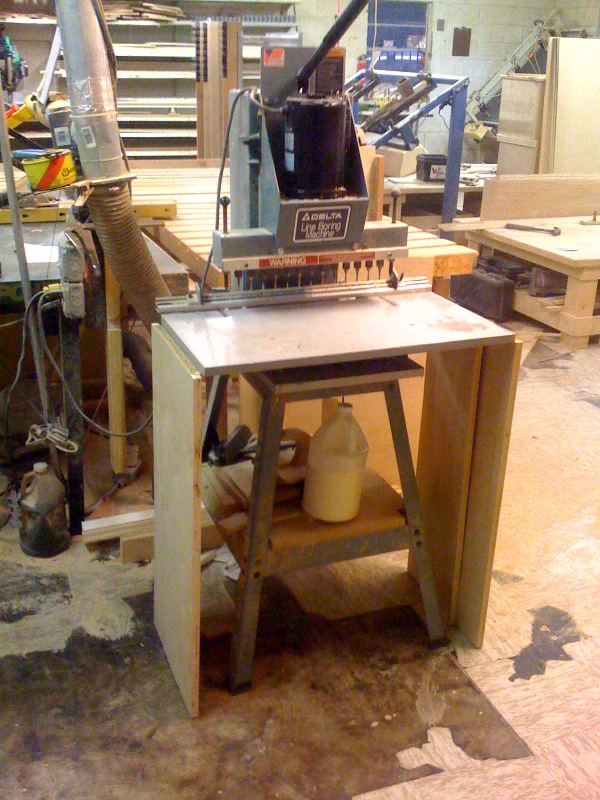 Click here for higher quality, full size image
Forum Responses
(Cabinetmaking Forum)
From contributor A:
That's a very good idea. I own the Conquest Mini 13. If I wasn't selling it, I would build a similar fixture. It's obvious that there is a gallon of yellow wood glue under the boring machine. What is in the other mystery gallon collecting dust on the shop floor?

---
From contributor F:
Another good way to do this is to build it into a bench with machines that require similar support such as a miter saw.
---
From contributor D:
My Delta cranks in and out relative to a fixed 8020 T-slot fence with custom swing stops.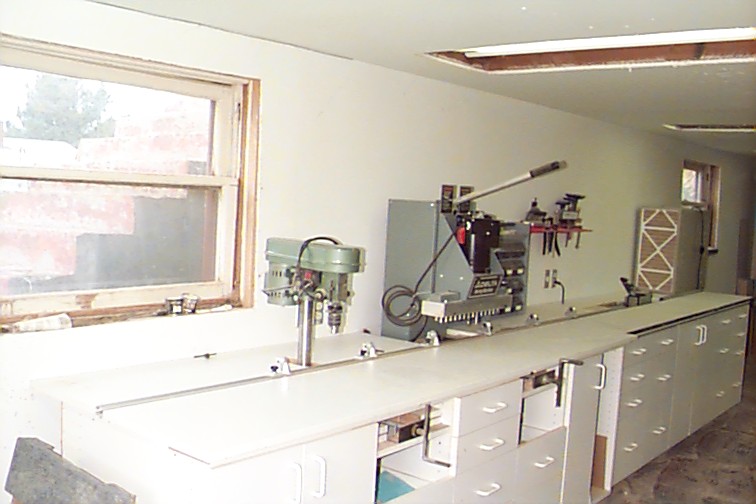 Click here for higher quality, full size image
---
From the original questioner:
I am not sure what that is. It is a gallon of oil of some sort and has been shuffled around the shop for years. It is not air tool oil. I didn't buy it but it will be part of my quest to purge things that are of no use every day yet take up space. I am working on organizing and processing scrap material for optimal use and will work hard on my employees to keep it under control.
Contributor F - I did think of your idea and since we are planning to move it was something I was going to incorporate with my miter saw, drill press, hinge machine and anything else I could think of but now that I have the Ritter and it is such a massive machine I think I would rather not. Besides I plan to have the Ritter line bore machine near the table saw which won't be close to the miter saw. I will probably incorporate the Ritter into the extended table for the table saw so that once the board is cut you can just slide it across the table to be line bored. I plan to divide the shop into sheet goods and hard stock areas.
Contributor D, that is a super nice setup. We should all be so lucky as to be able to have a setup like that. Nice work. I might be able to incorporate some of your ideas into our shop as well. Thanks for sharing. That is what it is all about.