Tambour Doors for a Media Cabinet
A few thoughts on the quality issues with tambour doors, and some nice pictures of a related router jig setup. November 23, 2012
Question
I'm familiar and comfortable with flipper doors and really wanted to make them work on this cherry AV cab/desk unit that I'm building. The cab dimensions are 16 deep and 42 wide (opening 40"w x 45"h); so you can see that with the flipper doors (20"w) opened and stored, they would be sticking out of the cabinet about 4". There isn't enough space available to make the doors folding (inside or out). I was going to address the problem by putting the TV on a slide-out lazy susan platform, but that'll probably take up too much vertical space (they want it to fit a 40" TV with several components on shelves below; also, it's a built-in cab).
So I thought maybe tamboured doors would be the problem solver - they come pre-fab in cherry and they'll totally fit the cab style. I've never done them before, and these doors will be big (21"x45"). I'll need to have second 90˚ vinyl track turns at the back of the cabinet for the doors to open all the way. Of course, I'll wax the heck out of the bottoms, but I'm worried the sliding action won't be as smooth as my standards demand.
Has anyone done large, horizontally sliding tambour doors?
Forum Responses
(Cabinetmaking Forum)
From contributor E:
In the 45" height, you will not have enough space for several components on shelves below the TV. Instead of a lazy susan, hang the TV on an articulating arm. Install a panel for it. If you need to, mount arm closer to front of cabinet. Using pocket doors will then work. I'm not sure - I don't believe a 40" TV will fit width-wise with room for the doors.

---
From contributor D:
You said horizontal, but I think you mean vertical tambour action. If you go horizontal, you will not lose any width of your opening. Vertical will take space in the cabinet for the track.
I usually make a top and bottom out of 3/4" with the track routed into each, and they become your fixed cabinet members or shelves. For horizontal, I make an L shaped track on each side behind the face frame. I make mine so the handle or leading edge screws on from behind the tambour so it can be easily removed. I have done them both ways. They slide better than you would think. I make my own track as needed.
You could make one horizontal tambour that goes up to reveal the TV. It will take some space on top of the opening. I just did one about 43" wide. If it fits the client's taste and style, it is a wonderful solution to a common problem.
---
From the original questioner:
Yeah, I've been trying to talk them into the articulating arm idea. They'll probably go for it. I've also always installed them with a hefty stabilizing bump-out box to screw to.
I did mean horizontal opening action, not vertical. The thickness of the door, with track dadoed in, should be no more than .5", total 1" of my horizontal interior - even if I allowed for 2" total, that would still give me at least 1.5" more space than the flipper doors do, which will be enough for the TV they want. Plus, a vertical opening door would preclude the articulated arm installation.
I guess I believe you on their ease of sliding - thanks for the reassurance. The hitch now I think will probably be the lack of face frame. Can't really dado the tracks in if I want the door's face flush (1/8" inset). What do you make your own track out of? Do you have any pics of the corner details? Here is a preliminary Sketchup; TV in left bay, fold down desk in right.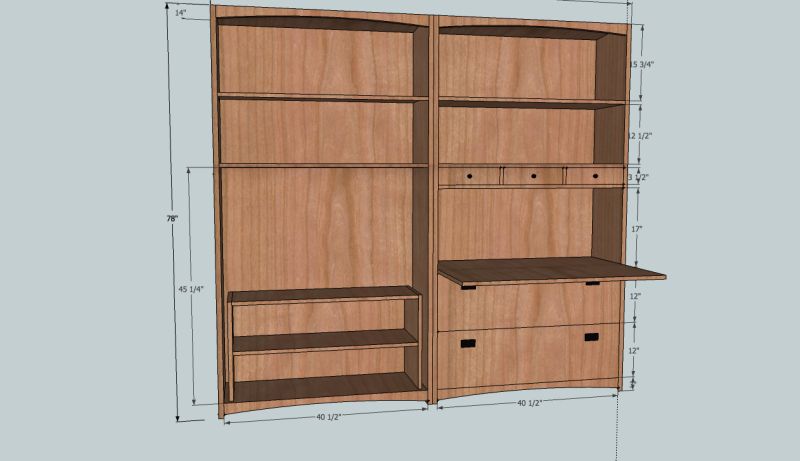 Click here for higher quality, full size image
---
From contributor D:
I am posting some pictures of the router setup I use for making tambour tracks that get used on horizontally orientated tambours, like on a roll top desk. When the doors, 21"X45", slide from the center to the sides and back into the cabinet, it is called vertical tambour.
The depth of your cabinet may prevent the vertical method to clear the TV.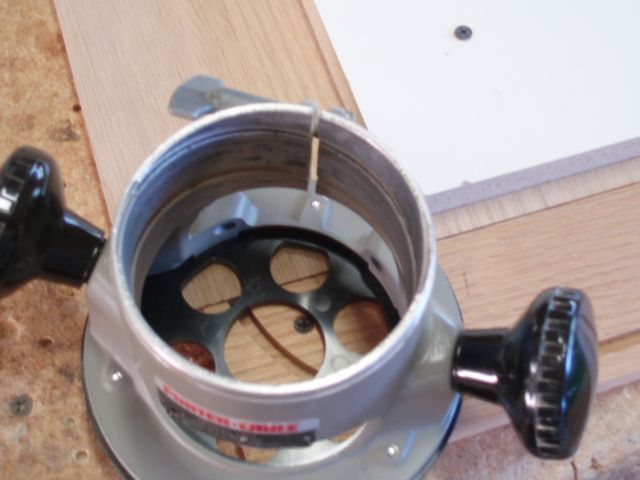 Click here for higher quality, full size image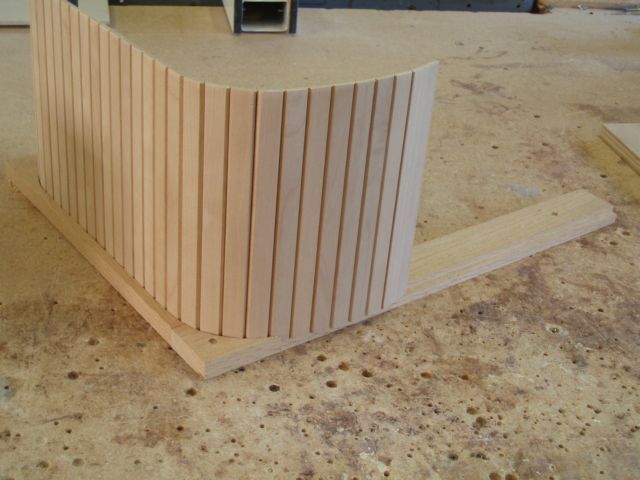 Click here for higher quality, full size image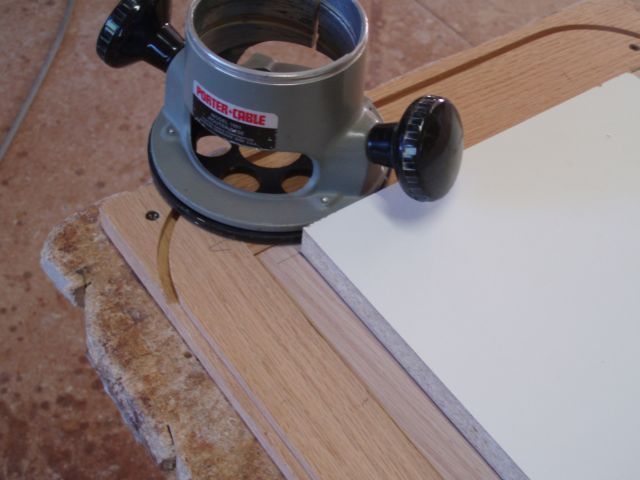 Click here for higher quality, full size image