Tangent Handrail Class
Tips from a class on tangent handrail fabrication, presented by expert Jim Baldwin. July 28, 2012
From Gary Katz, forum technical advisor:
Some of you probably heard about the class Keith Mathewson organized at his shop recently, taught by Jim Baldwin – "Tangent Handrail Specialist". I was fortunate to be able to attend the four-day class but could stay for only two days. In those two days though, I learned enough to begin to understand the process. Even for carpenters who don't do this kind of work, learning how to draw three-dimensional shapes, and how to use that drawing to make a template and cut a three-dimensional elliptical shape like a wreath, well it's awe-inspiring and if nothing else, teaches confidence. The practical applications apply to so many other parts of our work, too.
Forum Responses
(Architectural Woodworking Forum)
From contributor G:
Thanks, the angle trick using radians is pretty cool.

---
From contributor Y:
That is awesome. Thank you for posting this Gary. When making those tangential cuts does he make some sort of sled to cut it out on the bandsaw?
---
From Gary Katz, forum technical advisor:
Contributor Y - I'm sworn to secrecy - you'll have to take one of his classes to find out….but yes, he uses a very interesting and simple fixture that he made for sculpting wood on a bandsaw.
---
From contributor J:
No secret and nobody sworn to secrets. All the cutting was down free hand over a vertical saddle (no moving sled or fixtures of any kind).
---
From Gary Katz, forum technical advisor:
Contributor J - I'm always sensitive about sharing things I've photographed. I'm glad you're willing to share what has taken you so many years to learn. Here's a drawing of the saddle or stand that Jim clamps to the band saw. He cuts into the saddle a bit with the blade, so that the blade is supported by the kerf and the cutting surface is near the center of the saddle. I'm not sure how perfect that has to be - a question better left to Jim.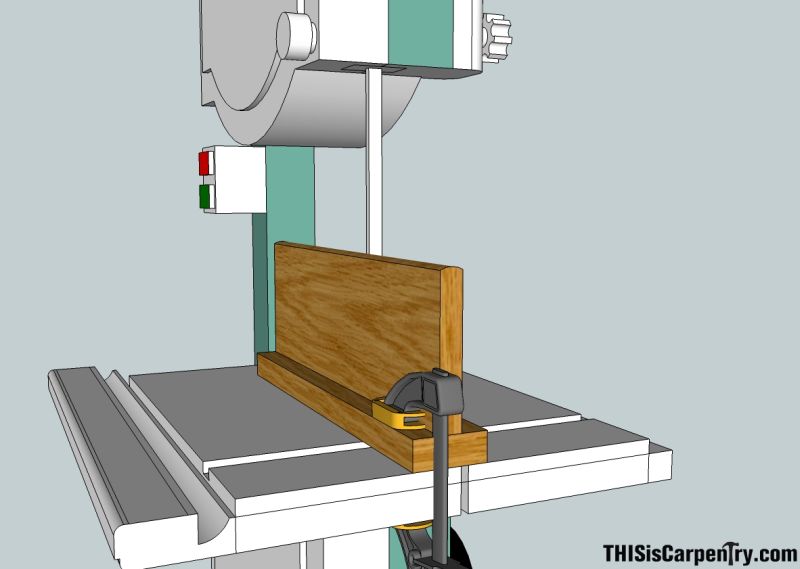 Click here for higher quality, full size image
---
From contributor Y:
Amazing to be able to lay that out and cut it on the bandsaw. I've always wondered how it was done.
---
From contributor V:
That is some impressive work. We cut our parts like that on the CNC. I know that I could not lay out the patterns as well as you guys do.