Toning Ash a Dark Gray
Approach the gray you need by toning in multiple passes with a thinned-out black lacquer. April 17, 2009
Question
Hi everyone, we have a customer that wants a dark gray finish on ash veneer. He wants what would amount to a solid color gray but with all or as much as possible of the ash grain to show through with a satin finish. Any ideas?
Forum Responses
(Finishing Forum)
From contributor E:
Try some samples using black aniline dye diluted to allow the light ash base colors to peek through and give the gray effect. Then you could just clearcoat (satin) over that, or add a little tint to the clearcoats if you want to make the look slightly more opaque.

---
From contributor M:
I would suggest you use a tinting toner which is a thinned out base colored lacquer, or you could make your own toner. Start with a white lacquer, then add a tint of a black pigment colorant to grey the white, and then thinned out the grey lacquer with lacquer thinners.
You will need to do some testing for color on some start to finish samples. This means you will have to clear coat over the grey tinting toner to see the true and final finish. I suggest you start by applying a sealer coat first as a barrier. Be sure to test the tinting toner. It should take a few passes to hit the targeted color. Tinting toners may be translucent or you can go all the way and make the color opaque. To complete the finish you should use a water clear coating so the grey will not amber over time.

---
From Paul Snyder, forum technical advisor:
Are you looking for a gray stain only, or gray with darker pores? The color sample below is on oak, but you can get the same sort of look with ash. The top section is the wood with just a clear finish. The small middle section is a bluish-gray stain (stain can be made to match any paint color). And the bottom section has the blue-gray stain and a black glaze. Is the middle or bottom section more like the look you want?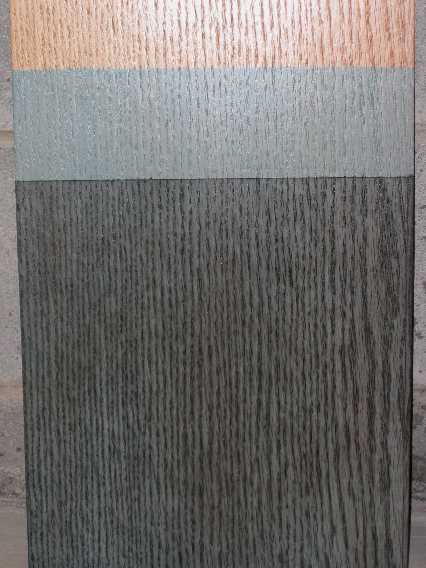 Click here for higher quality, full size image
---
From the original questioner:
Thanks for the responses everyone. Paul, the gray they are looking for is a lot darker almost black. That is an interesting look though I will show them that picture.
---
From contributor M:
Then either darken up the tinting toner or the stain. The toner could be also be sealed, glazed and brushed out if that's the look your after. The tinting toner, as I mentioned could be made up as transparent, translucent, or opaque, depending on what you are after.
---
From contributor C:
Use a severely thinned black lacquer. Apply directly to the wood in several passes. This will get you where you want to go.
---
From contributor M:
That is exactly what a tinting toner stain is, a thinned out base colored lacquer.