Tool Organization for Cabinet Installers
How does a cabinet installer cut back on the number of trips back and forth from the truck to the house? Pros ponder solutions. December 2, 2006
Question
I have been in the cabinet industry for 18 years, but installing as a subcontractor for only two years. I am always trying to figure out a more efficient tool setup. I would love to reduce my setup time, number of tools and number of trips to the van. Any help would be much appreciated.
Forum Responses
(Cabinet and Millwork Installation Forum)
From contributor A:
Reducing trips to the truck. I have pondered and struggled with this problem. After buying about 10 different tool bags (none that work), I finally laid my tools out, looked hard at the jigsaw puzzle, and designed a box basically that houses the following, from left to right:
Hitachi 18 gauge nailer capable of shooting 2" nails.
18 Volt Bosch cordless drill below that holds my hole saws.
Next slot is two small containers that hold nails, miscellaneous screws, bits, tips and a few door bumpers.
18 volt jigsaw, Bosch (2 padded footed vice grip clamps)
18 volt Bosch drill
Senco 23 gauge finish nailer (Below this are different color fillers. I like the Miniwax fillers - you can mix these to the color desired.)
Makita cordless drill lays across the top of these. Along with cabinet claw and 12" bar clamp.
I'm sure you are thinking this is heavy. It is a bit, but it has everything I need to install vanities and for all the steps I walk in a day, it is worth it. The box is built out of 3/4" plywood with a lid and flip up handle. The rest of the gear:
angle grinder
Bosch 18 v circular saw
heat gun
screws
battery chargers
power strips
laser
and the whatnots go in a Husky large mouth bag.
After that, it is pack in the lift compressor and cutoff saw, then my monster Dewalt table saw. I really am game for a lighter saw that will perform as well as my DW.

---
From contributor K:
The first thing I grab is the 5 gallon bucket with the Bucket Boss canvas pocket thing. I've gotten to the point that every hand tool has a spot, so I can quickly tell if I left something up on a cabinet (or some other sub grabbed it). I don't like toolboxes and bags, as stuff seems to get buried. But for the rest, just start lugging in what I think I'll need for the day - and then 5 more trips to the van.
I was on a job with a guy that built a rolling cart, about 2' x 3', that seemed to hold everything he needed, but I thought it would be too heavy humping it up in the van solo. I work with another guy that has everything in toolboxes or cases. He can get most of what he needs on a 2-wheel dolly, bungeed together, and make it in one trip. But no matter what, it is just a fact that comes with the territory. You're not going to unload the whole truck. Take your most commonly used tools, and then depending on the job, go back and get what you need.

---
From contributor O:
We are struggling with this very same thing. I have to tell you it costs a lot of money to go back and forth to the truck. One of the biggest pitfalls is the bigger the box, the easier it is to lose your stuff. Also, when we get back to work in the shop, nine out of ten times, something gets taken out of one of the boxes to be used in the shop. Even if there's one in the shop. And guess where it is when we go back out to install? Still at the shop!
---
From contributor J:
I don't have a good solution from personal experience, as I have substituted time at the gym with time going back and forth for tools… Especially when I get to install up on a third or fourth floor! One thing that has caught my attention, but is not in the budget right now, is the Festool series. All their tools come in plastic cases which lock onto each other. Could be pretty handy for consolidating, and they have extra cases for screws and hardware, and miscellaneous tools. I may start switching over myself. That drill with the multiple heads looks pretty cool.
---
From contributor D:
I do commercial installations. I have a rolling cart for my tools and supplies. I use a side cart (a frame cart) for moving countertops that has room on the back side for tools and fasteners. I don't keep my chop saw and table saw on wheels, but when I do have to break down and move them, I put them on a furniture dolly and roll them around.
I have a couple of metal job boxes on wheels that I can bring on as needed, a compressor that I put on a dolly when I need it, and I install casework with a Gil-lift and a couple of hand trucks and assorted furniture dollies for moving materials.
All this fits inside an E-350 van. Takes about 10 minutes to roll off the van and 1/2 hour or more to load back up. It gets a little more complicated than this sometimes, as I also install doors, toilet partitions and washroom accessories and sometimes I have more than one chop saw and table saw on the job, but on most jobs, I get it all in one load.
All of my carpenters have their own rolling benches that they bring in their own trucks. The important thing for me is that I don't spend a lot of time moving tools and materials around the jobsite. I like to be able to walk away from an area just rolling my cart. If that isn't the case, I'll break the job down and get another guy to, say, install the fillers, then the tops, to keep things flowing.

---
From contributor S:
When I used to do installations, the best toolbox was the one we made ourselves. Take a refrigerator dolly, and build whatever suits the amount of tools you like to carry. It rolls easy and lets you go up and down stairs and you can carry quite a lot all at once. It has to lock so that when it is at your shop, people leave it alone. We had a power bar attached to the back of the dolly, so you could park it next to a plug, and run all your cords from your box. Basically when you get to the site, out comes the whole box.
I know everyone likes to have the biggest drill you can get, but a nice little 7 or 9 volt makes door handles and small stuff easier. Save the 18 volt for installing the cabinets.

---
From contributor M:
I hesitate to throw in my opinion because many of the posters are far more experienced than I am. However, I've become a real fan of Festool products, particularly their Systainers. I can fit all of my installation tools, including Festool's circular saw, router and saber saw, plus my pin nailer, impact nailer, and misc. hardware. The Systainers lock together, roll about easily, and just seem more convenient. I have no connection to Festool. I just like their stuff. By the way, you can buy the Systainers for your storage and transport needs without buying the tools.
---
From contributor V:
I've got to agree regarding Festool. I started with the jigsaw and two Sortainers for screws and bits. Now I have about ten Festool boxes, shop vac, plunge cut saw and their four wheel dolly. I've never been more organized! I can stack all of the boxes and wheel them around the job, or use just the ones I need, and carry two or three at a time upstairs. Sortainers for screws and bits is a must!
---
From contributor K:
I've seen installers work out of a two-door Civic, to carpenters pulling a trailer. Depends on type of work. I'm in the middle - a pretty full minivan. I'm out of space, so stuff goes in and out to the garage depending on the type of job I'm on.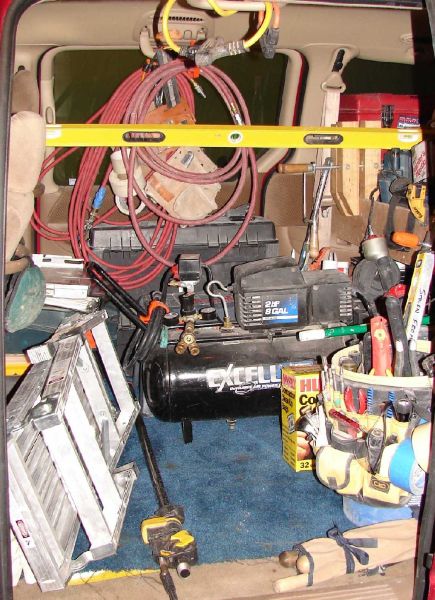 Click here for higher quality, full size image
Not ready to switch to Systainers...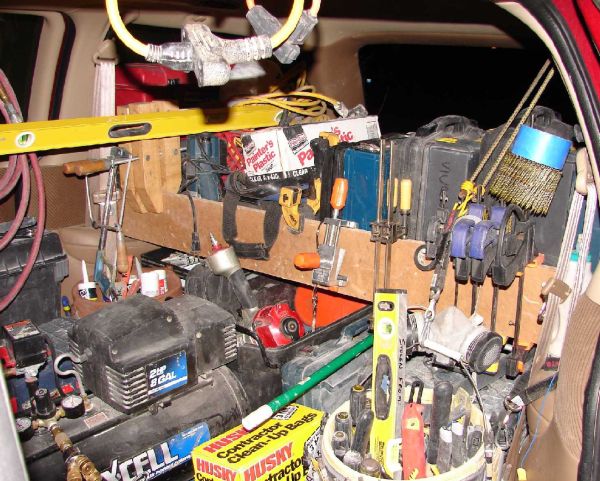 Click here for higher quality, full size image
Rear: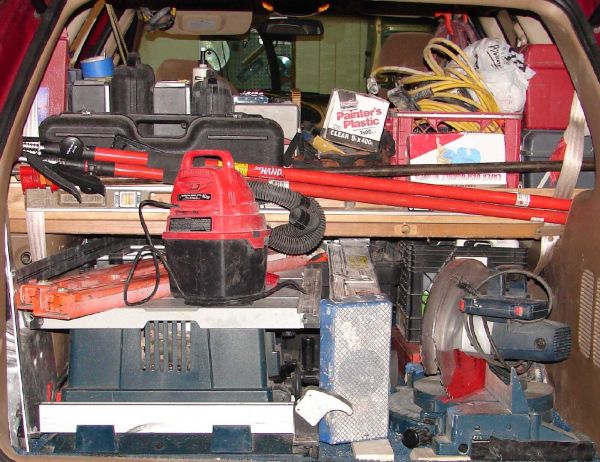 Click here for higher quality, full size image
---
From contributor O:
Looks like a real cluster. I'd be PO'ed before I even started if I had to dig around in that. But that's about how mine looks, so I'd be PO'ed anyway. Except some of the stuff wouldn't make it from the garage to the truck and I wouldn't know until I got there. Then you can see fire in my eyes, or tears - whichever comes first. I hate installing!
---
From contributor K:
Although it looks like a bad pile, it's two levels - an old door. Everything has its own spot, and goes back to the same place. I know when something's missing, or if I send a laborer to get something, 99% of the time it's where I told them it would be.