Tooling for Cope-and-Stick Doors
Pros describe machinery and cutterheads for coped mortise and tenon door part machining. August 23, 2005
Question
After reviewing several websites and books about passage and entry door construction, I am left with questions. I am keen to use long tenons (2.5-3" long) when constructing entry doors, but am at a loss as to how some folks are machining the cope and style detail where the rails and styles join with a 3" long tenon? Are they machining one side of the rail, flipping it, and machining the opposite side?
Forum Responses
(Solid Wood Machining Forum)
From contributor D:
Cope tenons are done two ways conventionally. The first way is with the older single end American tenoners that have two horizontal heads that rough in the tenon, and then two vertical heads that final size the tenon, the shoulder, and cut the copes. Powermatic 2-A, Wadkin, Challoner and others made these machines. Cantek and Bridgewood now import foreign models.
The other way is with European single or double tenoners that have large diameter - up to 12"- cope heads. A large heavy shaper can handle similar cope heads, but one must have their wits about them when working with such tooling. Most people forget the real tenon and use the cope and stick as the mortise and tenon and just glue and clamp. Some might add a few dowels.

---
From the original questioner:
Is the traditional cope and dowel a sturdy enough joint to handle the extremes of the upper midwest? I suppose one could also investigate the use of a loose tenon as well.
---
From contributor D:
The short answer is that there is nothing like a nice stout tenon. Nothing beats it in strength or glue surface. As you get further up the manufacturing feeding chain, loose tenons, then dowels, then just cope and stick seem to suffice and be good enough.
---
From the original questioner:
I have built landscape structures and gates, arbors, pergolas, etc, for several years and am looking to expand my offerings to entry doors and shutters. It is sort of an everything exterior niche. I guess my cope and style issue comes from the images I've seen of others' doors and their use of stavecore construction. The inside edge of the rails and styles have a solid species shaped receptor groove in which the panel is to float. My question here is how might the rail mate with the style with this edge detail? I guess I could use a panel mould type thing and just go with old-fashioned stout tenons.
---
From contributor L:
If you don't have a tenon machine, and I don't, you can use what I call a stub spindle coping cutter. It is a shaper cutter that is welded on top of a 3/4" arbor for a shaper. It is a 3-winged cutter that has the profile of your cope, on the top of the cutter is only the flat edge of the carbide. You would first cut your tenon the size you want - a tad thicker on the cope side, and then run the stick like you would if you were making a normal cope cut. I should take a little meat off the tenon and put the cope in the shoulder of the stick. It is slow because you are doing one side at a time but it is substantially cheaper than a single ended tenoner. Below is a drawing of the stub spindle cope cutter.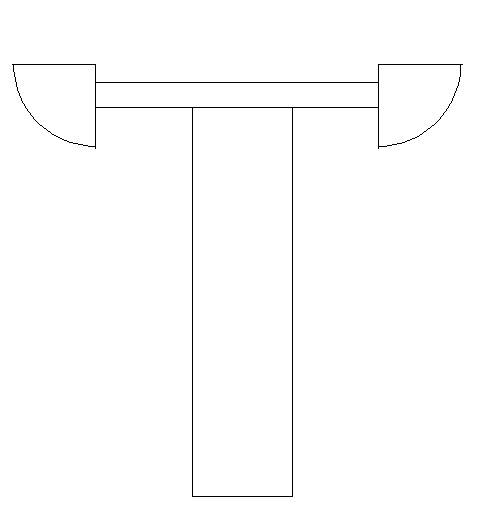 Click here for full size image
"Drawing by Leo R Graywacz Jr".