Touching Up Lipping Planer Damage
A good finisher can correct some woodworking mishaps with advanced touchup techniques. Here's a good example with some tips and tricks. March 16, 2015
Question (WOODWEB Member) :
I ran my lipping planer over this hardwood facing on veneer top and the planer created some chip-out. Itís already sanded flush to the veneer so it needs to be fixed with the top coats. I donít want to use wood fillers because it will stick out. The finishers I use donít have a clue. Iím hoping that one of you can share a solution.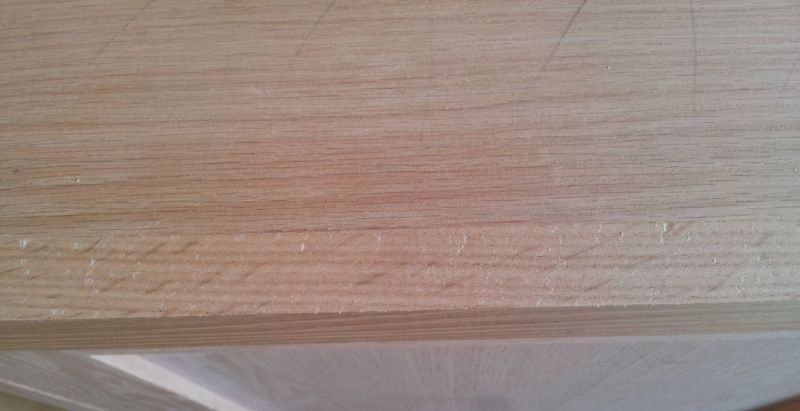 Click here for higher quality, full size image
Forum Responses
(Finishing Forum)
From contributor J:
That's an easy touch-up. All you need is a good touch-up man. Find out who your local Mohawk dealer is. Ask them who is a good technician.

---
From the original questioner
:
Itís not finished yet.
---
From contributor M:
If you already sanded flush I don't think you have many options. Why not just re-do the piece or pull the hardwood piece off?
---
From contributor J:
The easiest fix would be to do all your color work, (dye, stain, glaze etc.), seal it and sand it. Then do your touch-up (burn in) and a top coat. Touch-up work done under the top coat is especially easy to blend.
---
From the original questioner
:
Thatís kind of how I thought it should go. Itís going to be a clear coat, so I thought sanding sealer and then fill chip the areas with some clear epoxy. Is there a special filler for that type application? Sand flush then add top coats. The top is rather large with miters and seams, etc. Thatís why I hesitate to make new.
---
From contributor J:
Just make sure your fill is flat. Check out your color (that goes on top of your fill) on some scraps for matching the surrounding clear coat.
---
From contributor G:
ML Campbell has a product called Level Sealer. It might work for you if the chipout isn't too deep.
---
From Contributor O
:
I agree with doing a burn-in. Since you're in CA I will assume you're using water based coatings. If so the Mohawk Quick Fill sticks will work perfectly and they are very easy to use. For catalyzed finishes like 2K urethane I prefer the Konig Hard Wax sticks. There is a trick most people don't know when using the clear burn-in sticks though and that is to add just a touch of a color that matches the wood creating a translucent color. If you use clear only you can still see the shadow of the dent and it reads as being too dark.
---
From contributor J:
Everyoneís touch-up skills differ. For years that was all I did six days a week. Everyone would get better in that situation - the ability to experiment/practice as well as interact with 21 people in the same building, all doing nothing but touch-up 40 to 60 hours a week for two years. If you enjoy your job a great pleasure is growing your skill set. Many things can be a challenge, but that chip is dead easy and the repair should never be seen as well as quickly completed. Of course in the ideal world where net profit is flexible, new and perfect is truly the best.
---
From contributor C:
Hopefully this won't come across as too critical, but you made the chip out, not the lipping planer. You ran it against the grain direction, the result will be predictable.
---
From contributor G:
Unless it's reversible I don't see how he has much of a choice.
---
From the original questioner
:
Not reversible. Do they even make one?
---
From contributor J:
We all know the grain changes direction sometimes. We pick our best option.
---
From contributor C:
You have to come up with some kind of planing option, that kind of chip out is unacceptable. I never had a lipping planer. I used a custom hand held trim router tool with spiral bits. The design was in Fine Woodworking years ago, and it had a flat base that ran on the plywood, and had an adjustable trim router mounted parallel to the plywood. I would climb cut to remove the heavy material, then traditional cut to clean up. I never used a lip that wide, but if I did, I would run the trim router over it, followed by a hand plane or card scraper. Just because the whiz-bang lipping router only goes one way, doesn't mean you don't have options. I personally wouldn't ship any patched up, chip out covered edge band either.
---
From the original questioner
:
I used that system years ago. A lipping planer works better and Iíve been using one for ten years. This is the first time itís given me bad results. I should have noticed the quartersawn grain area before applied the piece. Thank you all for your input. Problem has been solved.