Trestle Table Dimensions
A furnituremaker gets advice about the structural design of a large trestle table. December 31, 2012
Question
I am designing a 14' solid black walnut trestle table with breadboard ends. Typical approach with two trestle ends and double stretcher beams secured with tusk tenons. The top will start with 8/4 rough, shooting for 1 3/4" thickness. My understanding of trestle placement is to have 5/9 of total length inside and 2/9 on either end to avoid sagging. That leaves me about 36" on either end. I am wondering if the top will be stiff enough to avoid having an irritating vibration and/or flex. I am hoping there will be enough mass there to dampen the top. I am also considering spreading the trestles to leave about 30" overhang on the ends, and adding a drop-in joist in the middle, though I would like to avoid this if possible. Any thoughts?
Forum Responses
(Furniture Making Forum)
From contributor E:
If it is dampened then you will have to dry it out again. How many tables this size have you built before?

---
From the original questioner:
I am not talking about moisture. I am talking about vibrational dampening, hoping the mass of the table top will be great enough to give it a solid feel, even though it is minimally supported. My gut says it will be okay, but yes, it is bigger than I have had experience with. I really don't want to add a center trestle.
---
From contributor J:
I think you should be okay as long as your trestle ends are substantial enough. 12/4 legs? I would move them out to 30" from the ends too.
---
From contributor E:
Oh, I see. You want to damp vibration. The comment about the trestles is correct. The table would benefit from center support, either triangulation to the trestles or a third trestle. Fourteen feet is a long table.
---
From the original questioner:
Yes, 12/4 legs. I am considering some type of center joist, or a center support that notches onto the stretcher beams.
---
From contributor W:
If you don't want the look of a center post from top to stretcher, how about an apron down the center of the top 3-4 inches high, 1.5-2 inches wide. It would dampen any flexing vibrations. What is the width of this monster table?
---
From contributor E:
It is going to be difficult to move a table that size unless the MC is controlled.
---
From the original questioner:
Yes, a center joist is something I am pondering. That may be the best insurance, and keeps the clean lines below. The width is to be 44".
---
From contributor N:
This is a much smaller table but maybe something like it will work.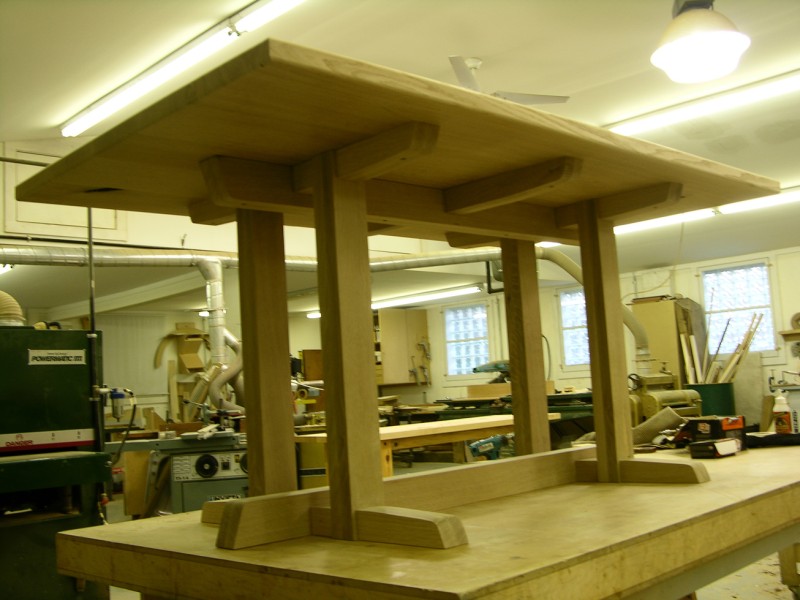 Click here for higher quality, full size image
---
From contributor V:
What you plan sounds good, but yes, you will need some sort of support in the middle, at the very least. More likely 2 places or 3. Like or similar to the pic that contributor N posted. A 12' span of a top even with 8/4 will sag in short order.