Troubleshooting Checking in African Mahogany
Woodworkers puzzle over unusual cracking in some African Mahogany rough-sawn stock. February 6, 2010
Question
We were sent some African mahogany blanks to run through our moulder to make T&G. It seems to have an extreme amount of checking. I think if I defected out the big checks I may lose 30% total sq/ft. Is this normal for this species? Will these cracks fill and stay filled? Or will it continue to move?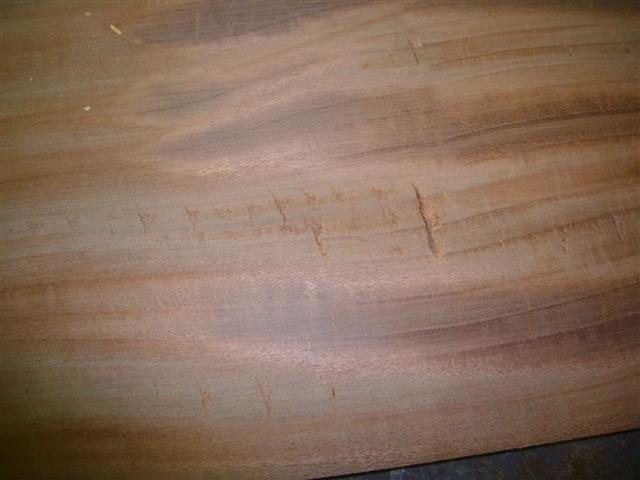 Click here for higher quality, full size image
Forum Responses
(Architectural Woodworking Forum)
From contributor G:
It doesn't look like checking to me it looks like tear out. Checking runs with the grain usually. Sometimes you will get stress cracks from a tree that has experienced a high wind load. Maybe it's just the picture and I don't see what you see.

---
From the original questioner:
These cracks go all the way through the board. You can stick an un-bent paper clip all the way through the one in the picture. I considered tearout as well when it first came in already hit and missed but it is more like honeycomb check in poorly dried white oak. Here is another picture.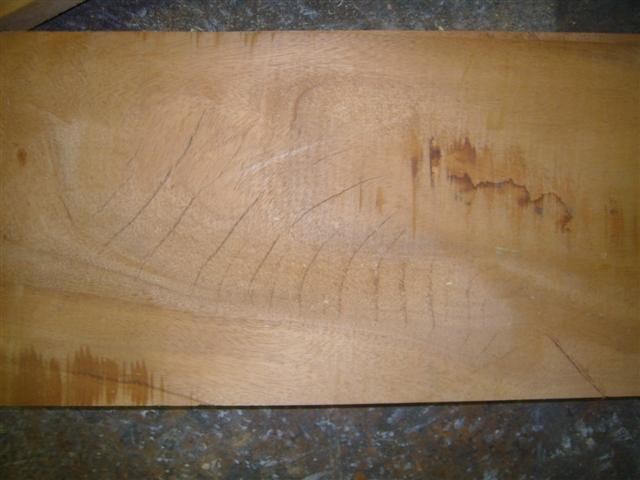 Click here for higher quality, full size image
---
From the original questioner:
Honey comb?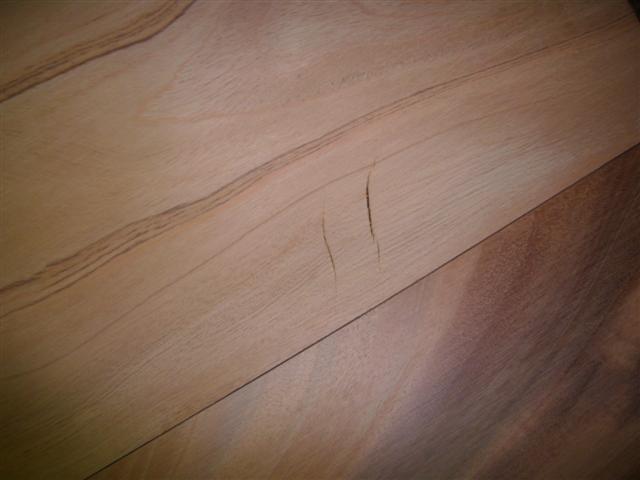 Click here for higher quality, full size image
---
From contributor G:
I see it now. I would consider these stress cracks. They will likely be pretty stable but I would place a bet on it. If it were normal checking on the board I would say they would move. But this type of checking was caused by large stress loads on the tree while it was alive. Drying the wood only spread them apart. I doubt they will go any farther. I would make sure that I showed this to the owner of the wood before proceeding with the job.
---
From contributor J:
We use AM quite often and have seen that before, although your darker sample doesn't look like African to me, maybe it's the picture. Anyway, we've speculated that they are 'shock waves' possibly a result of an 80-100 foot, multi-ton tree crashing to the ground. I don't suspect they are checks, though.
---
From the original questioner:
The funny thing is as we sorted through it over the weekend to pull the good and the bad we opened a bunk and the second board down had white wax marker saying "return to XXXXXwood". Since the return to the name of the vendor was written on a portion of the lumber I suspect someone else has already refused this lumber and returned it.
---
From contributor D:
Pretty common - that looks like tiama. Could be khaya that light but still, over the past twelve years we've bought thousands of bundles of AF and I can tell you usually if you can see those cracks in the rough on top of the stack, there's no point in even sorting it because it's most likely throughout that whole stack. All lumber suppliers run into this stuff at some point and it's up to you to refuse it.
---
From contributor G:
I see this quite a bit with both Khaya and to some extent, Honduras mahogany, when the stock is a heavy swirled ribbon cut. From what I understand, it is a result of improper drying. I often use a very coarse grit on my widebelt to grind down the stock to clear material, or in the runs are short, fill the defect with epoxy before machining. That stuff can be a real pain.
---
From contributor O:
Khaya is a slippery slope, it can include a lot of subspecies many of which are not desirable. The Ivory Coast and Ghana are the two main regions khaya is sourced from. Ghana stock is desired because it has better color consistency and lighter texture. It costs more than the Ivory Coast stock; hence Ivory Coast is what most suppliers carry. We are trying to move all our mahogany work toward Sipo Ė Utile.
---
From the original questioner:
To contributor O: tell me more about Sipo. Does it have the pattern grain? How hard is it? Is it stable and what species does it compare to? I have not used a lot of khaya. I do really like sapelle as a mahogany sub. Can you recommend a good vendor for wholesale LTL quantities such as 4000+ bd/ft per order? What should I expect to pay? What type of width and lengths are available in 4/4 and 6/4 lumber?
---
From contributor O:
I have not yet built anything with sipo but have been playing with some samples. We build doors and windows so I like the quartered. Quartered sipo does not have the ribbon grain-striping like khaya, seems a little heavier and denser and is available in long lengths. I donít know about width. The DIN exterior door and window ratings for sipo are about the same as South American mahogany. khaya is rated less in this system.
I was quoted about $5 per bd ft for a 500 foot quantity from my local wholesale supplier. This was coming from Baillie. You could do better going direct with larger quantities. I agree sapelle is better than khaya.

---
From Gene Wengert, forum technical advisor:
I believe that these are tension wood cracks. Tension wood, which is formed in hardwoods near branches and other stress locations, will shrink lengthwise when drying, while the surrounding wood will not shrink appreciably. This attempted shrinkage results in stress buildup and potentially a crack or two.