Troubleshooting Finish Blush on a Table Edge
A little denatured alcohol did the trick this time. Can you hear that sigh of relief? April 19, 2011
Question
I have completed a project of a conference table and we used Target Coatings 9000. Everything looks fantastic with the exception of the edges. I am thinking that there was moisture trapped between coats and it needs to cure out. But, upon delivery, it will still be visible and I have to forewarn my client. With waterborne, I have seen haze disappear when curing but, never this heavy. This is two days into curing. Any advice on this one?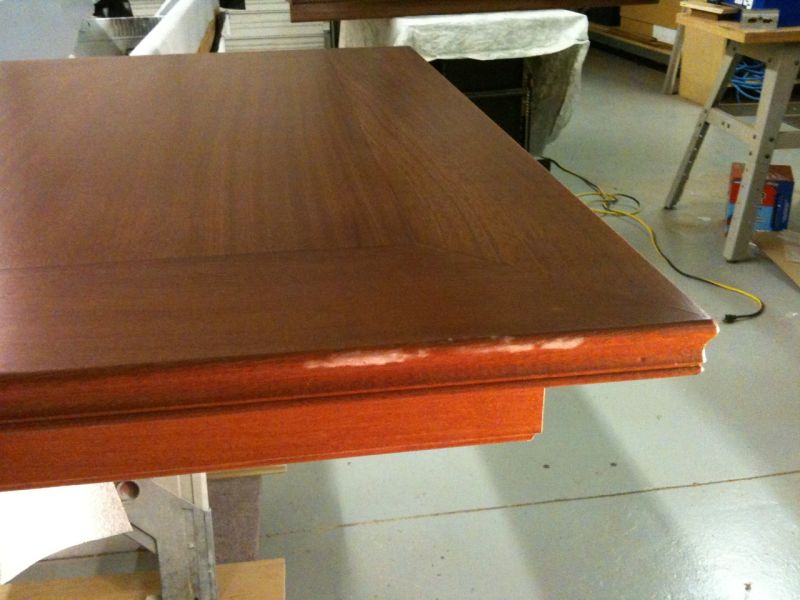 Click here for higher quality, full size image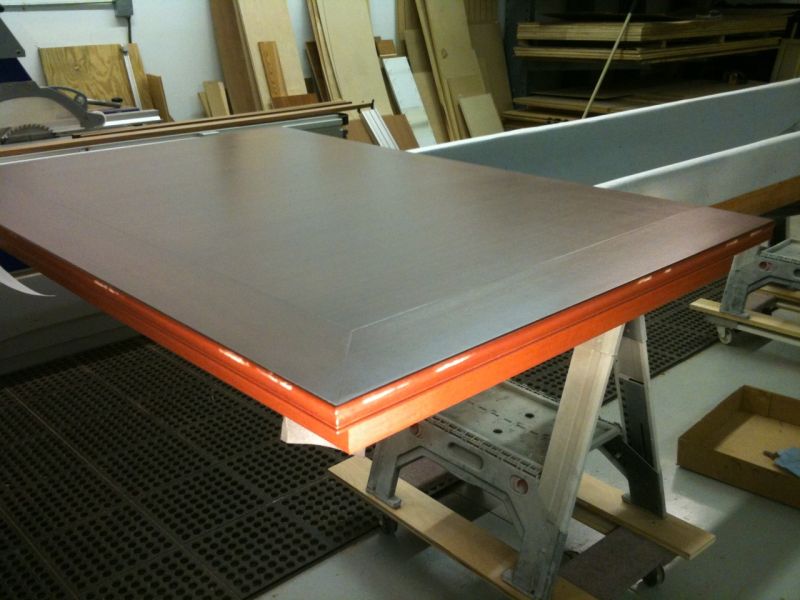 Click here for higher quality, full size image
Forum Responses
(Finishing Forum)
From contributor B:
I've never seen anything quite like this that didn't warrant sanding and reshooting. Have you tried a hair dryer to see if it's a moisture issue?

---
From contributor R:
The top looks great. It's odd that it is just on the edges and not continuous. It looks like finish from the top rolled over while the edges were drying. Are the blemishes raised or thicker than the rest of the finish on the edge? Did you sand before this coat? What kind of paper did you use? Could this be dust that was left on the edge after sanding and is trapped under the last coat?
---
From the original questioner:
The edges are all the same thickness, no build up. I think that they just had more applied to them as we sprayed the bottom first and then the top. We sanded with 400 before the final coat and wiped down with a 50/50 h20 dna mix. The top came out flawless and I think there is just excess moisture trapped on the profile edges. This is one panel in 6 as the table is 16 feet long when assembled. There are other edges with a much lighter version of this and I am not worried about them. The weather I'm sure played a part as it was rainy and. I hate to deliver a job and already make excuses, but my finisher seems confident it will cure out and if not he can repair onsite.
---
From the original questioner:
I spent the past few hours at the shop with a little denatured alcohol, a rag, and a hairdryer and this is the result. I brought the trapped moisture to the surface and wiped away. I will refinish the edge after the install. Now I can sleep tonight - what a pain. I don't think the Mowhawk works on waterborne finishes. Correct me if I'm wrong.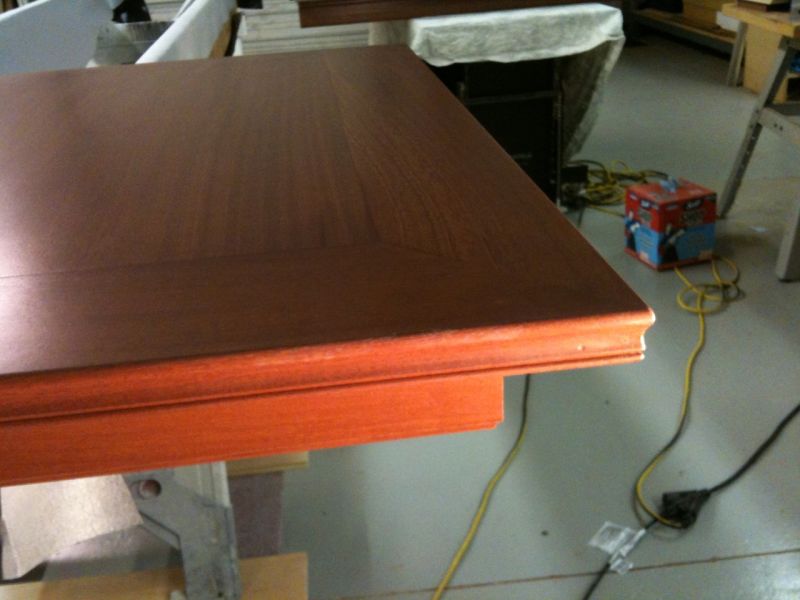 Click here for higher quality, full size image
---
From contributor P:
It could be an adhesion problem. It looks similar to a problem I had using EM9300. It showed up as a whitish haze, primarily on the end grain. In my case, it was over oil based stain and I could scratch off the topcoat with a fingernail. I had to refinish the whole piece.
---
From the original questioner:
Well, I got the problem worked out with DNA and a light refinish. Itís installed and I feel better about everything.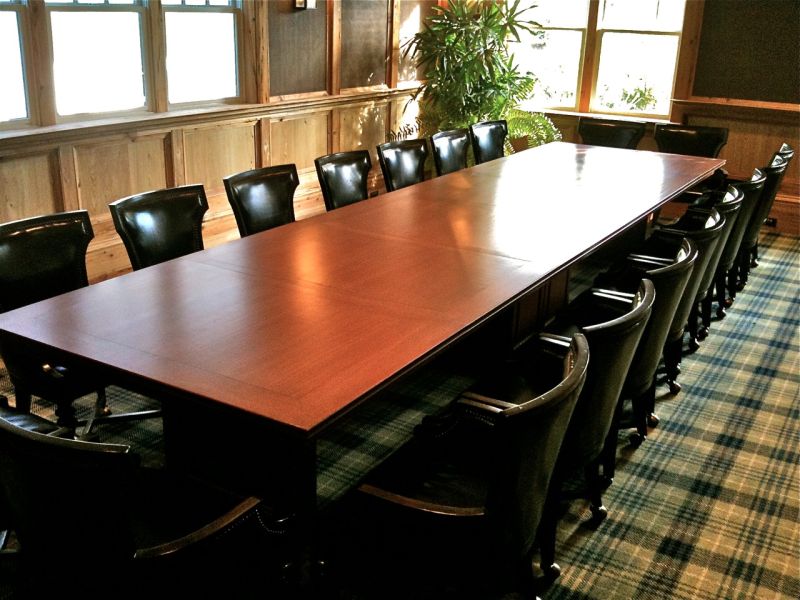 Click here for higher quality, full size image