Troubleshooting Planer Snipe
An unattached snap ring left a chip breaker free to bounce around. January 12, 2015
Question (WOODWEB Member) :
As a one man furniture builder I get a bit isolated. About four months ago I found a nut lying next to my planer but couldn't figure out where it went. The cut on the planer is somewhat wavy, and I found out where the nut goes as shown in the picture below. This is at the end of a shaft that goes through the chip breaker. I rotated all of the 96 cutters (Helix Head) and adjusted the table rollers to a low setting. Expecting this to solve the cut quality I eagerly ran a board through but no real improvement! You can see there is a huge 2" snipe at the trailing end of the board and about 3" at the front! I played around with the table rollers putting them at varying heights without any real improvement. I also changed the infeed/outfeed roller pressure but again no change. Any help would be greatly appreciated. Also, now that I've messed with the feed rollers Iím not sure how to equalize those as the manual really doesn't explain.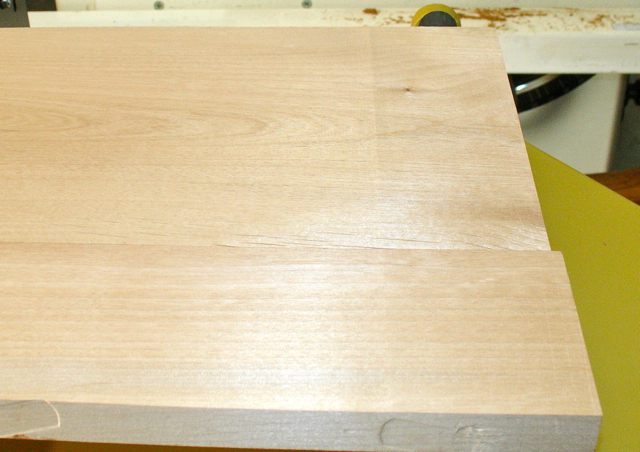 Click here for higher quality, full size image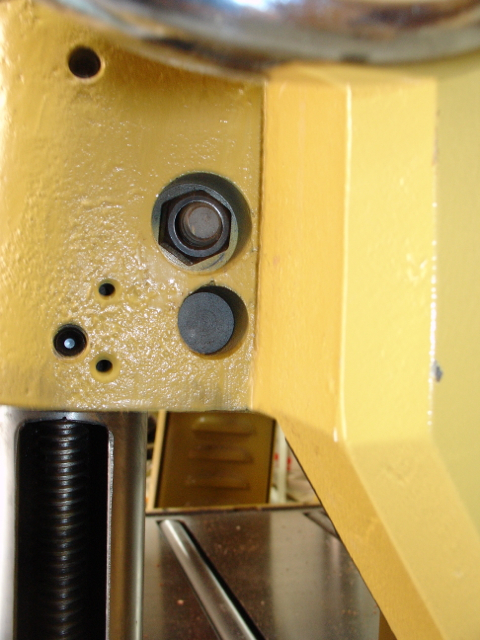 Click here for higher quality, full size image
Forum Responses
(Solid Wood Machining Forum)
From contributor P:
It looks as if your bed rollers are set too high. Your chip breaker is not resting on board. Are you using rollers on in-feed and the outside end? Does it snip on short boards?

---
From the original questioner
:
I've set the rollers close to the table, maybe about .1. I bought the machine in '06 and made the gauge block to check chip breaker. It's warped so making a new one but it seems as if the chip breaker is lower than what's specified (.2) so making a new gauge block to check those measurements. It gets that snipe and wavy cut on long or short boards. I will check to make sure the belt tension is to spec too. I'm stumped!
---
From contributor P:
The bed rolls should be set at .003 to .006 for dry wood. I bought a rotacator magnetic gauge from Grizzly. It can be used to set everything on a planer. Itís worth the money.
---
From contributor J:
Like Contributor P says, .1 is way too high. That is your problem. One way Multi Gauge is another tool that works good.
---
From the original questioner
:
Whoops, forgot the zero! I used a step feeler gauge that was .014 and .016 which means they're set at .015. I'll set them even lower Contributor P at the .003 you suggested. I also wonder if that nut being off of the shaft may have thrown things out of whack.
---
From the original questioner
:
To contributor P and Contributor J: I just wanted to thank you for your advice and interest in helping me out. Thought I'd let you know I finally figured this out! The nut that fell I found a while ago goes on the end of the bar that holds the chip breaker. I couldn't hardly find the nut since it's in a deep recess under the height adjusting wheel. Like I mentioned, I finally found it and noticed it never really tightened. The other end of this shaft is almost completely hidden by the electrical box for the switch. I decided to see what it looks like there and found the problem! All that secures that end of the shaft is a snap ring. It was laying in the recess so my guess is that the chip breaker was basically bouncing around when I'd pass some wood through the planer. There was probably enough gunk holding the shaft in place the more I used it the worse things became. Lucky for me, the deep recess and the fact that the electrical box hid all but maybe a third of that hole kept me from losing the snap ring as well. What's that they say about a million dollar aircraft being grounded because of a 25 cent O-ring? That's what happened here, thanks for your input.