Troubleshooting Stain Wicking at End Grain
Here's an interesting case example: a problem of stain wicking into end grain in a site-finished coffer ceiling trim job. April 18, 2010
Question
We have just completed installing our second site finished project. I talked with the architect and on the underside flats of the box beams the wiping stain wicked up at the end grain joints so it was a little darker. They are not asking me to fix it or blaming me. I just wanted to know if there is a way to help prevent this from happening in the future. We didn't want to get glue all over the place and have to sand the heck out of everything so each joint just had a small dab of glue applied thereby leaving the end grain joint a little dry. We typically pre-finish all work but have found a great company to do the site work for less. The picture below shows that the problem was at the flat undersides joints of box beams.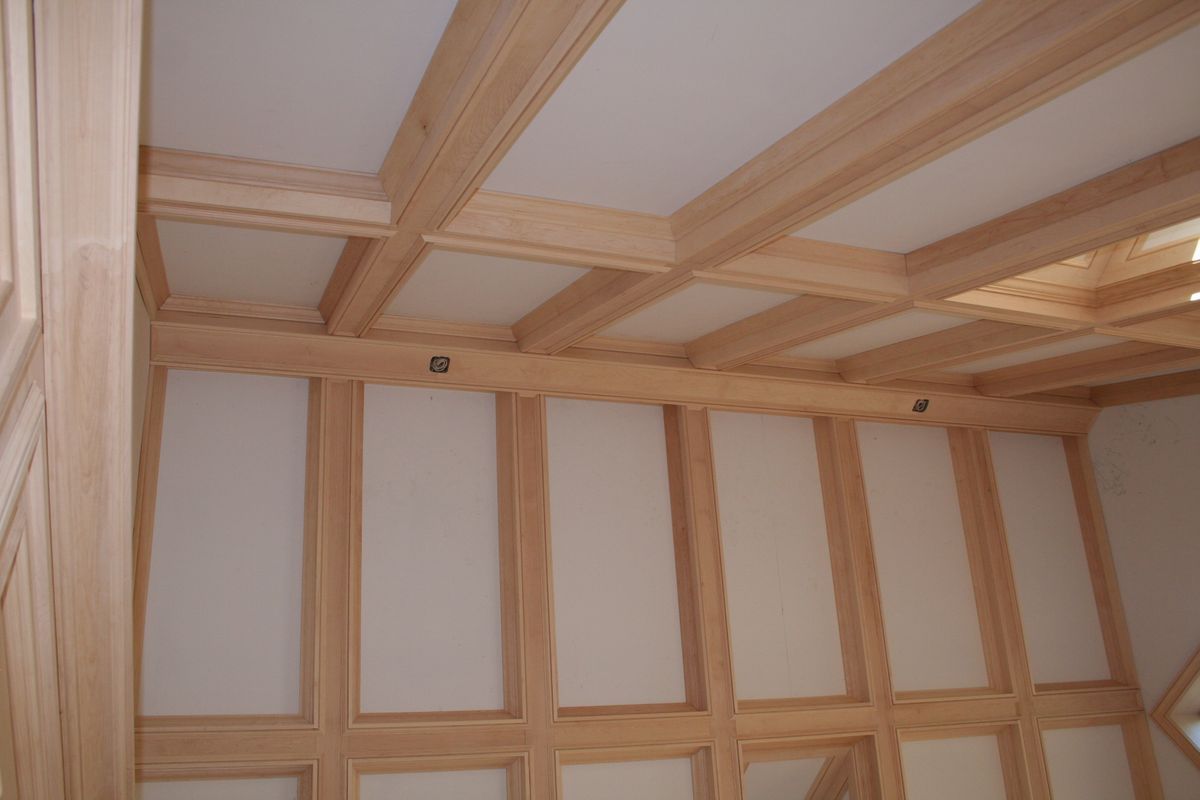 Click here for higher quality, full size image
Forum Responses
(Finishing Forum)
From contributor B:
Since it's end grain, it's very porous and will soak up anything you put there.
Spray-no-wipe stains tend to not be as problematic as you have a great deal of control over the application and thus the color. I have some customers who take the time to sand the end grain to 220-320 grit and it seems to help.

---
From contributor J:
Maple is notorious for this type of behavior. It also takes stain very unevenly. My suggestion would be to use a sealer or conditioner before the application of the stain. This will help all the wood (even the end grain) take the stain more evenly.
Min-Wax makes water based and oil based product and there are others.
---
From contributor R:
The guys wiping the stain got it into the joints and it bled back out. The best way to prevent this is to either blow out the excess stain in the joints or else be very careful not to get so much stain in there. If possible maybe you could have them come to your shop and pre-stain and seal the beams and then all they need to do is topcoat in the field. This will eliminate all problems including sealing the insides of the beams.
---
From the original questioner:
First was a wash coat with dye, then wiping stain, sealer, shader, and topcoat. Not enough to seal the butt joints done in field. I think maybe more should be done with the spray to color and less wiping pigments around. Short of full glue up and sanding down I can't think of anything that will fully stop it as long as wiping is being done.
---
From contributor A:
You could seal the ends with Seal coat shellac. Itís kind of like sealing the butt ends of exterior trim with primer. This would be rather time consuming and the trimmers might make a mess.