Troubleshooting a Crackling Lacquer Finish
Nitrocellulose lacquers can crackle because of rapid temperature changes. April 30, 2006
Question
We build custom furniture but do not do our own finishing. About two years ago we made this veneered table and had it finished with a full fill lacquer finish. We got a call from the client that the finish has crackled. What could be causing this? We intend to have the table refinished, but obviously we want to know what caused the problem before we do anything.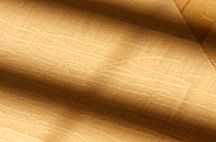 Forum Responses
(Finishing Forum)
From contributor R:
Is it paper backed veneer?

---
From contributor S:
The crackling could have happened if you over catalyzed the conversion varnish. Just a few ounces over can screw it all up in the future.
---
From contributor M:
Looks like nitrocellulose lacquer crazing. This happens on vintage electric guitars all the time, which have a thick buildup of nc lacquer in almost all instances. Yeah, the solution is to refinish it. In my experience, the cause is most often from temperature changes as the lacquer expands and contracts. If this piece was sitting under a window or near a heat duct/radiator, then you've got heating and cooling cycle swings. Nitrocellulose lacquer doesn't like this.
The most extreme example I ever saw of this was a few years ago and involved a 1961 Gibson Les Paul guitar done in a gorgeous gold top. The proud (but not too bright) owner had left it in his car for several hours during the winter. When he brought it inside to show it off, it had cooled to the outside temp, which was well below 20°. As the warm air in the room hit the guitar, we actually watched, in real time, as the previously virgin-looking lacquer on the body of the guitar crazed really badly and finally looked like a broken windshield after just a few minutes. He freaked, and we felt bad for him. Moral of the story is to keep lacquer finished products out of the way of thermal swings.

---
From contributor J:
When this happens on veneered items, you also should review your veneering procedure. What is the substrate? Did you veneer both sides? If yes, was the other side in the same species and grain oriented the same?
---
From the original questioner:
Thanks for your responses. We did not use paper backed veneer. The veneer is applied over three 3/4 inch pieces of MDF laminated together in a vacuum press. The top is a sketched pattern that we did not repeat on the bottom. The top is solid mahogany stained black and maple veneer. The crackling occurs on both the solid and veneered sections. The bottom has mahogany veneer.
---
From contributor T:
Contributor M probably nailed it! But if the finisher did use only straight nitro, as opposed to a pre- or post-cat lac, which could present other issues, too many finishers load on sanding sealer to "fill" the pores, and this will lead to premature checking even without heat/cold shock/stress.
---
From contributor S:
Sounds like over application. Find out what your finish resource used. This may not be a nitro at all. Could be a conversion varnish or even a pre-cat lacquer. Most will crack like this beyond the 5/6+ mil thickness and long after they leave your shop.
---
The comments below were added after this Forum discussion was archived as a Knowledge Base article (add your comment).
Comment from contributor A:
Here are a few points for this problem:
1. The moisture content of MDf and Veneer should be the same.
2. Try using composite board instead of MDF. Composite board is 3 layer construction - 12mm birch ply sandwiched between 3mm MDF.
3. Did you seal at bottom side of top? You must seal for any moisture absorption.
4. Give enough time while coating and every coat should be very light.