Under Mount Drawer Slide Question
11/26/2014
From original questioner:
---
I'm fairly new to undermount drawer slides, only about four kitchens so far. Wondering how you guys drill the hole on the back for the pin? I've made several jigs to drill the hole and it seems like it's always a little off. I'm using Salice slides so maybe Dennis can chime in. Im thinking about setting up a router with a small fence and just routing a small slot, probably be faster in the long run and would take care of the alignment issues? Any thoughts

From contributor De
---
Hi Mike. We have a boring template that is used for drilling the back hole and for pre-drilling for the front clips.
There are 2 different templates depending on which front clip you use (basic or 6 way adjustable). They both work the same for the back hole.
I would be happy to send one to you.
Which front clip are you using?
Thanks,
Dennis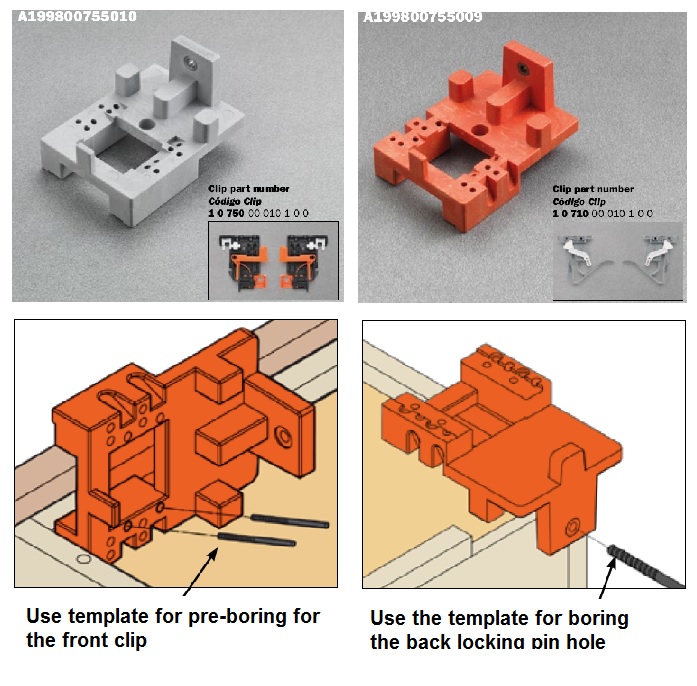 From contributor Te
---
I use Blum undermounts. They have a jig for drilling the holes that works really well. I can't tell you whether or not it will work on Salice, but I used to use another brand and it did work on them. I'll post a link to see the Blum jig.
http://www.blum.com/us/en/01/70/20/

From contributor De
---
Mike, there are also a few machines out there that both notch the back and drill the hole at the same time. Here is one made by Pinske. There are others as well.

From contributor Mi
---
Thanks Dennis that would be great. I'm using the basic clip. Does the bit come with the jig or do I need to buy one?

From contributor Je
---
If you're drilling them by hand, just make you a small jig out of 1/4" ply with a hole at the correct spacing. Set it up there and drill it. The hole is not super critical in it's location. Not a big enough deal in my opinion to warrant any expensive jig.