Unloading and Handling Panels
Techniques and equipment for getting sheet goods off the truck and into the shop. August 15, 2006
Question
We are a garage based cabinet shop using lots of melamine. We currently unload by hand because the driveway is on a hill making the use of a forklift impossible (the angle of the forks is way off from the skids). After recent spinal surgery (caused I think by the hand unloading), I can't help my employee unload. This makes it likely that he will soon hurt himself. How can I unload 4 x 8 melamine to minimize effort and maximize safety? I was thinking of a scissor lift but I'm not sure that would do it. How do the rest of you small shops do it, if you don't have a fork lift?
Forum Responses
(Cabinetmaking Forum)
From contributor A:
We unload by hand.

---
From contributor B:
I am currently struggling with the same problem of unloading sheeting into a small shop. Itís been a pain unloading trucks and I'm not getting any younger. I just added a 60" wide garage door to the shop (before everything went through a 36" service door). Next, I made a 30" x 60" work table on wheels, so I can load 10 sheets at a time and wheel them into the shop. The sheets still need to be transferred by hand but at least now we're not carrying them 60', one at a time in through the service door. My driveway is fairly level so thatís not an issue for me. Everyoneís setup is a little different.
---
From contributor C:
Use the item pictured below and throw the driver $20-$30 to help out.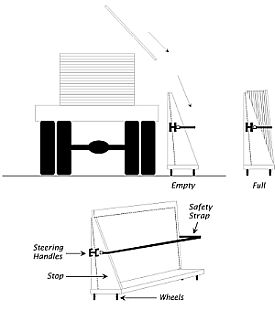 ---
From contributor D:
Is handling this material really worth harming your health? If you can't find a mechanical means of handling the panels, move into a space where you can use a lift. If you keep injuring your back you won't have a shop to work in. A scissor lift or panel crane for inside the shop is a must if you are handling melamine.
---
From contributor E:
Would it be possible to load all the sheets into the bed of your truck then drive them up the hill and into a rack?
---
From contributor F:
I think the cart is a great idea for my shop. I can build several carts for what we use and store them under the rack. Move them as needed around the shop. Good idea.
---
From contributor G:
A British company called "Panelmate" has taken that one stage further with a range of carts that flip up to horizontal and then adjust to height position using a hydraulic pump. They have locking wheels.
---
From contributor H:
Hafele also sell a cart like that that has locking wheels, and a hydraulic foot pump.
---
From contributor I:
I have a garage shop with the table saw just behind the roll up door. I just back my pick up truck within range of the saw and slide the sheets off onto the saw. I only will call any heavy sheet materials for this purpose, and only pick up enough stock for one job at a time. I never have to lift the full weight of a sheet.
---
From contributor J:
Like contributor I, I have a "just in time" delivery system. I have my wife pick up the sheet goods in the pick-up. I back the truck up to the garage and all unloading is done through the saw. I get close enough that I can slide the sheets right on the saw without any help. Any unnecessary carrying and stacking 3/4" melamine is nuts.
---
From contributor I:
Using the wife -I never thought of that. That eliminates even more of the labor in the material-processing system. I'll bet it costs you in other ways though.