Using E-Track For Cargo Control
11/22/2014
From original questioner:
---
We have been using D-rings and ratchet straps in our trailer to deliver cabinets, both short and tall. The problem we are having is that the D-rings can only be located on the vertical metal "studs" of the trailer frame. So, the placement is very limited and often results in less than optimal loading.
We have heard about E-track, watched the videos, and read some of the product descriptions from websites like etrailer.com. But, we would like to hear from real users and learn about your experiences and recommendations.
One suggestion was to run two parallel tracks on each side wall of the trailer. One track at approximately 3' and one at 5'. Since shorter cabinets are often less than 36" the lower track should probably be around 24-28", we think. We also sometimes use our trailer to pickup 4x8 sheetgoods from our supplier (when we cannot get the delivery schedule we need), so a track at 36-40" would probably stabilize the plywood better than a 28" track. Or, maybe the 28" would work ok to keep the plywood upright along the trailer side. 28" is more than half-way up the 48" width of a sheet.
We also think that depending on two screws in a D-ring at each end of a heavy load is not as safe as a long piece (say 8') of E-track that is fastened on multiple studs using two screws at each and every stud along the entire track.
Then, there are the accessories (straps, anchors, tie-off rings, etc.) that will be required. They have special fittings at the ends to work with the E-track of course, so we need to know which ones work well and which ones to avoid.
Some of the crew like to use bungee cords between the D-rings. They have the idea that they can just hook the ends (S-hooks) of the existing bungee cords into the slots in the E-track. My thought is to ban the practice before they even start by removing every bungee cord from the trailer and the building if we install E-track. I am thinking that the metal S-hooks will destroy either the track or gouge the trailer wall behind the track.
Is there a "standard" for E-track? Will any E-track system work with any other E-track parts?
We are looking for input, experiences, suggestions, and whatever comments apply. Is E-track a smart way to go?

From contributor Ji
---
I have the E track in my 24' trailer and Isuzu box truck. Two horz runs in each at about 28 and 50" Works well.
I use the d rings with the web straps, and place where ever I want.
I can use those with rope or ratchet straps.
The bungees work in a pinch but are prone to breaking and scarring product more.

From contributor La
---
Most semi-trailer and van trucks have E or F track with it mounted more or less flush to the liner. you can get short straps that clip into the track and have D rings on them so you can use ropes, hook-end straps or what ever. If you find your strap too short on a load you can use steel rings to hook two straps end to end. Go to a place that supplies truckers. Good variety.

From contributor ca
---
We have them in one truck and wood slats in another. We are looking at cutting tie downs into the decks of both trucks just for the versatility Almost like too much, is not enough sometimes


From contributor Sa
---
E- Track is really a good move to choose. It will make your transportation and storage more comfortable....

From contributor Ke
---
We use a clip track that I have heard called "D-track" in our delivery trailer, probably similar if not the same as what you refer to. It is very useful. Our tracks are at about 24" and 60" off the deck, which works for most of our products. Sometimes we will strap diagonally from the low to the high track. We use ratchet straps with track clips on the ends as well as hook end straps that mate with short straps with D- clip and track clip ends. The hook-end straps are easy to connect end to end for long and deep items. We still use a few screw-on d-rings for odd situations. (We have 1/2" plywood screwed to the trailer sides between the clip tracks.) 24" is high enough to secure 4' panels on edge. Throw away the bungee cords.
The other system I have used successfully is screwing through skid strips longer than than the cabinets into a wood deck or into the cabinet below in a stack, but the clip track is what we use the most.

From contributor Pr
---
I love it and is the best thing I have ever done for my trailers (have all 3 of my trailers loaded with it) Here is a picture!
[IMG]http://i52.photobucket.com/albums/g30/RyanBambach/etrack_zps179114bf.jpg[/IMG
]

From contributor Pr
---
sorry forgot photobucket doesn't work.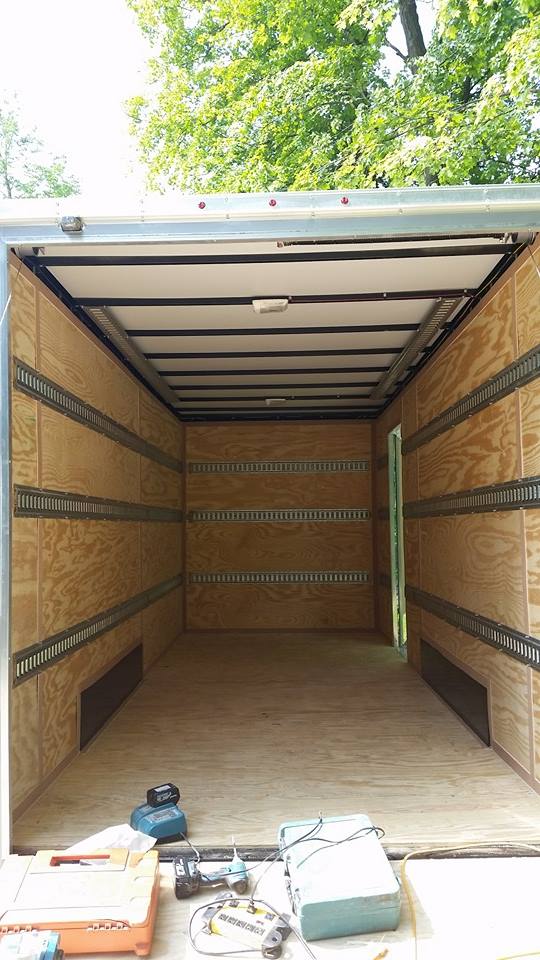 From contributor De
---
Works great. Got mine from CDS Moving supply. They have ratchet straps and pull straps with the e track clip on the end.

From contributor Ch
---
Update:
We are in the process of installing the e-track. We decided on 3 horizontal rows at 26", 46", and 66". Our inside trailer height is 92". We are using 8' sections on a 16' trailer; each track is being screwed to the 1" x 1.5" trailer frame with 1/4" X 1.25" self-tapping screws. This will give us 32' of flat wall space. Tall cabinets (we do a lot that are about 7' tall) will fit nicely.
A new question came to mind. We blanket wrap everything. That prevents the straps from marring the wood cabinetry. However, I am concerned that if we leave the doors on the cabinets (we build frameless boxes) the doors will rub against the front edge of the cabinet sides. Also, strapping across the doors will put pressure on the hinges. Neither of those two situations sound acceptable.
Many of our deliveries are up to 5 or 6 hours of drive time one-way. That is a lot of potential wear and tear on the cabinetry if we don't do it right. In case you are wondering why we have not had this problem in the past, this is a taller trailer than we have used before. The small trailer required placing the tall cabinets on their back on the trailer floor. There was no need to strap them down. And, we did not stack anything on top of the doors. We did take the drawers out so we did not destroy the drawer slides bouncing down the highway. With the taller trailer we can carry a lot more, but we need to learn how to use our new equipment correctly.
How do you do it? Do you take the doors off? Is there some other way to prevent damage to the doors and cabinets when they are strapped to the trailer wall? Is there anything else that we might be overlooking?