Using a Router Table for Cope and Stick Joinery
Here's a nice example of a shop-built sliding table for a router, set up to machine complex door parts on a budget, with a reasonable degree of accuracy and efficiency. June 18, 2009
Question
Can cope and stick French doors be reasonably expected to be made successfully with a router table? If so, is it foolish to try it without a power feeder?
Forum Responses
(Furniture Making Forum)
From contributor R:
Reasonably is the key word here. Yes, a good router table with a 3 1/4 hp router is capable of making doors and with proper hold-downs and featherboards you can do it without a power feeder. Obviously, you'll need good support for the long pieces, and a good sled for the coping. I've actually made a heavy duty router table with a cross-slide table and fence that makes cope cuts very easy.
Here is a photo of one of the cross slide tables I've built as mentioned above.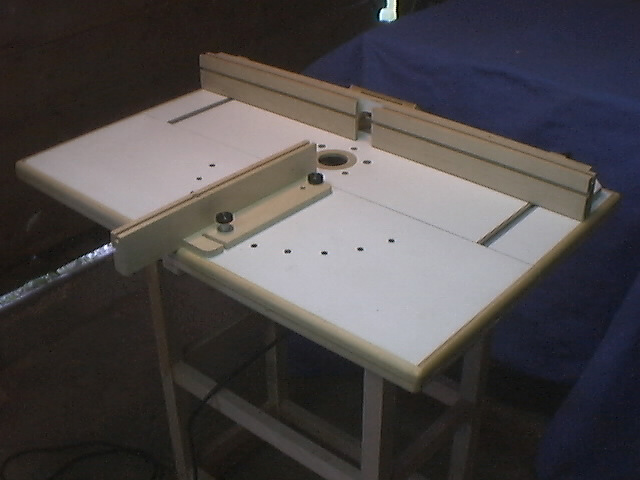 Click here for higher quality, full size image
---
From the original questioner:
I can't tell from the picture how the cross sled tracks. And what is the purpose of locating the sled in the radial holes?
---
From contributor R:
The radial holes are for fence angle adjustment. The front half of the table actually slides back and forth on guide runners. I'm including a photo of the table off to one side.

Click here for higher quality, full size image
---
From the original questioner:
Now I get it. Very nice table, thanks. What do you recommend for cutters?
---
From contributor R:
Truthfully that would depend on your budget, and the profile you are looking to use. Are you making one run of these doors, or planning to offer a bunch of them over time?
---
From the original questioner:
I'm pretty sure that this may be a one time event, although I've thought that before. I am, after all, saving the cost of having someone else do the job, which would be several thousand dollars.
---
From contributor R:
I'm not sure what size/profile you are looking for, but check out Eagle-America. They are good bits for the money, and you can look online.
---
From contributor W:
A router will do the cope and stick. What I would be concerned about is the lack of a real tendon. C/S cutters for both routers and shapers product only a stub tendon 3/8"-1/2" that is fine for cabinet doors but not strong enough for man doors. You will need to add loose tendons or some hefty dowels.
---
From the original questioner:
At this point, a few things are clear:
1. The need for mortise and tenon joints.
2. My desire to get this job up and running.
I'm not going into the door business. These doors will be used to close off a sun room for the winter, and will not be hit by weather. I think that I am going to build the doors using square-edged m/t rails and stiles and apply moldings to both faces to contain the glazing.

---
From contributor R:
If the stub tenon is a concern, you can drill into the side edge of the door, run a #12 or 14 screw through the joint, then cap off the screw hole with a matching dowel.
---
From contributor C:
I think that you might be asking for big trouble attempting to use screws for a shear connection in a large door. If you need a reinforced connection, and the suggestion was floated to put in screws through the edge of the door, and cover them with a plug then why not bore right through the stile, into the rail, and insert a dowel? No problem there with shear connection problems, and it would have the same effect on the edge of the door. Or just do a loose tenon by sawing the coped tongue out of the way, and mortising the stile. There is no reason to start sticking screws into a joint that can be made perfectly satisfactorily using reliable joinery techniques.