Vacuum Press Bags: Buy or Make?
When you need a custom size, it's not hard to make your own vacuum bag. July 18, 2008
Question
Can anyone recommend a supplier for vinyl vacuum bag material? I would like to make my own. Also, what works best for seaming the bag?
Forum Responses
(Veneer Forum)
From contributor K:
I buy mine from a local automotive upholstery supply. They will also sell a contact type adhesive made for the purpose, although when you use it, it swells the edge and causes a lot of puckering, and doesn't look very pretty. Check your Yellow Pages for a local listing, but mine is Rushing Upholstery in Little Rock, AR.

---
From the original questioner:
Thanks! I'll check it out. I still can't believe anyone puts vinyl on upholstery. Makes me have nightmares about sticking to my mother's couch when I was a kid.
---
From contributor D:
I would buy the bags from the Vacuum Pressing Systems. The have polyurethane bags that last almost forever. Mine is at least 8 - 9 years old and has been used hundreds of times and still has no leaks. Also they carry the fittings and everything you can possibly need to do good veneering work. Sometimes it is just better to spend a little and not have the headache. You have to figure it takes up time that you could be making items to make up the bag, etc. These guys have already worked out the bugs. It saves you money in the long run.
---
From contributor K:
You may be right, but one size doesn't always fit every job. I have got bags that I have been using since the mid 80's, long before I knew about sources for fabricated bags, and I have done projects where I needed a 24' long bag. I found it easier to build the bag around the glued plies with sheet vinyl and carpet tape than trying to feed something that big and slippery into a bag.
---
From the original questioner:
Talk about cheap. I've made bags out of 6 mil plastic sheet, spray adhesive and duct tape. As a matter of fact, I cut an old liner out of a swimming pool and I plan on trying to use it for the bottom of the next bag I make.
Down below is the vacuum pump system I made for $150.00 from industrial surplus parts ordered online. It blows the doors off any of the other systems I've seen.
Don't get taken in by companies marketing vacuum systems directly to woodworkers. Every other type of manufacturer uses vacuum systems in some part of their process. We are the only guys paying top dollar for the stuff. And I buy plumbing parts from Home Depot for a lot of the vacuum systems too.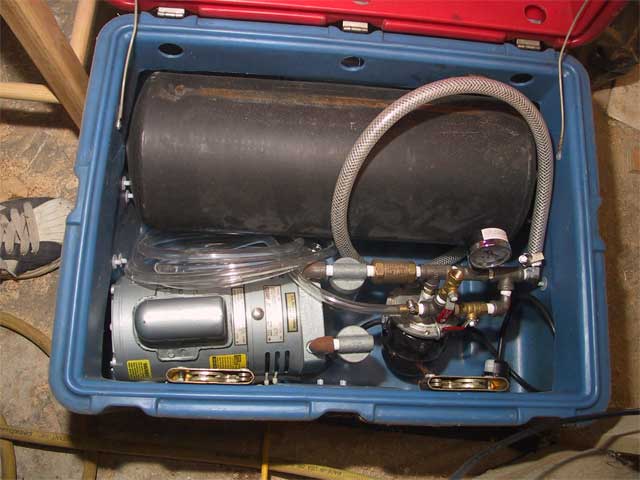 Click here for higher quality, full size image
---
From contributor M:
Another source that I've used is from canvas shops that do boat repair. They usually have 19mil vinyl (for windows) on a roll 52 - 54" wide. Relatively inexpensive and heavy enough for most work.
---
From contributor W:
I just made an oversize bag. Go to a cloth store. Clothworld here carries 10 and 20 mil clear vinyl. Home centers have vinyl cement in the plumbing department for making vinyl liners for shower pans. That said, if it is not a special size or use, get a urethane bag. I agree with the earlier post, they last almost forever.
---
From contributor B:
Check out and their companion site. They have pre-made bags in several sizes and sell the raw materials to build (make) your own bags. They also sell all the parts to make your own vacuum generator, either by vacuum pump or venturi style. They seemed pretty reasonable for all the stuff I purchased from them.