Veneer Slitter Choices


Options for accurate veneer slitting, depending on the budget. January 14, 2009
Question
What are you guys using to edge your veneers with? I'm using a guide board and a router. It gives a tight fit but is very slow. I've seen the veneer slitters used in the plywood processing plants. It would be great but a bit impractical for my small operation. If money were no object what would it be. Now back to reality - if money were an object, where would that put you? Space, on the other hand is always an object. I do not have 8,000 lb machines. I'm interested in hearing your thoughts on this.
Forum Responses
(Veneer Forum)
From contributor J:
If money is no object, look into a veneer saw (not the handheld kind) from Hofer, Langzauner or Scheer. These will set you back between $10K and $20K, I think, and weigh in somewhere around 2000 lbs (that's less than 8,000!).
If you're looking for jigs, search "Jointing" on the Veneer Forum here at WOODWEB and you'll find some pictures I posted a while back of simple veneer-jointing jigs.

---

From contributor E:
I have seen many jig's and veneer cutting setups over the past ten years visiting many, many shops. One shop in particular developed a slick series of jigs for jointing veneer which we have brought to market. The shop has been using the jigs for about eighteen years so they are well proven. There are three styles shown. A 48 inch capacity for a table saw or slider, a 96 inch capacity for a slider and a 96 inch stand alone.

The prices range is $650.00 to $1,900.00 plus shipping. On the other side you have a Hofer veneer saw, about 27K for a 124 inch capacity. I assume the competitive machines run about the same prices.

If money were no object (from high to low cost) I would use a double knife guillotine then a ten degree single knife guillotine then a veneer saw.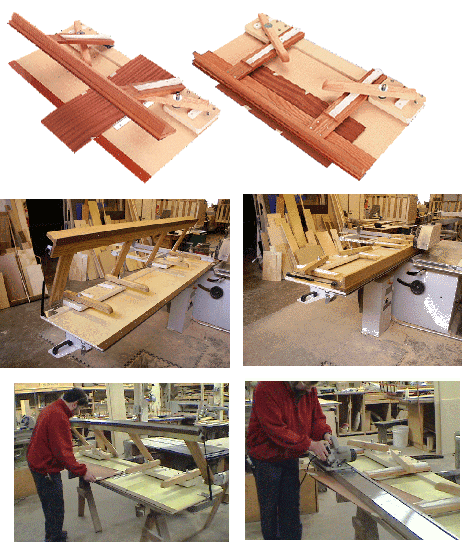 Click here for full size image
---

From the original questioner:
I do sub out pressing of panels at times but there are times when it makes more sense both time and money wise to do this myself.

Contributor J - clever way to clamp using the levers let into the pressure board. That is basically the shooting board I use except I clamp it from the front and have to walk my way down the board, cut a bit, move the clamps and etc. This would be easily adaptable to air cylinders and a foot switch while still keeping the shooting board and router.

Contributor E - I've been considering using my Festo rail and saw in this manner. I might give that a try. I'll shoot to keep the overall weight down to a couple hundred pounds and get something made soon.
---

Would you like to add information to this article?
Interested in writing or submitting an article?
Have a question about this article?

Have you reviewed the related Knowledge Base areas below?

---



All rights reserved. No part of this publication may be reproduced in any manner without permission of the Editor.
Review WOODWEB's Copyright Policy.

The editors, writers, and staff at WOODWEB try to promote safe practices. What is safe for one woodworker under certain conditions may not be safe for others in different circumstances. Readers should undertake the use of materials and methods discussed at WOODWEB after considerate evaluation, and at their own risk.

WOODWEB, Inc.
335 Bedell Road
Montrose, PA 18801

Contact WOODWEB Copyright © 1996-2021 - WOODWEB ® Inc.