Veneering Table Legs
A furnituremaker gets advice on applying veneer to glued-up table legs. March 26, 2013
Question
I have some furniture to build that requires legs to be 2" 5/8 x 2" 5/8 x 28 quarter sawn white oak. In order to save on white oak I am going to glue the legs up out of flatsawn wood and then cut 1/8 thick quartersawn veneers and veneer all four sides so that I have quartersawn showing on all sides.
Does anyone think it would be ok to use red oak, cherry, birch, etc. for the core or do you think the wood will move differently than the white oak veneer and cause problems down the road? Keep in mind the core will only be 2" 3/8 x 2" 3/8. I thought it would be a good way to save on the quartersawn and use up a lot of hardwood I have laying around.
Forum Responses
(Furniture Making Forum)
From contributor Y:
For four legs? Your labor to make the substrate and veneer would outweigh the cost difference between plain sawn and quarter sawn. Are you going to glue the legs up in four pieces so it shows quartered oak on all four faces? You may be able to pick through your suppliers piles of plain sawn and find some pieces that you can get a quartered face from.

---
From the original questioner:
I have eight legs to do so that would be 32 pieces of wood to miter both edges that is 64 miters which is also time consuming, not to mention trying to glue them up without slipping past each other, so that would mean cutting slots for splines and cutting spline material. In the past I have used a lock miter on this type of Stickley leg but to run 64 lock miter joints also takes time. It seems gluing up some stock and cutting veneer would be quicker. I already have the quartersawn white oak to make them but my question still stands.
---
From contributor P:
If you are going to veneer 1/8" over a solid block of wood on all sides you will get different movement from the 1/4 side to the plainsawn side and may open at the corners. Even with 1/8" you may have to miter your corners to hide butted edge corner look.
I would take some 4/4 1/4 sawn stock, miter the corners, cut a filler block for the middle, and then take 5" shrink wrap after gluing all the miters and filler blocks, and then wrap the whole glueup. This will put even pressure on all sides and if you make the leg oversized then you can joint all four side's to get to your size you need. You would not need a locking miter joint or a spline as this would be an edge joint and that glue joint would be stronger than the wood. For saving money, unless you are building 50 sets of these, I don't think it's an issue.

---
From the original questioner:
I am not concerned about saving money, I am concerned about saving on quartersawn white oak. I have six 4/4 boards 7" wide x 8' long. To make eight legs would take almost all of that wood. I can do it with just one board cutting veneers. I was just looking for opinions on veneering over different types of wood. I think it would be fine, just wanted to see what anyone else thought.
---
From contributor D:
Having veneered tens of thousands of door stiles of a wide variety of species, I can say 1/8" thick is a good all-around thickness. Your approach also has an advantage if you find an exceptional grain pattern you'd like to show off. One beautiful board split into veneers spreads the beauty, rather than going all solid, which would be more expensive, but more importantly to me, probably not as good looking.
Eighth inch oak is pretty stiff, more a board in itself than a veneer. I'd use structan for an adhesive. There are threads on here where glue creep is discussed, which I personally believe is actually wood movement, due to water in the adhesive causing localized swelling. Structan cures hard and tough, unlike other polys which foam up. You do not need to add water, and structan has none.

---
From the original questioner:
Thanks - veneer it is.
---
From contributor B:
You say you are not concerned about saving money, and then you say you want to save wood. You'll have to make up your mind – quartersawn white oak isn't that expensive.
---
From contributor P:
To the original questioner: Just curious - how did the veneers work out for the legs?
---
From the original questioner:
I just finished gluing the last of the veneers on today and removed the clamps this evening. They are not as ray flecked as I would have liked but they will be nice.
Here are the legs sanded and cut to length.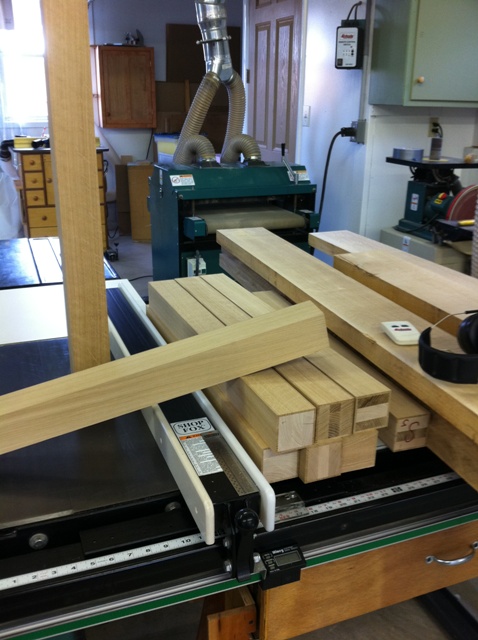 Click here for higher quality, full size image
---
From contributor P:
They look good. I can see what you mean when you said you wish there was more figure in them. With that large of a leg they do have a good straight grain to them. They look nice.
---
From the original questioner:
Cutting mortises on a Grizzly boring machine that I turned into a slot mortise.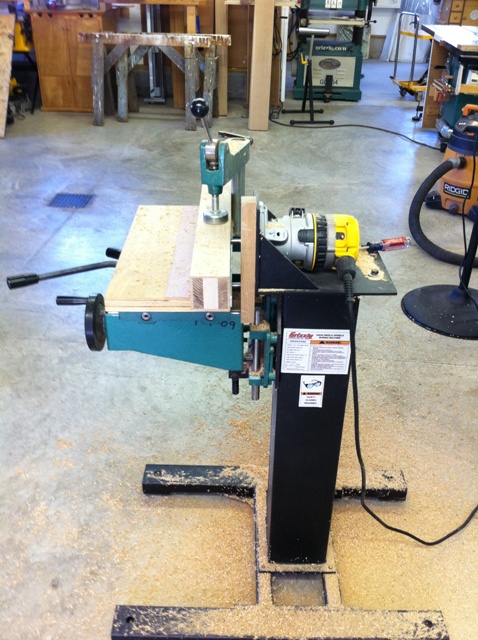 Click here for higher quality, full size image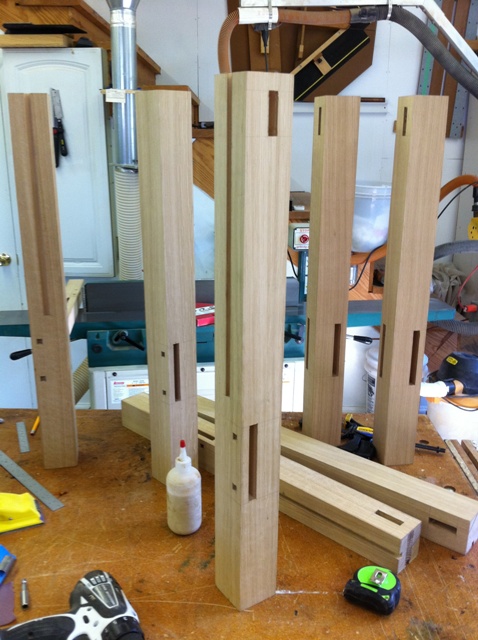 Click here for higher quality, full size image