Vertical Lift Door Hardware
Tips for installing a cabinet door that pulls out and then raises up. December 7, 2008
Question
I have an application in a media cabinet where I have a subwoofer below the plasma TV. The design on the cover for the subwoofer calls for a panel that is 1 1/2" in overall thickness. Since this panel winds up being 36" wide and 24" high I thought that it would be a great application for a lift up door. I would like to set the panel flush with the adjacent doors and drawer fronts but to do that I will have to set the door 3'4" further back than normal.
Question; will the Aventos hardware allow me to come out 3/4" plus before it starts its upward travel? I guess it's like if the panel above the lift up door was offset out 3/4". How about it guys, anybody wrestled with this problem before?
Forum Responses
(Cabinetmaking Forum)
From contributor G:
I don't know if this will work for you, but I've done several of these vertical lift doors with hardware I bought from Westlund Distributing.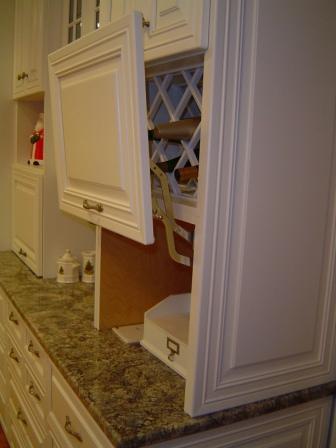 Click here for full size image
---
From contributor D:
In answer to your question, with Aventos HL lift system the door moves first in a horizontal motion roughly 3" in a slight arch and then lifts vertically. I can't see the 3/4" backset being any problem at all. Good choice of hardware!